Wysocki, Koling match the leader's hot round; McBeth withdraws after injury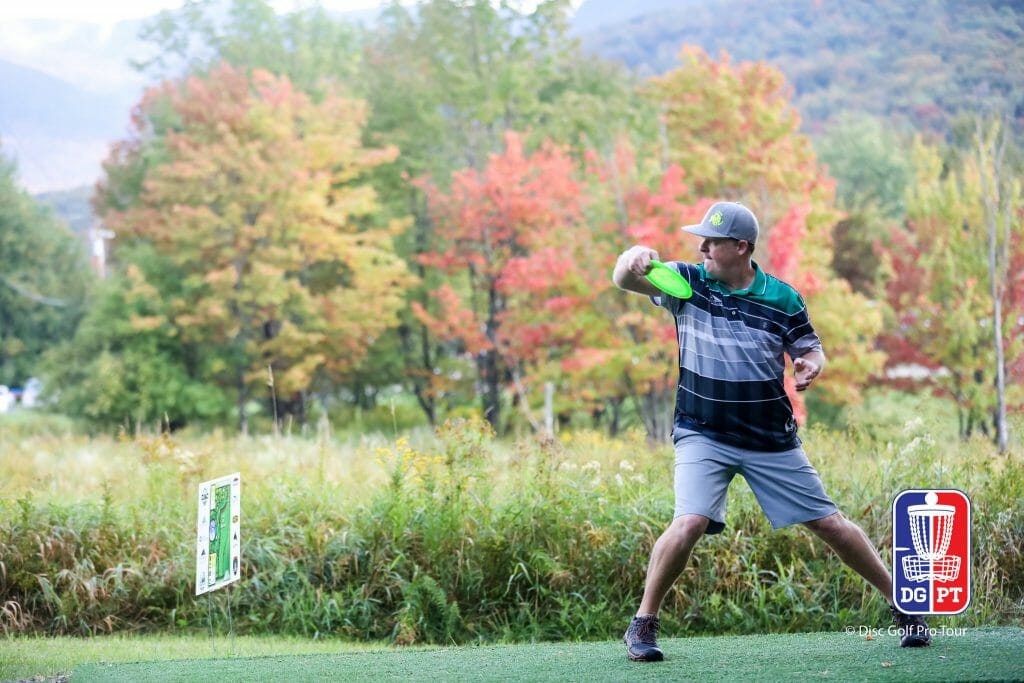 Ultiworld Disc Golf's coverage of the 2017 Green Mountain Championship is presented by Smugglers' Notch Resort; all opinions are those of the authors. With three disc golf courses on site, plus a fun zone and numerous outdoor activities, Smugglers' Notch has staked its claim as "America's Family Resort." Learn more about the facility and book your next vacation here.
While Nate Doss played his way into a 2:30 p.m. date on the lead card yesterday at the Green Mountain Championship, it would be fair to suggest that his round didn't truly start until about 70 minutes later.
The skies had opened up not long before, and as Doss stepped up to the tee of the 675-foot 8th at Fox Run Meadows he watched the other players on his card throw relatively safe shots to the middle of the s-shaped fairway. In that moment, as the elements made a conservative play more palatable, Doss remembered the importance of adhering to the attacking approach required to conquer the open, European-style course.
"If you're gonna birdie 8, you've gotta be aggressive," Doss said. "I'm like, 'You know what? Screw it. I need to just stick with the shot I practiced.'"
Doss then unleashed a long turnover with his oldest Discraft Force that left him longer than anyone else in the group. As rain showers continued to drench the competition, Doss executed a second shot with a Predator that was solid, but still left him 60 feet from the pin. That distance proved to be no trouble, though, as he converted on the long birdie putt to take a stroke on the card.
From there it was off to the races, and at the halfway point of this four-day marathon Doss still holds the lead. The California native's 11-under par 51 at Fox Run tied for the best score of the day and gave him a three-shot margin with a 24-under par 98 total. Ricky Wysocki matched Doss' hot round and climbed into second place with a 21-under par 101, while Cale Leiviska and Michael Johansen are tied for third place with 20-under par 102s. Jeremy Koling also got in on the 11-under action and rocketed up the leaderboard, as his 13-slot jump has him tied for fifth place with Paul Ulibarri and Grady Shue with 18-under par 104s.
Though Doss didn't get on a roll until midway through the round, he said he felt a breakout coming from the moment he set foot on the course. After a clean drive on the 600-foot hole 1, he threw what he called a "mediocre" upshot but rebounded with a 50-foot birdie putt.
"I think that really set the tone for the day," Doss said. "Made a lot of really good runs on putts from distance."
He didn't card another birdie until hole 6, but his accuracy rarely wavered. Even in the times he was offline, he scrambled to a 100 percent success rate and remained bogey-free for the second straight day.
Much like in round one, though, it was a strong putting performance that kept the train rolling. He followed up the 60-footer on hole 8 with a 75-foot connection on 9 that elicited a confident, raised fist from the three-time PDGA World Champion. Doss said that he was not ashamed to admit that he'll usually only make about 30 percent of his putts from that range, but that the lack of wind helped him to feel better about giving it a strong bid.
"The air here today, and what looks like maybe for the rest of the week, is dead calm," Doss said. "There's an eerie calmness in the air, and it really showed, I think, with everybody's putting, from what I saw."
Indeed, Wysocki made his move up the standings largely on the back of his short-range precision. The four-time GMC winner hit six from just inside the circle's edge and added shots from 50 and 60 feet for good measure. His three out-of-bounds strokes kept him from tying for the lead, but Doss was well aware of the charge he had made.
"Now I've had two really good rounds to start with, and my mind is purely focused on keeping that going and recognizing that I have the best players in the world — and the guy who is literally undefeated on this property — right behind me," Doss said. "And I'm gonna use that as motivation. There's only one way to beat him: It's to take it to him."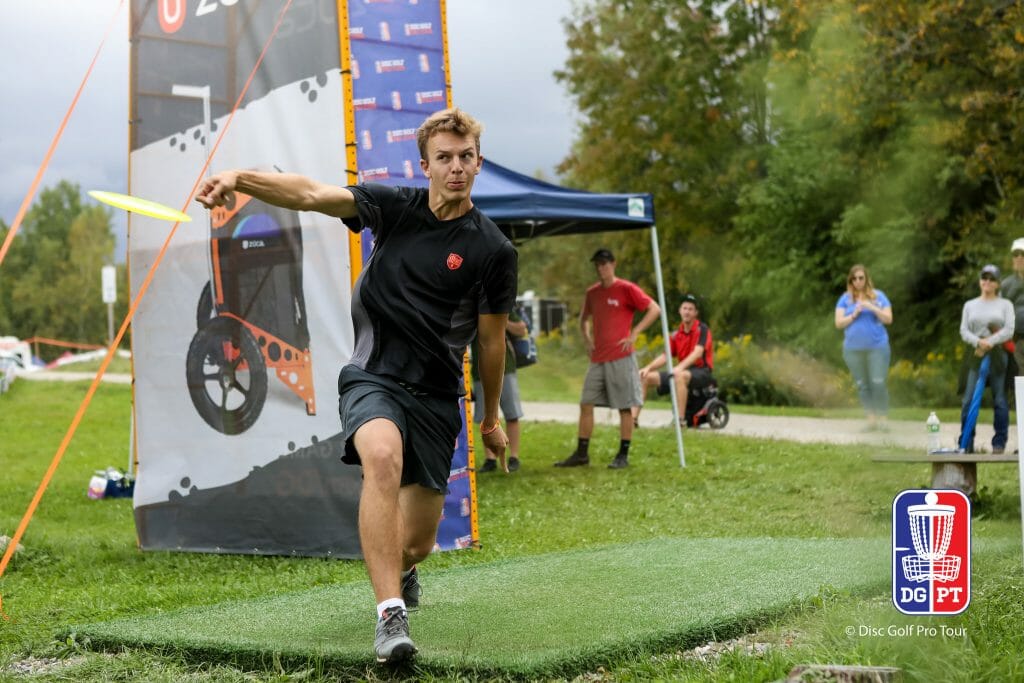 Elsewhere at Fox Run, Koling hit the fairway on a whopping 95 percent of his opportunities as he pieced together his 1068-rated performance. He also hit circle 2 in regulation on 89 percent of the holes and connected on every putt from 10 meters and in. Ulibarri scrambled his way to a 9-under par showing, making up for his OB strokes by draining long putts on the same holes. The highlight of the day, though, belonged to Shue, as the 20-year-old North Carolina pro threw an ace on the uphill, 305-foot hole 3 with a Discmania Glow MD3. With the pin tucked just on the other side of the slope, Shue didn't actually see the shot land.
"It's like a slow hyzer the whole way," Shue said. "I threw it a little too hard, but it went straight in…I turned around and we heard it hit a bunch of chains, and we were like, 'Oh, maybe that went in.' And then we walked up there and it was in the basket."
The field now tackles Brewster Ridge again, but it will do so without the sport's top-rated player in attendance after Paul McBeth withdrew from the event with a back injury. He said he originally hurt it during Wednesday's first round but thought he could play through the pain.
"If it was the final day [I] probably would have tried to finish it," McBeth said. "Way too much golf left to push it with USDGC next."
Today's lead card tees off at 2:30 p.m. Eastern and will be streamed live on the Disc Golf Pro Tour's YouTube channel. Real-time scoring and statistics can also be accessed on UDisc Live.