Will this revered event finally see a repeat winner, or will yet another new champion emerge?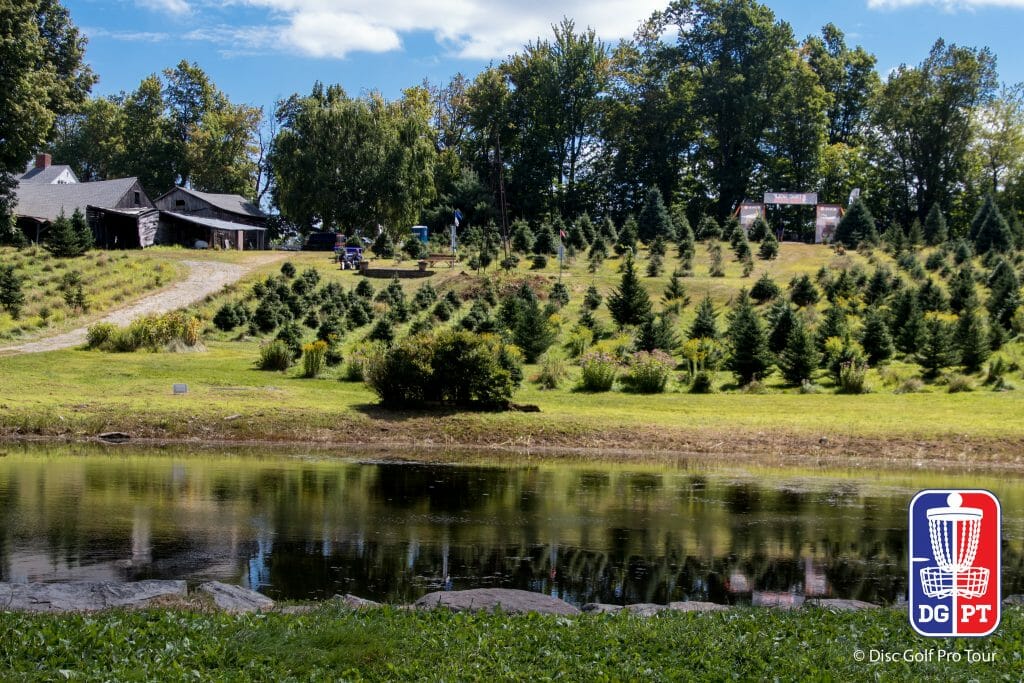 Ultiworld Disc Golf's coverage of the 2017 Vibram Open is presented by the Disc Golf Pro Tour; all opinions are those of the authors. Catch up on everything DGPT here.
One of the busiest stretches on the touring calendar sees the pro scene roll along to the hallowed grounds of Maple Hill for the Vibram Open. The four-round event is the eighth of 10 Disc Golf Pro Tour events this season and features a deep field with 177 total players.
Storylines
We posited two questions prior to last week's Pittsburgh Flying Disc Open: Between Paul McBeth and Ricky Wysocki, who needed the momentum of a win in Pittsburgh more? And who was actually going to get it? McBeth provided answers quite handily, and that added momentum is coming at a perfect time given what's ahead on the schedule.
For starters, the Open field has not seen a multiple-time winner yet at the Vibram Open, with nine different champions in its existence. McBeth's only win there came in 2013, and he hasn't always played his best — to his standards, at least — at Maple Hill. McBeth's average finish in six career appearances is 4.7, with a low of 12th last year when he averaged just 1027-rated golf.
Looking ahead to the next three high-profile events, then, rolling up another win to keep momentum on his side could be important for McBeth. He 2016 Green Mountain Championship appearance is the only one of his career, and he finished fourth. He did, however, take down the subsequent Disc Golf Pro Tour Championship, which was played at Fox Run Meadows, one of the GMC courses. Since 2012 his average finish at the USDGC is 7.6, with one win in his dominant 2015 season and a low finish of 20th at last year's rain-shortened event. He's only played in the Hall of Fame Classic twice, finishing 10th in 2011 and second in 2015, and at this year's PDGA World Championship McBeth averaged 1035-rated golf at the W.R. Jackson Gold course, which the Hall of Fame Classic also uses.
Wysocki, on the other hand, has had more recent success at the upcoming events. He's competed in the Vibram Open every year since 2011, with an average finish of 3.8 via an average round rating of 1048, which includes a victory 2015. He's won the Green Mountain Championship each of its four years and finished third and second, respectively, at the 2016 and 2015 USDGC. He's competed in the Hall of Fame Classic twice, winning in 2013 and finishing sixth in 2015. He also averaged 1055 golf at Jackson during Worlds.
With McBeth's play rounding into form, and the tour slated for courses at which Wysocki has either dominated or been in contention in the recent past, the end of the season run looks to be a sprint for the two best in the game. First, they'll have to conquer the Vibram Open, which stands as no easy task. With James Conrad on a heater, Michael Johansen doing Michael Johansen things in Pittsburgh, and Simon Lizotte making his Vibram debut, we know one thing: It's going to be fun to watch.
Course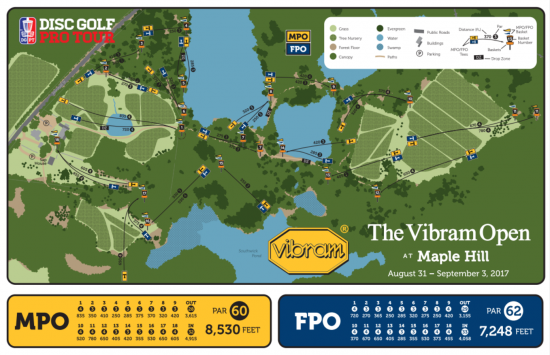 Maple Hill Gold – (Open, Thursday through Sunday): 18 Holes, Par 60, 8,530 feet. Average Hole Length: 474 feet. – Maple Hill Gold remains one of the premier venues in all of professional disc golf. It's a fixture on the calendar and as usual will feature a few small tweaks to keep challenging the best in the world. For example, this year hole one's pin has been pushed back some 50 feet further into the woods, extending the hole length to 835 feet as it remains on of the more challenging opening holes at any course. Also, as is the case with all DGPT courses this season, expect to see a few holes with raised baskets where there were none in prior years.
Maple Hill Blue – (Open Women, Thursday through Sunday): 18 Holes, Par 62, 7,248 feet. Average Hole Length: 403 feet. – The Maple Hill Blue layout was the subject of some adjustments made by the Disc Golf Pro Tour earlier this season as the series made efforts to "address issues of unreachable greens and begin testing women's abilities in the same way that courses test men's abilities." One thing to look for on UDisc's live scoring is if these changes do indeed produce the intended results.
Past Winners
| | Tier | Open | Open Women |
| --- | --- | --- | --- |
| 2021 | DGPT ES | Adam Hammes | Catrina Allen |
| 2020 | A/DGPT | Paul McBeth | Paige Pierce |
| 2019 | A/DGPT | Paul McBeth | Paige Pierce |
| 2018 | A/DGPT | James Conrad | Sarah Hokom |
| 2017 | A/DGPT | Ricky Wysocki | Paige Pierce |
| 2016 | A/DGPT | Bradley Williams | Paige Pierce |
| 2015 | NT | Ricky Wysocki | Paige Pierce |
| 2014 | NT | Jeremy Koling | Paige Pierce |
| 2013 | NT | Paul McBeth | Valarie Jenkins |
| 2012 | NT | Cale Leiviska | Catrina Allen |
| 2011 | NT | Nate Doss | Sarah Hokom |
| 2010 | NT | Nikko Locastro | Sarah Cunningham |
| 2009 | NT | Barry Schultz | Sarah Cunningham |
| 2008 | NT | Avery Jenkins | Valarie Jenkins |
Extended Forecast
Thursday: An approaching upper level trough will begin to impact the region. Clouds should thicken throughout the day, with a chance at an isolated shower or thunderstorm. Winds out of the west-southwest should help temperatures top out around 76°. The best chance for a thunderstorm looks to occur between 3 and 5 p.m.
8 a.m: Partly cloudy with a temperature around 61°. West-southwest wind around 10 mph possible.
Noon: Mostly cloudy with an isolated shower possible. Temperatures around 73°. Westerly wind between 10 to 15 mph.
4 p.m: Isolated storms possible. Temperatures will be around 74°. West-northwest wind around 15 mph possible.
Hole to Watch: Expect some jaws to drop on hole 1 to start the tournament, especially early on. A west-southwest wind should leave the players with a slight left to right tailwind, which will allow the opportunity for big drives on the iconic, 835-foot downhill par 4. Interestingly enough, the wind could shift to more of a headwind in the afternoon, making this hole a tad more difficult than in the morning hours.
Friday: A much cooler forecast is shaping up for Friday. Cold air will filter into the region from the backside of the trough, leading to a fall-like round of disc golf. Partly cloudy skies should accompany a high temperature of 62°. Northwest wind around 10 mph likely.
8 a.m: Mostly cloudy with temperatures around 49°. Northwest wind between 10 – 15 mph likely.
4 p.m: Partly cloudy with temperatures around 68°. West-northwest wind between 10 – 15 mph.
Hole to Watch: The westerly component of the wind should help the right-handed throwers safely navigate hole 14. The 420-foot shot turns to the left from the tee and carries water for most of that distance. As long as players expose the flight plate of the disc to the wind, the breezes should carry most players safely left. I'm sure it may carry some player too far left, though, leaving them with a lay-up to avoid the OB water.
Saturday: Converging winds aloft will lead to nice conditions on the surface. Temperatures should rebound a bit more under mostly sunny skies. Expect high temperatures to rise to around 70°. Just a gentle breeze is forecast as of now.
8 a.m.: Mostly sunny skies with a temperature around 52°.
4 p.m.: Mostly sunny skies with a temperature around 68°.
Hole to Watch: All of them. Any breeze can greatly affect shots on the open holes of this course, but Saturday will be the calmest day of the tournament. Expect to see some hot scores on moving day.
Sunday: Showers will likely move into the region thanks to the remnants of Harvey. Widespread showers are expected through most of the day, but especially during the morning hours. This will limit temperatures to around 70° once again. Winds will be out of the west around 10 mph throughout the day.
8 a.m.: Showers likely with a temperature around 55°. Westerly wind around 10 mph possible.
4 p.m.: Isolated showers remain possible with a temperature around 68°. Westerly wind between 5 and 10 mph expected.
Hole to Watch: Depending on who is playing catch-up, we may see some aggressive play on hole 17. The 650-foot par 4 demands players throw over the top of a Christmas tree farm and into a tightly wooded green. Players will be faced with a headwind, so if they get greedy off the tee they may find the thick rough around the green.
How to Follow
Live coverage is slated for Friday, Saturday and Sunday on the Disc Golf Pro Tour YouTube channel and SmashboxxTV. Jomez Productions is also on hand churning out post-production video of the feature lead cards throughout the weekend, while UDisc Live will have real-time scoring and other statistics throughout the event.