A look at the nuances of the North Carolina pro's second place finish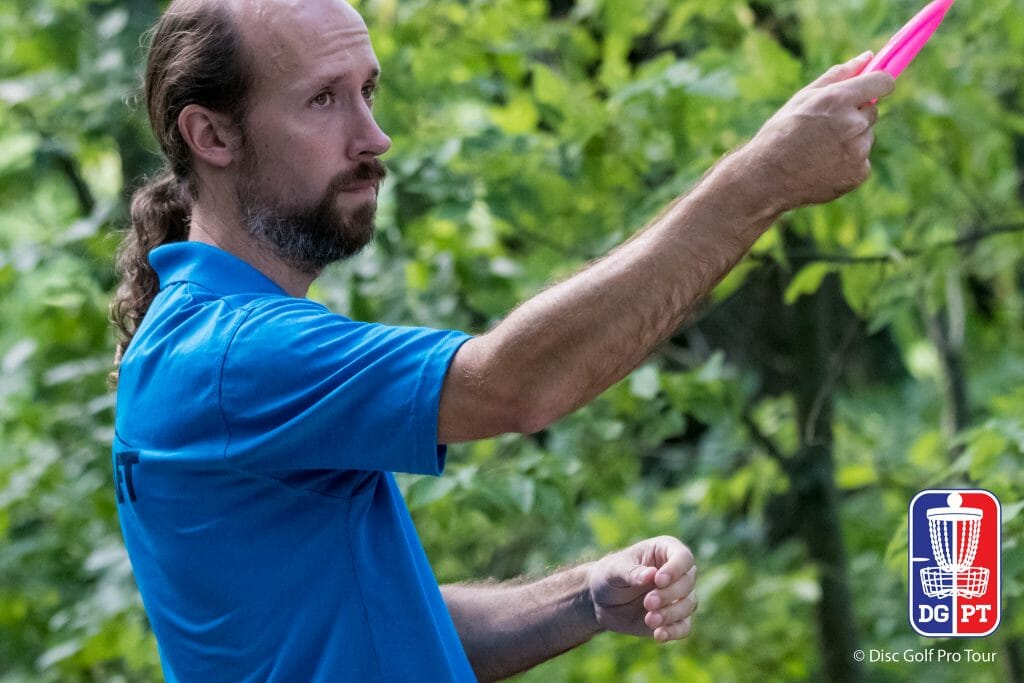 Ultiworld Disc Golf's coverage of the 2017 Pittsburgh Flying Disc Open is presented by the Butler County Sports Commission; all opinions are those of the authors. Find out more about disc golf in Butler County here.
A simple Google search for "woodworking tools" reveals a cornucopia of instruments that can be manipulated by masters of the carved arts. Most are controlled by hand, with more finesse than power required, and can be employed to create anything from household wares to works fit for a museum.
One tool you won't find mentioned, though, is the golf disc. But after Michael Johansen's performance at last week's Pittsburgh Flying Disc Open, perhaps it's time to amend the list.
The 38-year-old North Carolina pro has long been known for his proficiency as the fairways become constricted, but Johansen did more than just hit tight windows on his way to a second place showing at the PFDO. His average round during the three-day affair clocked in at 1051, which is 23 points above his current player rating. He only went out of bounds once — his Banger GT drive on hole 3 Saturday took an unlucky kick into the hazard that guarded the green — and scrawled a single bogey on his scorecard. His play was equal parts efficient, clean, and safe — all characteristics we've come to expect from the veteran woodsmith.
But with all three of Johansen's rounds captured on film by the crew at Jomez Productions, we were also able to take a closer look at his game and find an extra depth that helped him take home a share of second place. With that in mind, here are four keys to MJ's performance that the scoreboard didn't show.
1) He tested the limits of Moraine State Park's ceiling. While Johansen indeed displayed a proficiency for roller shots — his park job on hole 9 during round one was particularly impressive — it was the times he chose to stay airborne that stood out. On hole 6, the 1,026-footer that ate many players for lunch, a common tee option was the roller, as it took the fairway's early, low canopy out of the equation. Instead, Johansen executed his backhand turnover, usually with a Discraft Mantis, with relative ease:
He also chose to let the gophers live on hole 11, where low branches competed with an upward to slope to make the air shot even more dicey:
These routes may not have been conventional, but they certainly paid off.
2) His turnover upshot game was on point. A hallmark of any woods player, the backhand turnover is generally a must at a course like Moraine. But Johansen elevated the shot from approach to art, again using a Banger GT for a couple of standout shots. First, he buzzed the tower to put himself in easy birdie range on hole 4 during the final round:
Johansen Round 3 Hole 4 Upshot
Faced with a difficult lie on the demanding par 4 12th, which played as the most difficult Sunday's final, he bent a beautiful line that managed to sneak through the trees before nestling up to the pin:
Johansen Round 3 Hole 12 Upshot
How often does an approach shot make you say "wow?" He was one of only seven players to birdie the hole that day.
3) He displayed a knack for clutch putting. Employing a spin putt that rarely deviated from its intended line, Johansen saved numerous pars and bagged a handful of big birdies, all with a nonchalance worthy of the Fonz. This jumper from 55 feet during round one set the tone:
For his next trick, he made like Adam Vinatieri and split the uprights for a birdie on 13:
And this 45-footer to open round two? No big deal:
We could probably make a super cut solely dedicated to Johansen's conversions from circle's edge and beyond. His putting was the most visible way he remained in contention.
4) He wasn't afraid to make adjustments. A more subtle aspect of Johansen's performance — his willingness to adapt — should garner appreciation. Johansen was not content to settle for making those long putts in order to secure deuces on the scorecard, and instead made adjustments to his tee shots on both holes in subsequent rounds so he could take the putter out of the equation.
His long connection to open round two was necessitated by landing in the center of the fairway on his drive. During round three, he flipped his Mantis further right to leave himself with a relative tap-in:
In another notable change, his round two rendezvous with hole 13 found him going so far as to switch discs — he swapped a more stable Comet for a less stable one, he said, in an effort to get the shot to stand up to flat more easily — in order to achieve the desired effect:
Johansen Round 1 Hole 13 Drive
Johansen Round 2 Hole 13 Drive
It's no secret Johansen is in his element when the sun can barely sneak through the leaves, but the nuanced game he put on film in Pittsburgh provided a clinic for those seeking to improve their course management skills. With more of the same on tap at the weekend's Vibram Open — where Johansen came in second place last year — we expect to see his continued craftsmanship in action.