Two premier events shuffle up the mix!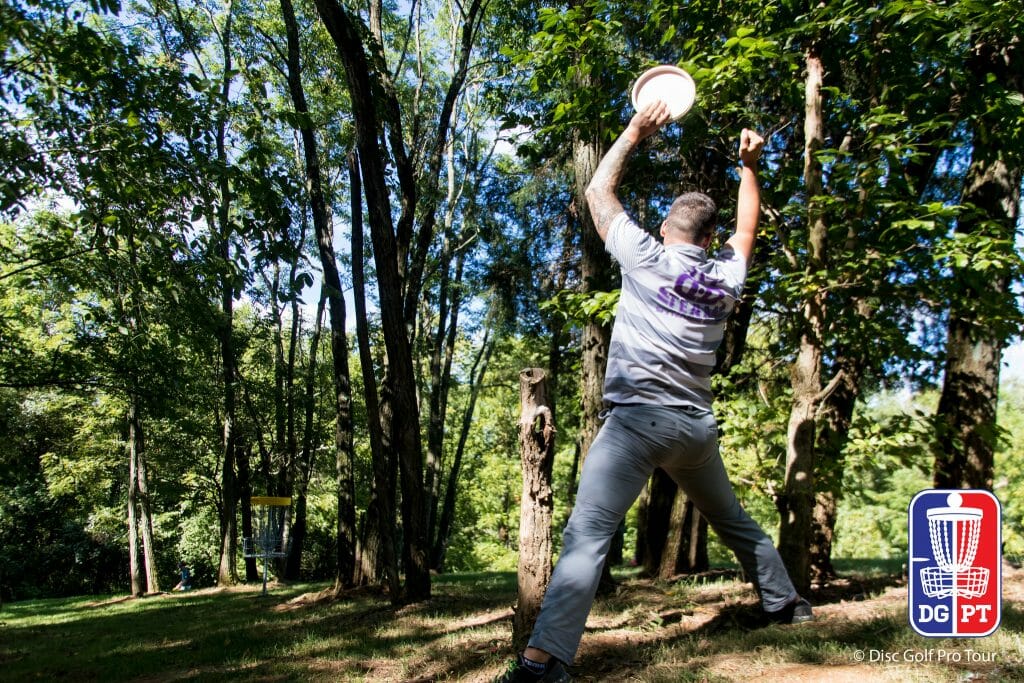 What a wild few weeks on the professional scene.
Two upper echelon events took place, and two upper echelon events were won by players not named Paul McBeth or Ricky Wysocki. That's…we don't even have words. It hadn't happened all season to this point, as McBeth or Wysocki had traded victories with such regularity that anyone else who wanted to butt in was only able to do it for one week at a time – if at all. Now, we had Josh Anthon storming to the win at the Ledgestone Insurance Open and James Conrad carving up the fairways of the Idlewild Open, throwing our rankings into upheaval. Plus, a handful of high-end players skipped one or both tournaments, making for some head-scratchers when it came time to put the list together.
What's that you say? It sounds like we're making excuses for our rankings this week? Never! But we also don't begrudge you for arguing with us in the comments.
1) He hasn't won the last two events, but Paul McBeth is still the one to beat.
2) Paul Ulibarri has been trending upward since July. His average finish at the eight events he's played since Pro Worlds? 2.5.
3) We'll soon find out if skipping Idlewild in order to hit the reset button on his mental game paid off for Ricky Wysocki. He has two career Pittsburgh Flying Disc Open wins.
4) Normally we knock players down a few more rungs when they skip events, but Simon Lizotte has earned this top 4 placement after not finishing lower than fourth since February.
5) It wasn't just Idlewild that James Conrad slayed. Aside from a down showing at Ledgestone, he's picked up two more wins and a runner-up finish since mid-July.
6) And that's why Josh Anthon isn't higher. Yes, his Ledgestone win was truly dominant, but he hasn't been on the road as consistently. A strong PFDO performance should see him get a bigger bump.
7) This almost feels too low for Chris Dickerson, who recovered nicely from a difficult second round to move into third place at Idlewild.
8) Nate Doss falls on the list, but again could be higher after a fifth place Ledgestone finish. We're stacked at the top here. Not a bad problem to have.
9) Gregg Barsby will skip the Pittsburgh Flying Disc Open and instead prep for the Vibram Open. Smart move, as he's higher in the Disc Golf Pro Tour points series than in the PDGA National Tour standings.
10) Like his Nate-ly named counterpart, Nate Sexton is another better than top 10 plyer victimized by being off the road. Predicting a top 5 finish at PFDO and a resulting climb up the ladder.
11) Eagle McMahon has taken to calling himself Papa Garbanzo, and we strongly endorse this development.
12) Is there anyone else who is a more reliable bet for a top 5 woods showing than Michael Johansen? So smooth.
13) James Cole's back-to-back top 10s gets him on the list.
14) Oh so quietly, Cale Leiviska has not finished outside the top 10 at a tournament in 2017.
15) Seppo Paju, two-time Finnish National Champion.
16) Jeremy Koling should be a lock to get back into the upper echelon of our rankings as the pro circuit heads deep into the woods.
17) We can only imagine what would happen if Cameron Colglazier were still touring consistently. He's a beast whenever he shows up.
18) Known for his cannon arm, Drew Gibson demonstrated some excellent woods proficiency last weekend in Kentucky.
19) K.J. Nybo isn't signed up for any more 2017 events, but here's to hoping he jumps across the pond again for the United States Disc Golf Championship in October.
20) Lots of lead card face time gets Texas pro Nate Perkins some list time.
1) After a rough go at Ledgestone and a tough first round at the Idlewild Open, Paige Pierce bounced back for a big win and takes that momentum to this weekend's Pittsburgh Flying Disc Open.
2) Valarie Jenkins took the win at Ledgestone in a playoff, but Pierce's dominant win at Idlewild keeps Jenkins in the second spot. Or, more appropriately, 1b.
3) Since our last power rankings, Jessica Weese has had her best month of the season, including a win at the Brent Hambrick Memorial Open; a second place finish at Ledgestone after a sudden death playoff; and time at the top of the field at the Idlewild Open.
4) After not quite being able to keep pace at Ledgestone, Sarah Hokom gave it everything she had in an attempt to catch Pierce at Idlewild. More woods golf is on the slate, so watch for her to rise in future editions of the power rankings.
5) A strong putting performance helped Ragna Bygde Lewis to a third place finish at Ledgestone.
6) A seventh place showing at Ledgestone and a win at the Titan Open cement Lisa Fajkus' spot in the rankings.
7) It's been a rough return stateside for the European Open Champion Catrina Allen, as she drops a few rungs on the ladder.
8) Eveliina Salonen took the big win at the Finnish National Championships, which was her third straight such title.
9) Henna Blomroos hasn't finished outside of the top 2 in her last five tournaments. She took a playoff win at the Powergrip Protour event in Pori, Finland, two weekends ago and finished second at the Finnish Nationals.
10) Kristin Tattar stays in our rankings thanks to wins at the Valgjärve Open and the Estonian National Championships.