What's the secret to beating one of the sport's toughest courses?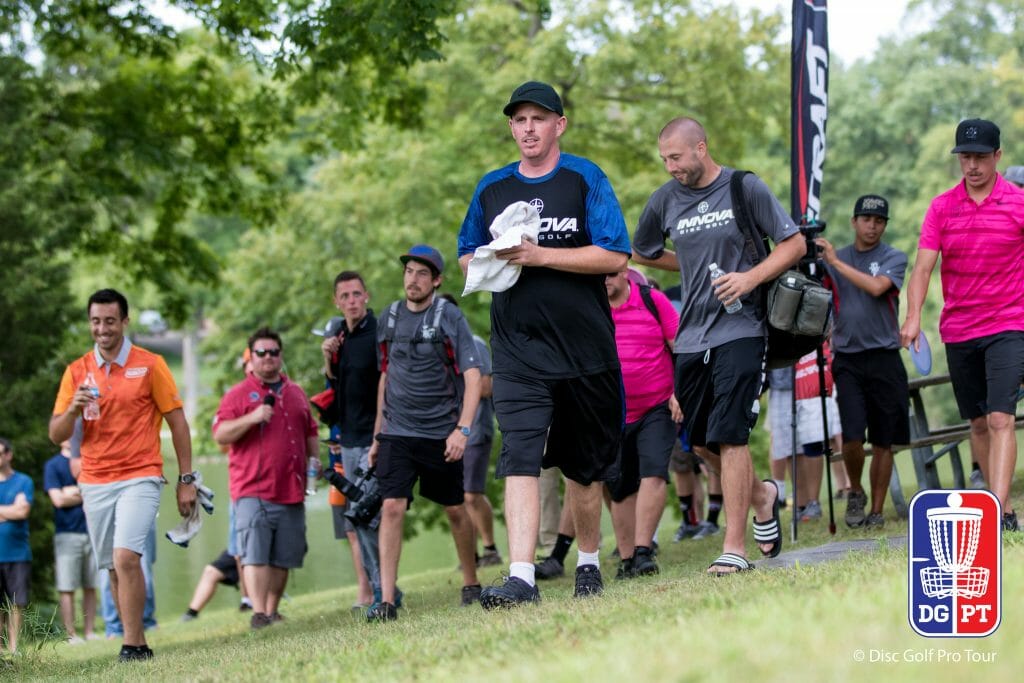 As Tournament Director and Eureka Lake course designer, Nate Heinold has said in the past, he wants the Ledgestone Insurance Open to be "the US Open" of disc golf, punishing bad shots, mainly with the use of OB.
Which is why it's a bit surprising when you realize the 2017 winner at Ledgestone, Josh Anthon, won by such a large margin. Anthon finished the tournament 10 strokes ahead of second place Paul McBeth with a 33-under par 219 total. So what's the secret to building a lead when there's danger and extra strokes lurking on almost every hole?
For Anthon, who took the lead early with a monster 12-under par 51 first round, it was moving day where he solidified his place. The third round on Saturday had Anthon four ahead of a Ricky Wysocki, who was fresh off his second world title, five ahead of Paul Ulibarri who was close to matching Anthon's first-round score, and six ahead of Paul McBeth, who loves a good final round chase.
The round starts up and down for most of the lead card. Ulibarri goes turkey to start but gives the strokes back on the next two holes. Wysocki's start is similar, breaking even on the front nine. McBeth found OB four times in nine holes but managed to at least squeak by under par. Watching Anthon on the coverage, it's obvious he wants to return to his peak playing days. He's focused. Precise. He even rallies from what would be his lone bogey on the day by drilling a 50-foot birdie putt on the next hole to right his wrong.
So at the turn, on the most important day of the tournament, the closest players that could possibly touch Anthon have instead seen the leader go 4-under, now seven clear of second place Wysocki. Only McBeth looks prepared to make a move but he's still eight back.
Even with McBeth turning into 'McBeast,' reeling off birdies on holes 10-13, Anthon does not falter. He matches the score. He's calm and collected, even trusting his seldom-used forehand on the birdie-or-die hole 11.
Then the troubles. The time a four-time world champion with a knack for comebacks can get in your head. Both Anthon and McBeth play the par 4 hole 14 perfectly. Anthon, however, leaves his second shot a bit long on the approach, but a 30-footer should be nothing. Instead, it's a right side splash out, Anthon's first two-putt from inside Circle 1. McBeth cards his fifth birdie in a row. Are cracks showing?
The 315-foot uphill shot off the tee on hole 15 demands a backhand turnover to get to the pin while negating the nearby OB. Anthon can only watch as McBeth parks his drive for a tap-in two. What will be six holes in a row, now. Anthon has the shot in his arsenal but doesn't get the turn he needs. He's outside the circle looking at an elevated basket. Anthon drills the cage, low. This feels like it's about to become the prelude to a McBeth Sunday victory.
Anthon's composure and craftiness come out next though. McBeth struggles to get a birdie look on hole 16 while Anthon is aggressive off the tee with a power roller down the right side of the fairway, but it also, unfortunately, gets him stuck in the thick vegetation. He's made-up a lot of ground at the cost of solid footing for his second shot.
Having already seen McBeth have to go into scramble mode, Anthon, looking like a Homer Simpson meme, goes maximum effort patent pending to shape his disc next to the basket.
Anthon would get two more strokes back after placing his shot gently on hole 17's island as McBeth hit the dock to find water and the bogey.
And rewatching the round now, Anthon's nine-stroke lead after three rounds still seems crazy, because he's not doing anything out of this world. He's not outdriving McBeth and Wysocki. He only hit one Circle 2 putt.
Anthon was just never in trouble. He rarely even had to scramble. It feels like we're glossing over his performance but he just simply executed.
But maybe that should not come as a surprise. Two years ago McBeth had a similarly dominant win, taking the 2016 Ledgestone by 12 strokes. Rewatching his final round, McBeth goes about his business the same way as Anthon. It's surgical and precise.
For McBeth, he took a five-stroke lead over Cale Leiviska, Nate Doss, and Cam Colglazier into the final round and made the rope-lined fairways into mincemeat. He shot an 1105-rated final round, a 14-under par 50, and yet it doesn't even seem to register as it appears so effortless.
So there it is, that's your secret to defeating Ledgestone. Just dial it in. Play some 'Nate Sexton golf' as Eagle McMahon likes to say. Know where to attack and when to reel it in.
It's so easy — can't imagine why other players haven't cracked it.