McMahon, Lizotte, Doss, and Jenkins all opt out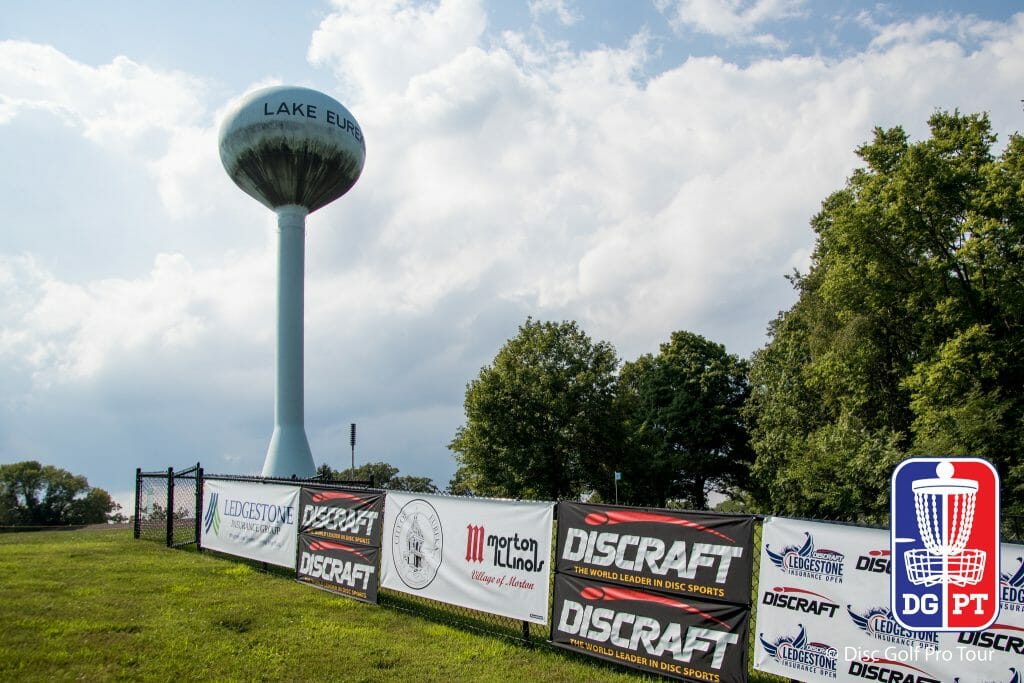 The Ledgestone Insurance Open is a big draw every year for touring pros and average joes alike. Why? It's probably the well-earned reputation for big payouts. This year the total projected pro payout is $107,135. The top Open Women's finisher will take home $2,300, and the top Open finisher will walk away with a cool $7,000. But not all the top pros reserve this weekend in their calendar for a trip to central Illinois.
In the Open Division, defending Ledgestone Open champion Josh Anthon is making his first tour appearance since the Beaver State Fling. The defending Open Women's Ledgestone champion Valarie Jenkins, who beat Jessica Weese in a playoff in 2017, will not be in attendance this year. Weese is registered, and the field is stacked. Of the 26 women registered, 13 are rated 900 or better.
Storylines
Wysocki Back Stateside and Coming in Hot
Ricky Wysocki is playing his first tournament in the U.S. since he won the Utah Open. At the end of his swing through Europe, he found himself in first place in the EuroProTour points standings after winning the just two of the series' four events, the Skellefteå Open, and The Open.
Wysocki should be feeling confident coming into Ledgestone, but this tournament has given him fits over the years. Wysocki has never cracked the top three at the event, and his best finish was in 2017 when he finished in fourth.
Allen Angles for Sixth Ledgestone Win, Pierce Playing for First
Catrina Allen has won at Ledgestone five of the seven years that there has been an Open Women's division except for last year when Allen took sixth, and in 2012 when she did not play. Allen will be entering the weekend fresh off an A-Tier win at The Des Moines Challenge where she won by 10 strokes. That should bolster her confidence after a rough stretch of rounds earlier in July.
Like many of her Trilogy sponsored comrades, Paige Pierce spent most of July in Europe. Overseas she took third at Tynni, and second at the Skellefteå Open. Pierce has never won at Ledgestone, but she has come close. She finished second in 2016, 2015, and 2012.
While Pierce and Allen have each shown some cracks in the armor over the course of their season, Hokom has been rather more consistent. The sidearm specialist placed second at Idlewild, and has won three of the last five tournaments she has played in since the Beaver State Fling. Hokom won the Ledgestone in 2012 and is certainly a threat to take it down again this year.
Notable Absentees
The 'Crush Boys' are both skipping Ledgestone this year. McMahon stated on Facebook that he is taking a couple weeks off to spend time with family. Lizotte is staying over in Europe to compete in the European Disc Golf Championship before returning stateside for the final leg of the season. We will see both of them again on tour at the MVP Open at Maple Hill.
Valarie Jenkins, last year's Open Women's division winner, and Nate Doss will also be absent this weekend, probably working on their business for their brewery.
Courses
Just like last year's event, the Open and Open Women's division will be playing different courses.
Lake Eureka Temporary — Buzzz Course (Open, Thursday through Sunday): Par 63, holes 6 and 13 feature A and B pin positions, which means this one plays at two different lengths. During rounds one and four the "A" pins are in play, checking in at 9,647 feet long. During the middle two rounds, the "B" positions are in play on these two holes for a total length of 9,725 feet. Every hole features OB, and 11 on the course bring water into play. The caddy book can be found here.
Northwood Park — Machete Course (Open Women: Thursday, Saturday): Par 58, 6,219 feet. This track, which plays through a park setting and woods, has OB on four holes. This course has been used by both top pro divisions at various times throughout the tournament's history. The caddy book for Northwood can be found here.
Sunset Hills — Vulture Course (Open Women: Friday, Sunday): Par 59, 6,941 feet. Sunset Hills is located on a golf course and, as is usually the case on these tracks, there is OB aplenty. Every hole except 15 has OB, and most golf course features, save fairways, will play OB. The caddy book for Sunset Hills can be found here.
How To Follow
Check in here at Ultiworld Disc Golf for recaps of each round from the Open and Women's Open field. UDisc Live is on tap providing live scoring. Post-production, next-day video from the event is set to be released on the Jomez Productions and Central Coast Disc Golf YouTube channels. The Disc Golf Pro Tour will be providing updates via their Instagram, with event photos from Alyssa van Lanen. Live streaming of the Open division feature and lead cards are available on the Disc Golf Pro Tour channel, produced by SmashboxxTV, with the feature and lead cards of the Open Women's division set to be broadcast in the hour before the Open live broadcast. The Open Women's coverage kicks off at 3:00 p.m., with Open at 4:00 p.m. Thursday through Sunday. Par Save Productions and Nyc Productions will also be on the ground recording — their post-production footage is expected to be released following the conclusion of the event.
Extended Forecast
The first couple of days look to be hot and humid. Fortunately, a cold front will work through the region early 
on Friday
, leading to somewhat cooler and less humid conditions 
Saturday
 and 
Sunday
.
7 AM
: 65° with a southwest breeze.
3 PM
: 88° with southwest winds gusting to around 15 mph. Temperatures will feel more like it's in the low to mid 90's. An isolated afternoon thunderstorm will also be possible.
7 AM
: 67° with a southeast breeze. The wind will shift to out of the northeast throughout the day.
3 PM
: 84° with northeast winds around 10 mph. Isolated thunderstorms will be possible.
7 AM
: 65° with a northeast breeze.
3 PM
: 84° with northeast winds around 10 mph.
7 AM
: 64° with a northeast breeze.
3 PM
: 85° with northeast winds around 10 mph.
With a northeast wind being in play for most of the event, players could use the wind to their advantage on hole 13 at the Lake Eureka course. Hole 13 is a 1,170-foot par 5, which features the lake to the right and OB along the left side of the fairway. The northeast wind should play as a right to left, helping to bring discs in-bounds over the water. However, if players turn their drives over they run the risk of hanging right OB.
Meanwhile, the Open Women's field may experience a headwind on hole 10 at Sunset Hills. Hole 10 is a 383-foot par 3 which features on OB pond precariously close to the basket. Players will have to make sure their disc doesn't turn over to the right and ride the headwind into the pond near the basket.