Koling takes second; Carlsson rides two aces to third over Lizotte, Nybo, and Mäkelä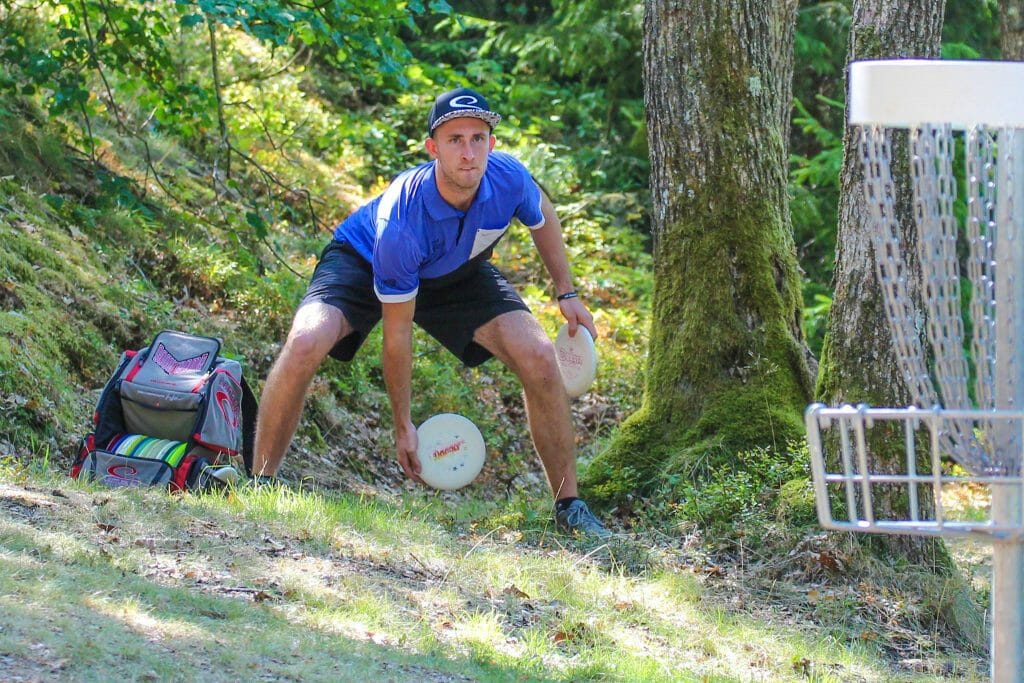 Going into the fifth and final round of The Open, 2018's last EuroProTour event and a PDGA A-Tier, Ricky Wysocki was sitting comfortably ahead of his competition. Having averaged a little over 1056-rated golf through his first four rounds, he was eight strokes ahead of second place Jeremy Koling. Koling, however, did not enjoy such a cushion. As Wysocki cruised to victory, a vicious battle raged for podium spots during a windy final round between U.S. native Koling, Swede Linus Carlsson, Finn Väino Mäkelä, German Simon Lizotte, and Dane K.J. Nybo.
In the end, Wysocki's 1017-rated 3-under par 60 final round helped earn him the winning total score of 45-under par 258, leaving him with the same eight-stroke advantage over second that he began the round with. Koling also played a 3-under par 60, making his final score a 37-under par 266. This was enough to give him a two-stroke edge over third-place finisher Carlsson, who squeaked onto the podium with his 35-under par 268 (a score padded by two aces over the weekend). Hot on his heals were Lizotte, Nybo, and Mäkelä, who all split fourth place with 34-under par 269s.
The Open was played just outside of Gothenburg, Sweden at the Ale Disc Golf Center, a private disc golf facility. Competitors tested their skills against the center's par 63 White course and par 57 Yellow course. When asked to describe his feeling about the facility—which is owned by Camilla and Jonas Grundén—Koling was entirely complimentary.
"It's absolutely top notch in every way," said Koling. "The attention to detail is unmatched at any other facility I've ever been to. The White course is a championship caliber course that challenges the best players while also providing fun shots that anyone can appreciate…my hat's off to Jonas and Camilla Grunden as well as Dan Johansson and anyone else that helped sculpt such a beautiful layout!"
Wysocki also loved the center and said it's in the 'top 10' places he's ever played. He was also happy to take home a shared course record 15-under par 42 on the Yellow course, a score both he and Koling shot during The Open's third round.
Though proud of his win, it was clear from Wysocki's further comments to Ultiworld Disc Golf that he's already setting his sights on the biggest prize of them all.
"I feel good about my performance," Wysocki said when asked how it felt to finish on top at The Open. "[But] I feel like I'm using all these events to get tuned up for the big test: the World Championship…my goal is to be 100-percent confident by then [September 2nd-9th] to perform the way I should."
Koling was 'really happy' about how he played generally but pointed to an area where he could improve.
"Honestly I missed far too many putts inside the circle to expect anything better than runner-up, especially with Ricky Wysocki leading the way," commented Koling after his round. "The wind picked up quite a bit over the final two rounds and made attacking the course quite difficult. Catching Ricky was slightly unrealistic coming into the final round, so holding off the charging competition was my biggest obstacle."
And charge that competition did.
While it was Mäkelä who started the fifth round closest behind Koling (one stroke), it was those who started in fourth and fifth place—Carlsson and Lizotte—who had the best chances to overtake him down the stretch. In fact, after all three had played hole 13, Koling was at 34-under par while Carlsson and Lizotte were both at 33-under par.
Lizotte, playing from the chase card, then carded a birdie on hole 14, putting even more pressure on Koling.
"I checked scores heading into hole 14 and Simon had climbed back to tie me," Koling recalled. "I knew I had to birdie 14, 15, and 16 in order to hold onto second place."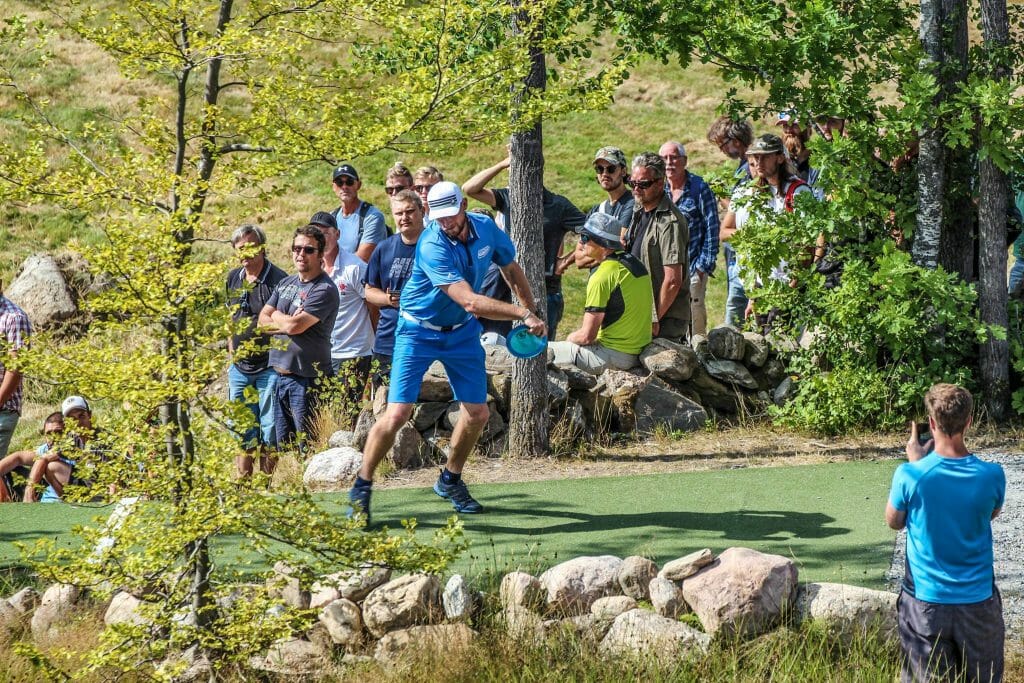 And what did Koling do at that point?
"I did just that," he said, referring to getting a much-needed turkey on holes 14-16. "It's nice being able to understand the situation and what you need to do and then execute."
In contrast, Lizotte came up birdie-less on holes 15-18. This allowed Carlsson to snag a one-stroke advantage over Lizotte with his birdie on 17 and Nybo and Mäkelä to catch up with the German to share fourth.
The 999-rated Carlsson was very excited by his podium finish in a field with many better-known and higher rated competitors.
"To finish in third place in front of a lot of big names such as Lizotte, Nybo, [Devan] Owens, [Avery] Jenkins, etc. is a very big honor for me and I'm super happy with how this tournament turned out," Carlsson said. "Even though I made a lot of dumb mistakes!"
Two things that Carlsson definitely wasn't classifying as "dumb mistakes" were his two aces over the weekend. Both were caught on video, and you can check out Ultiworld Disc Golf's story on them here.
And it probably goes without saying, but of course, Koling was on Carlsson's card for both of them.
The Open marked the last European tournament of the season for many well-known U.S.-based pros, including Wysocki, who actually won the EuroProTour, the continent's top tour series, by clinching victory in Sweden. Ultiworld Disc Golf asked him how he felt his time across the pond went.
"The trip to Europe has been very successful in many different ways for me," Wysocki said. "I've done a lot of clinics and won three out of four events that I've played. That being said, I'm very happy with the trip and ready to get back to the states to get ready for the last leg of the tour."
Though ready to return home, Wysocki was sure he would return to Europe next year.
"Not sure how long or how many tournaments I'll be playing but I will be back," he said.
Koling was also sure that he'd make it back across the pond and even expressed a very specific wish regarding The Open.
"I cannot wait to return," he said. "Hopefully next time it will be competing for a Major title!"