Hokom, Fajkus recover from slow starts to sit in second and third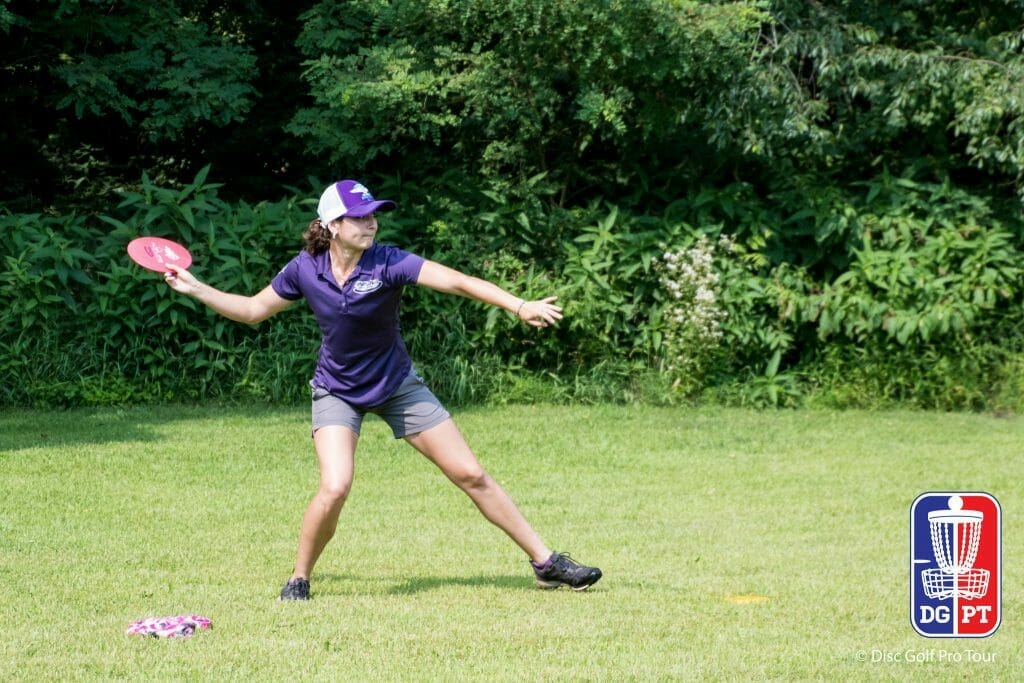 One truth about this Disc Golf Pro Tour season is evident: Jessica Weese comes to play. To this point, the Northern California pro has competed in four DGPT events and has yet to finish outside the top 5, collecting third, second, and first place finishes in three of those appearances.
And during yesterday's first round of the Idlewild Open, Weese picked up where she left off after her impressive showing at the Ledgestone Insurance Open two weeks ago. Her 992-rated 4-over par 70 gave her a two-stroke advantage and the overall lead ahead of Sarah Hokom, who tossed a 980-rated 6-over par 72. Lisa Fajkus is in third place after a 7-over par 73 performance, while Paige Pierce sits in fourth after carding an 8-over par 74. Catrina Allen rounds out the top five with an 11-over par 77.
Though Weese ultimately ended the round in control, she wasn't exactly pleased with her play out of the gates.
"I feel like my game started pretty slow from the get go," Weese said. "I felt like I was — I started out with a bogey and bogeyed the next hole after that and had to scramble for a par on the next one."
It turns out Weese is her own worst critic. She actually did not card a bogey until hole 6 and opened up the event with one of the best scores through the first third of the course.
"Mentally I feel like if you can get 3s on those holes you're picking up strokes on almost the whole entire field, and I know they're gettable," Weese said. "In my head I wasn't playing very solid from the beginning, so I just tried to forget about the first holes and realize that it was all a warm-up and just getting started for a big, long weekend. So I just put my head down and I continued to throw shot for shot as well as I could and scrambled some golf together."
After hole 6, as the course transitions from relatively open terrain to tightly wooded fairways, Weese did indeed scramble some golf together. She and Hokom were the only players in the field to crest 50 percent when it came to saving par after missing circle two in regulation. And Weese, in particular, relied on a little extra savvy as she tackled the final two thirds of the course, hearkening back to a trick she learned while on the shelf with a right shoulder injury in 2016.
"I found myself in the schule a couple times and I felt like a had no other option but a forehand roller to get out and get somewhere down the fairway to have another opportunity, and fortunately it worked a couple times — and a couple times it didn't," Weese said. "I also actually found myself wanting to throw a left hand hyzer on one of the holes, so I got a little frisky out there and busted out the left hand. So that was fun."
Her off-hand wasn't the only tool from her time off last year that she put to use on the course yesterday. She credited her recent run of quality play over the last two months, which includes a win at the Brent Hambrick Memorial Open and a second place finish at Ledgestone, to the practice she put toward the mental side of the sport during her rehabilitation.
"After coming back from my injury — I was out for nine months — I got to watch and learn from so many people and just kind of take everything in from being a spectator and not a player," Weese said. "And I feel like that really helped my mental game, and I feel like it's easier to be calm on the course than ever before."
Much like Weese, Hokom acknowledged her slow start, but leaned on some humor to get through the challenging wooded middle section of the course, joking with the gallery about some of her poor shots through the trees.
"I had a lot of fun out there," Hokom said "…Just had a rough stretch there, and then I was able to collect myself and finish out without many bogeys through the back. I felt like I was a little shell-shocked in the middle, like, 'Whoa, what just happened?' It's definitely got a lot of trees and really, really tight lines. If you're off by an inch you don't have a shot at the pin for a birdie or par sometimes."
All three competitors at the top were able, for the most part, to avoid the copious out-of-bounds, which takes the form of a meandering creek and pond that comes into play on nearly half of the holes. But for Pierce, a hole 1 drive that faded out early into the left side OB was a precursor for the rest of her day. She had the second highest OB rate in the field, and by far the highest in the top 5, after five penalty strokes led to a .278. The errors marred what was otherwise a solid performance, as she led the division in both fairway hit percentage and circle 1 putting.
The challenge that Idlewild presents wasn't lost on Weese, who said accuracy is paramount when no two fairways on the undulating track look alike.
"I think that this course is probably on my top 15 of favorites," Weese said. "There's a lot of trees out here — you're never going to find a fairway with all the same trees. It's going to be different on every shot. But then there's also — you have to take into consideration all the little creeks that come into play that weave in and out down the fairway, so you really have to be aware of what you're looking at."
Despite danger around every corner, Fajkus was learning to love the course.
"Basically, it's growing on me," Fajkus said. "The more I play it, the more I like it. It's really beautiful and manicured, it's really well taken care of by the local club, and I think it's a pretty good tournament course also because there's some scoring spread here and there."
Hokom echoed Weese and Fajkus' sentiments and gave the course a pass — even though it doesn't necessarily fit in with the Disc Golf Pro Tour's plan to adjust courses and layouts for the women's division, a cause she has long championed — because of its impact on the scorecard.
"The only reason that I'm not openly talking about the [lack of] shorter tees in this particular case is we are getting a ton of score separation because the course is so wooded, and to me the score separation is the most important part, followed by appropriate pars, which would be the next most important part," Hokom said. "So the fact that there is a ton of score separation because of the woods, I'm not being very vocal about it in this particular case.
"I really do like the course — it's a lot of fun to play, it's really challenging," Hokom continued. "It keeps you on your toes the whole time. It would be better if the fairways were opened up a little more with cutting down some more trees. Hopefully they'll do that. Waco got the same feedback and this year the lines were much better. It's a work in progress."
Looking ahead to today's second round, Hokom was aiming to get over some of the nerves that plagues her yesterday.
"I was a little anxious for the front nine, and I think I'm just going to try to relax, enjoy myself and have some fun and enjoy throwing good shots," Hokom said.
Today's Open Women's lead card of Weese, Hokom and Fajkus tees off at 9:00 a.m. local time.