Young pros rise as a murderer's row of closing holes bites the field on day one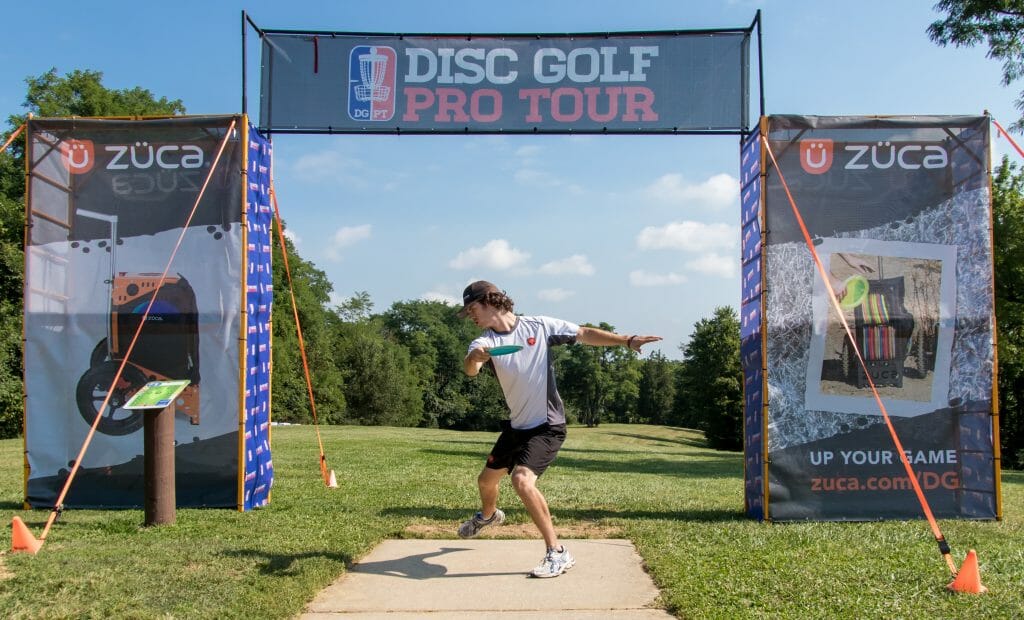 In looking to describe yesterday's performances at the Idlewild Open in a nutshell, one need not look further than the course's final three holes, which accounted for a whopping 274 strokes over par across the 89-player field.
If you need a smaller digit to work with, how about 11? That's the number of people who managed to shoot under par on the track.
Of those 11, two sit atop the leaderboard after the first-round fracas, as Nate Perkins and Andrew Presnell fired off 5-under par 61s to pace the field on a day when Mother Nature made a challenging course that much more difficult. Chris Dickerson and Drew Gibson are knotted up in third place after their 4-under par 63s, while Gregg Barsby, James Conrad, and Reid Frescura round out the top 5 with 2-under par 65s.
Both leaders threw well above their ratings, notching 1046s to put plenty of space between themselves and a bevy of known contenders. Presnell, a 1001-rated Missouri pro who won the Kansas City Wide Open in June, hit all of his putts from inside the 10-meter circle and added two from 40 feet. Perkins, a 1006-rated Austin, Texas, native who broke onto the national scene at last year's Silver Cup, likewise relied on a strong putter, connecting on 89 percent from short range.
"I feel great, yeah – I'm super pumped about how the first round went," Perkins said. "I had a couple late bogeys that I wasn't too happy about, but overall I think that this is a challenging course. Only 11 people, I believe, were under par. So to finish under par, and finish at 5-under par, it feels great."
Both Perkins and Presnell started quickly at the first-time Disc Golf Pro Tour event, with the former carding four straight birdies to open play and the latter getting three of four. Presnell cooled off slightly and went 1-over for the rest of the front nine, while Perkins continued his heater and was at 5-under at the turn, highlighted by a 200-foot throw-in for birdie on the 576-foot 8th.
"It was a crazy story, actually," Perkins said. "…I tossed my [Discmania] FD3 up there, it skipped, it looked good — looked like it was a little long. And two or three minutes later, when someone else on my card pitches out and is about to throw another shot, they look up and they were like, 'Nate, did you know you went in the basket?' We had no idea, we didn't hear anything. It was crazy dude. It was so crazy."
Then, as has become commonplace on this season's Pro Tour, the weather intervened. A lightning delay halted play for 45 minutes just as Perkins' card hit hole 10, and he admitted that the stoppage influenced his performance.
"It absolutely affects flow," Perkins said. "Some people, you know, it can go either way. [For] a couple people on my card, it went one direction. For me, it felt like it slowed me down just a bit. Your grip's changing, the humidity's changing, so it can definitely have an impact."
Not as much of an impact as the murderer's row of holes that face players down the stretch. Perkins was actually at 7-under par until he reached hole 15, where he failed to scramble and settled for his first bogey of the day. He followed up with another on hole 17, a 418-foot par 3 that played as the course's second most difficult.
"[Hole] 17 you could argue is a par 4, and there's just OB — it's like an OB snake the whole way through," Perkins said. "I play it for a 3, I definitely don't try to get a 2, and I'm not unhappy with a 4."
That mentality of taking what the course gives is integral to Perkins' attack and displays a maturity that belies his 24 years of age. Now in his second full season of touring, his rating has steadily climbed since that Silver Cup showing last year, when he was only rated 988. He crossed the four-digit threshold in May, and credited an improved backhand — "I'm not just a forehand guy anymore" — and his extended travel for the improvement.
"You learn fast on the road," Perkins said. "To keep up with these guys, yeah, you've gotta play to your strengths, for sure."
Now those guys will have to play catch up with him. Paul McBeth, the event's highest rated entrant, carded three penalty strokes in the last three holes to slide into a 16th place tie with a 1-over par 67. Michael Johansen, whose 1028 mark ties him for second on the ratings scale with Dickerson, is in eighth place after a 1-under par 65. And though he's up in third, Dickerson wasn't immune to struggles: He was in sole possession of first place until he carded a double-bogey 6 on hole 18.
Though he hasn't spent the amount of time in front of the cameras as those chasing him, Perkins said he would enter today's round with a clear head.
"I definitely know I'm gonna be a bit nervous stepping up onto the first hole, but once you get things rolling and you stick to your game plan, it kinda just all comes down to one shot at a time," Perkins said. "I'm not gonna overthink anything or worry about making mistakes. I'm not going into it with any fear."
Plus, he said didn't mind helping to mix up the order of players who usually soak up the spotlight at premier events.
"It really is nice to see some different names up there," Perkins said. "I think it's good for the sport. Honestly, either way it's good for the sport if you've got a Tiger Woods in there taking off, but it's nice to see some new names."
The lead card tees off at 2:30 p.m. Eastern, with live coverage on the Disc Golf Pro Tour's YouTube channel and real-time statistics available via UDisc Live.