Presnell takes down KCWO, while Paju gets second in a row overseas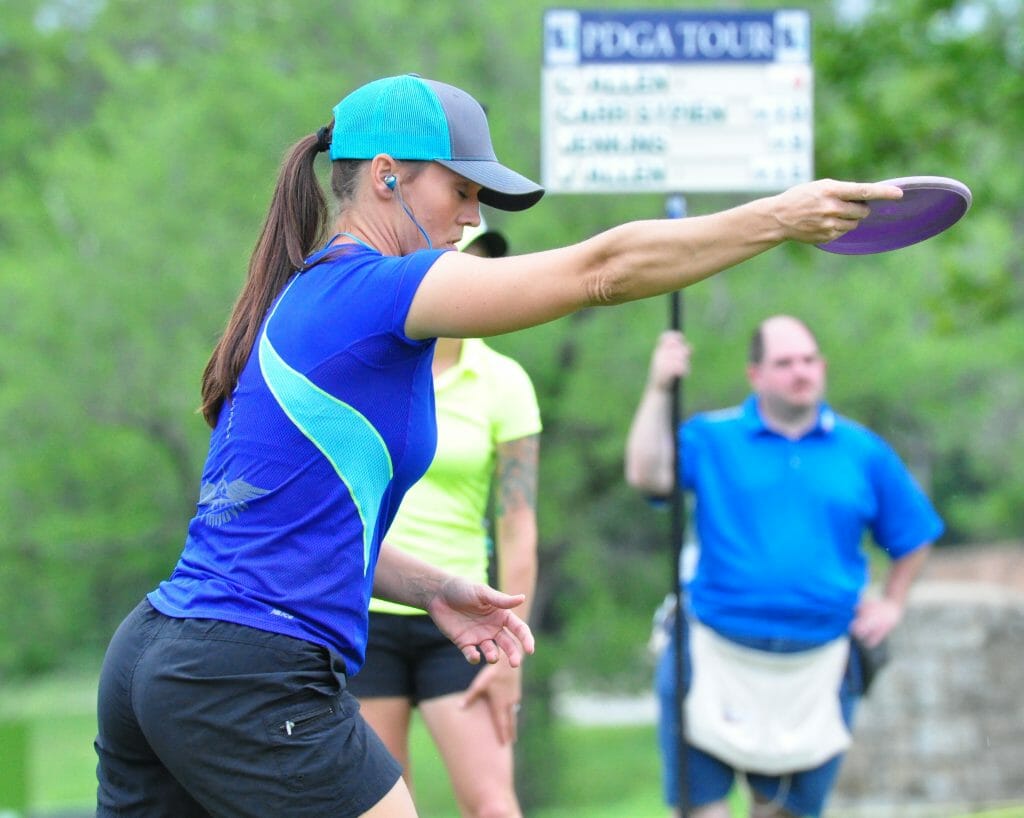 There were a handful of A-Tier events that garnered the attention of pros outside of the Beaver State Fling, capping off a mad dash of play before next week's PDGA Professional Disc Golf World Championships in Augusta, Georgia.
Out in the Midwest, Jeremy Koling, Steve Brinster, and Austin Turner highlighted a Kansas City Wide Open field that featured eight players rated 1000 and up. But that didn't stop a 997-rated pro from Ozark, Missouri, from taking the win.
Andrew Presnell took an early lead after round one of the event, then ceded it to Koling, who tied for the hot score in round two to take the lead going into the final. Presnell, though, fired back on Sunday, shooting one stroke off the hot round to finish with the W and a 20-under par 169 total. Koling finished the took second place with a 17-under par 172, while Zackeriath Johnson rounded out the top 3 with a 15-under par 174. Presnell averaged 1039.6-rated golf throughout the weekend.
On the women's side, Jennifer Allen was able to pull away with the victory after being tied for first place after two rounds. Allen's 19-under par 208 total was seven strokes better than Emily Beach, who ended with a 26-over par 215. It was Allen's third career victory at the KCWO, as she also took down the event in 2015, when it was an A-Tier, and in 2010.
The 25th Annual Mad City Open took place in Madison, Wisconsin, with big names such as Alex Geisinger, Cale Leiviska, and Jordan Castro competing. A battle between Geisinger and Leiviska ensued, as the pair was tied for the lead after three rounds of play. Geisinger then bested Leiviska by four strokes with a 1068-rated final 9 to take the victory after a 27-under par 171 performance. Justin Lammers worked his way into a second place tie with Leiviska, where they both finished with 23-under par 175s, while Adam Hammes finished in fourth place with a 19-under par 179 total. Holly Finley, the lone competitor in the Open Women's division, finished with a 26-over par 194.
Across the pond, Seppo Paju took his second straight victory by winning the Sula Open in Sula, Norway, with a 24-under par 165 total. The finish was one stroke better than Will Schusterick, who took second place with his 23-under par 166. Pasi Koivu took third place with a 19-under par 170 after averaging 1014-rated golf, one point above his current rating.
Schusterick, coming off his announcement of a shoulder injury, put together one of his better tournaments of the season but still battled some inconsistency, logging rounds rated at 1041, 995, and 1039 for the weekend.
The leaderboard for the women's division in Sula shuffled around quite a bit. After the first round, Vanessa Van Dyken and Kristin Tattar were tied for the lead. Tattar, though, came from behind for the win during the final round, besting Van Dyken by 14 strokes with a 12-over par 201. Anne Kettunen's 933-rated final round vaulted her into second place with a 22-over par 211, while Van Dyken slipped to third place with a 23-over par 212. An in-depth recap of this EuroProTour event is forthcoming at Ultiworld Disc Golf.
The final A-tier on the professional side was the Mukkula Open in Lahti, Finland. After shooting two straight hot rounds to open the tournament, Janne Hirsimäki lobbed a 998-rated final round, but managed to hold on for the win with a 22-under par 167 total. He was chased by Teemu Nissinen, who shot a 1023-rated final round to end in second place with a 20-under par 169, and Juhani Vainio, who made a move with his 1032-rated hot final to tie for third place with Mikael Häme at an 18-under par 171.
Anna-Sofia Haipus dominated the four-player Open Women's division, taking a wire-to-wire win with her 19-over par 208 score. Haipus averaged 895-rated golf for the weekend, playing well above her player rating of 790.