Texas native shares the lead with Wysocki, while Jenkins tops FPO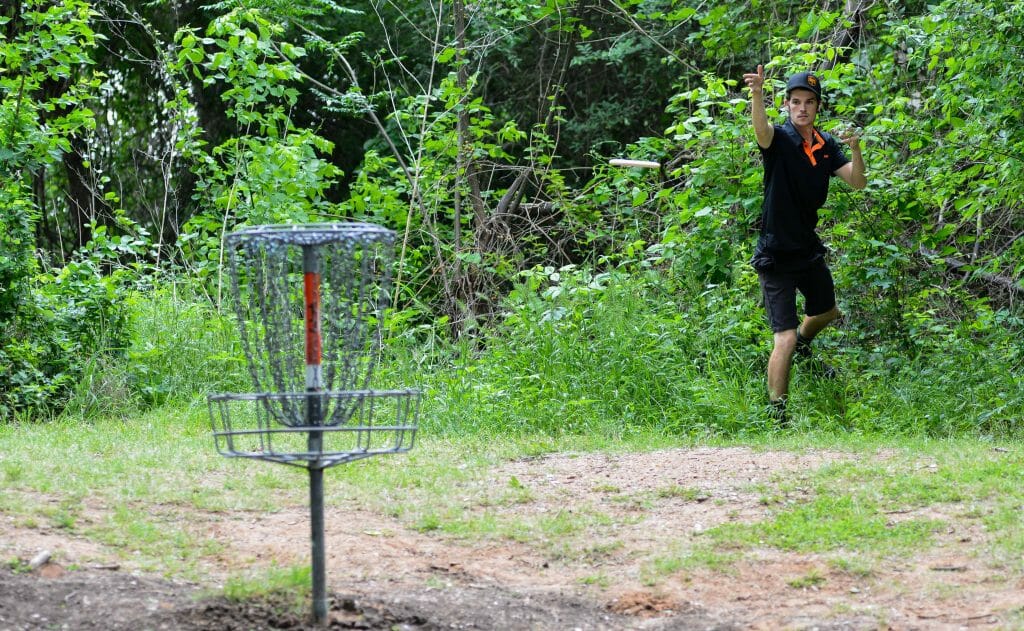 Nate Perkins was searching for the right terminology to describe the possibilities that stood in front of him heading into the second day of the Silver Cup, but he needed a little help.
"I think, realistically, it would be one of the biggest – what's the word I'm looking for? Djokovic just got knocked out –"
Upset?
"Yes, it was an upset!" Perkins continued. "It would be one of the biggest upsets since I've started watching – three, four years – a 980 [rated] guy coming to knock out Ricky [Wysocki], who's basically on fire."
After a day that found him shooting rounds of 48 and 45 to end up at 19-under par, it's easy to let the 23-year-old Austin, Texas, product – whose rating is 988, for the record – off the hook for coming up short on the vocabulary front. He certainly made up for it on the Silver Creek course, using precision off the tee and a blistering putter to land in a tie atop the leaderboard with Wysocki at the midway point of the Disc Golf Pro Tour's second event. Matt Dollar and Alex Geisinger both carded 18-under par 94s and are tied for third place, while five players – including Michael Johansen and Cale Leiviska – are tied for fifth at 17-under.
For Perkins, a Discmania-sponsored player who made his PDGA debut a mere 27 months ago at the 2014 National Collegiate Disc Golf Championships as a member of the University of Texas disc golf team, the performance was the start he needed as he seeks his first career A-Tier victory. And he did it by taking advantage of a venue that he and others have classified as anything but demanding.
"It's a short course," Perkins said. "It's by far the easiest course that I've played since I left six weeks ago to go play these courses. I played Milo [McIver] and I played Vibram. Those were both challenging courses, and these two were not challenging."
Perkins admitted, then, that making a national splash at such a venue did take a little bit of the shine off of the accomplishment. But not enough to bring him down.
"It does a little, but this is a big moment for me nonetheless," Perkins said. "It's a big moment for me, for sure. I'm pumped, I'm talking to my dad, my dad's excited. So, it's a big moment for me. It's a big stage – it's the Pro Tour. It might be a mini golf course, but I'm in the lead with Ricky, so it's pretty huge."
He got to that position on the back of 21 birdies and 94 percent putting from inside 30 feet, which he said was an improvement over his recent play and a product of simply being at ease.
"That's kind of mind blowing on my end, that's probably the highest percentage I've had in a while," Perkins said. "I've struggled on the putting green. I was putting them in there today. I was relaxed, I was breathing before every putt. I wasn't thinking about anything, they were just going in the basket."
He'll try to take that mentality with him tomorrow as play shifts to the longer, more technical Rollin' Ridge, but it won't be easy, as he admitted that the cameras following the lead card make him a little nervous. Still, he said his experience at a course similar to today's venue gave him confidence.
"I have the capacity to [score well]," Perkins said. "I have the course record down at a course in Waco, Texas [Brazos Park East], that's sick. It reminds me of Rollin' Ridge – through the woods, it's Par 4s, Par 5s through the woods. It's my kind of spot."
If Perkins' story sounds familiar, it's because it is reminiscent of this year's Glass Blown Open, where another relatively unknown Discmania player, Eric Oakley, also blasted out of the gates to share the lead after Round One. While the former was not able to keep up that pace for the rest of the tournament, Perkins was hoping to be able to build on his breakout as play continued.
"If I can, just I just want to throw some shots out there that I know I can do and that I know can please the crowd," Perkins said. "I just want to get a couple of those laid down and just be in the moment, in the game, and not worried about the score."
In the Open Women's division, Valarie Jenkins holds a one throw lead over Sarah Hokom after a 2-under par 106 performance after yesterday's two rounds. Madison Walker sits in third place at even par, while Lisa Fajkus (+1) and Holly Finley (+2) comprise the rest of the Top-5.
For Jenkins, yesterday was a struggle with consistency, as she came out hot in the morning and faltered a bit in the afternoon.
"I think our morning round was a little bit easier," Jenkins said. "I had a lot more birdie opportunities, then in the afternoon when it got a little more windy we were playing, I think, the harder side, and I shot one over the normal course Par 54. It wasn't too bad, but I definitely had a lot more birdies the morning round."
While she was not leaning on it as an excuse, she did say that the event's format was a factor in her play.
"It's not too often that were playing these two-rounds-in-a-day tournaments," Jenkins said. "A few holes maybe a little fatigue [set in], but I should still hit the putts, you know? We still have that endurance to do that."
The day's super-sized configuration wasn't the only difference from other events, either, as Jenkins noted how the absence of Catrina Allen and Paige Pierce affected the feel of the tournament.
"I don't think it's as much tension and competitive pressure," Jenkins said. "We had such a great round. Every women's card is in a threesome. I played with Holly and Sarah today, and it was really upbeat, really motivating. We were encouraging each other and it was a really fun round today. Both rounds were."
Coverage of today's Open Men's lead card kicks off on the Disc Golf Pro Tour's YouTube channel at 12 p.m. Central.