Texas product 'let it happen' on the way to a tie with Todd, while Allen holds a slim lead over the FPO field.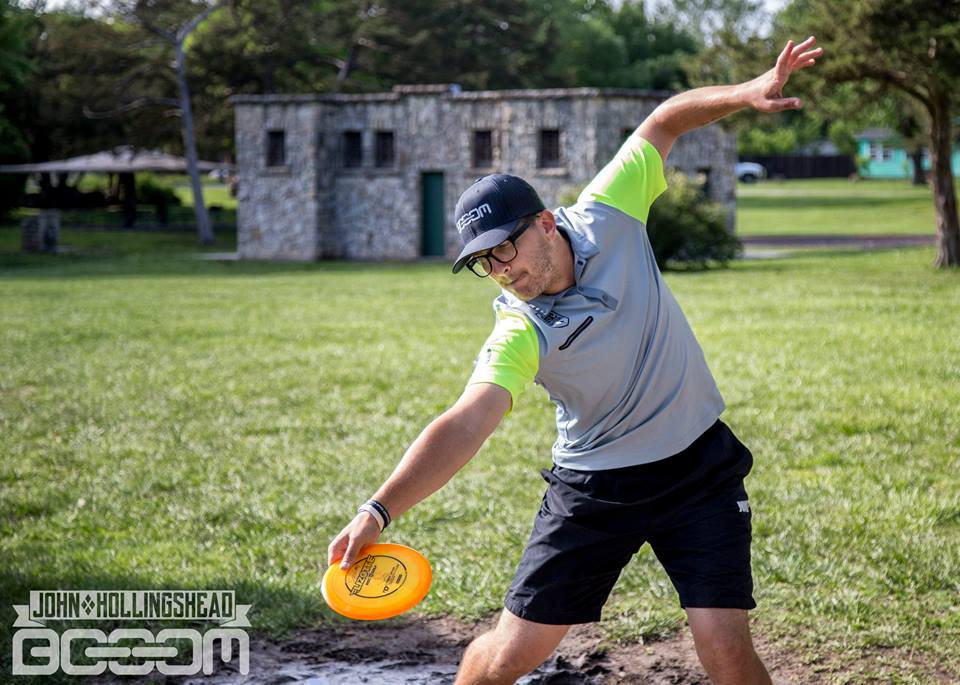 The last few years of the Professional Disc Golf National Tour, save a few exceptions that have seen some playoff drama, have been relatively predictable. Names like McBeth, Wysocki, Koling, and Lizotte have dominated leaderboards and headlines, with only two NTs since 2014 not being won by one of those players.
So when a golfer like Eric Oakley comes from virtually out of nowhere to shoot an 11-under par 45 and jump into a first place tie after the first round of the Glass Blown Open, people take notice.
The Grapevine, Texas, product relied on a combination of consistent drives, solid putting and – as he put it – not thinking to slay the Peter Pan Park course and land atop the leaderboard alongside 2001 PDGA World Champion Cam Todd. Wysocki and Zachary Newhouse both shot 10-under par and sit locked in at third place, while six others are tied for fifth place at nine-under par.
While yesterday's performance was not new for Oakley, the stage it took place on certainly was.
"Being the player that is at the place that I am, I'm not one of those guys who shoots super stellar rounds all the time, but I've done it," Oakley said. "I've shot some good rounds, and I had that same mindset going into this round where I didn't think about anything, I trusted my ability, and good things happened."
Those good things happened to the tune of an unofficially-rated 1057 round, the highest of Oakley's young career so far. And he didn't even realize how well he was playing while he was doing it.
"I honestly had zero idea where I actually was when it came to how good I was shooting, and that's usually when I shoot my best, is when I don't think about it," Oakley said. "I just play. I'm just throwing."
That mentality was especially key given some last-minute changes to the course due to overnight flooding. A couple holes were removed and replaced with shots that somewhat replicated the originals, but Oakley didn't seem to mind the difference.
"Those holes that were added weren't really that difficult, so as long as you just played smart and threw a comfortable shot you didn't find trouble," Oakley said. "That was my main goal of the day, was to not find trouble, and I didn't."
For Oakley, who spends his time on the road at the helm of the notorious Discmania RV while coordinating tour dates for Lizotte's Flying Circus and the company's new Combine event, the day was something that put him on par with the bigger names in the game with whom he spends plenty of hours.
"It's really cool because I hang out with them all the time and I've always felt like, man, I can do what they do," Oakley said. "I can do that, I can, and it's really cool to have done it, at least for one round. And obviously doing it for one round is a good stepping stone, but doing it for a whole tournament is the next step."
As action shifts today to Jones East Park, where the course lengthens out and the wind is expected to be kicking, Oakley said he had the distance to hang with the field and that he would do his best to retain the mindset he did in the opening round.
"I didn't try to shoot hot, I just let it happen," Oakley said. "That's kind of the goal for the rest of the tournament. Let's not make any stupid decisions, let's not go too crazy, and let the scoring happen. If it happens, it happens. If it doesn't and I have to scramble a bit, let's just do our best and see how things go."
Oakley and the rest of the competitors today will have to be on guard, with gusts up to 25 MPH and a possibility of rain in the forecast.
Wysocki, who said his 10-under landed him right where he expected to be, emphasized the need for course management as the weather becomes a greater factor.
"If it's windy enough, that dictates certain shots and changes certain shot for certain holes because you can't attack as you would if it weren't windy," Wysocki said. "Things can get crazy and go haywire in the wind. All your mistakes are definitely exaggerated in the wind."
Catrina Allen sits atop the women's leaderboard after throwing a one-under par 55 at Peter Pan, with Ellen Widboom (even), Paige Bjerkaas (+1), and Karina Nowels (+1) rounding out today's lead group. Des Reading, Paige Pierce, and Madison Walker are all tied for fifth place at two-over par.
After carding a double bogey on the final hole of round one, Allen said she felt like she left about five shots on the course and was focusing on her mental game heading into round two.
I'm really just working on kind of not looking over my shoulder at what everyone else is doing and just sticking to my game plan and just staying in my own world on the course," Allen said.
Much like Wysocki, she also stressed the importance of playing it smart in today's presumed weather.
"It's more about surviving in those conditions, not trying to do too much and make really good decisions," Allen said. "It really kind of comes down to course management when those conditions happen."
And how does someone like Oakley, who isn't as seasoned as some of the other professionals on the tour and is thrown into a pressure-packed situation, tackle round two? There's a possibility you might hear him hop on the live commentary for some witty banter.
"My strong suit is to just joke around and have a good time on the course, so that is priority number one, to just stay loose," Oakley said. "Stay fun and keep things light, because if I feel like things are light I'll probably think less about everything else that is going on. I keep taking deep breaths, closing my eyes and just saying, 'Hey, you're playing disc golf.'"
It sounds simple, but for Oakley it's a philosophy he has worked to grind out as he continues to attack his own game from all angles.
"I'm not anything special, I'm just another disc golfer who's 960 rated, who's still trying to climb, and I'm working hard at it every single day," Oakley said. "For anyone who is trying to get there, my biggest thing is continue to work. Hard work works, and never give up. Just keep busting your ass and good things will come."
Watch Oakley, Todd, Wysocki, and Newhouse put in that hard work today at 1 p.m. CST on SmashboxxTV, and keep it tuned all day to @PDGALive on Twitter for play-by-play. Edited round one coverage, featuring McBeth, Lizotte, Will Schusterick, and Cale Leiviska, is also available from Jomez Productions.