Wysocki moves to second place, while others make big moves in the standings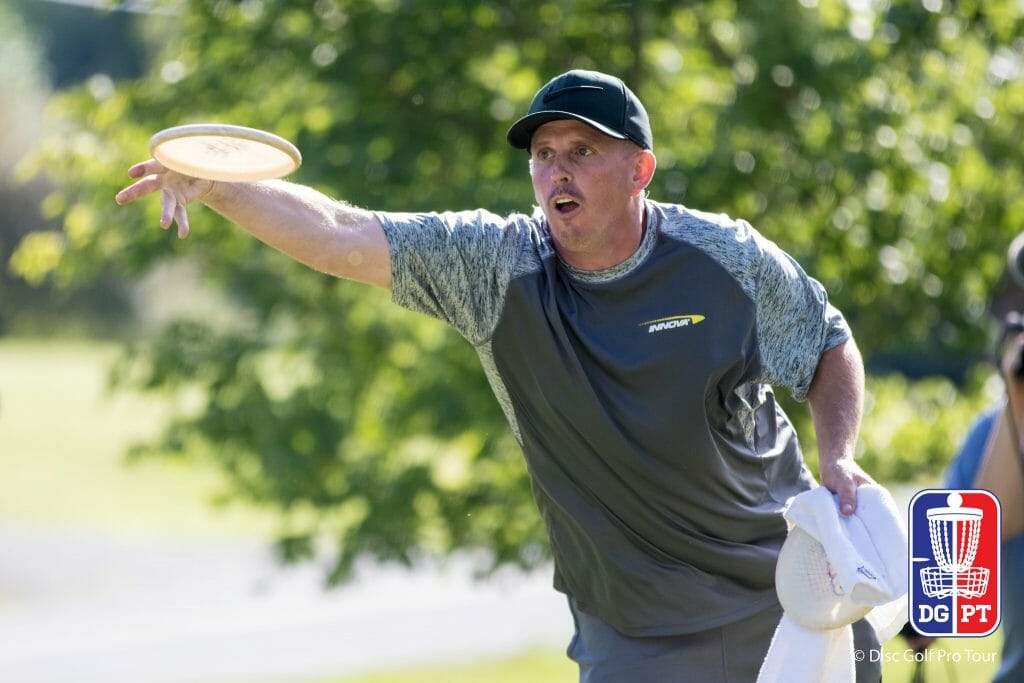 It wasn't another nearly 1100-rated round. But on a day when the wind kicked discs around like they were kites flying along the seashore, Josh Anthon didn't need it to be.
Anthon doubled his lead during yesterday's second round of the Ledgestone Insurance Open, carding a 5-under par 58 at Eureka Lake to bring his two-day total to a 17-under par 109. That score puts him four strokes up on Ricky Wysocki, who tossed a 4-under par 59 to put his tally at a 13-under par 113, and Paul Ulibarri, who dropped to third place after a 2-under par 61 pushed him to a 12-under par 114 total. Paul McBeth and Gregg Barsby are tied for fourth place with 11-under par 115s, with McBeth getting the nod for today's lead card by virtue of his 5-under par performance during round two.
Though it was a far cry from the 12-under par scorcher he put down in round one, Anthon managed to scuffle his way through some early struggles and emerge at the top of the heap. Unstable Midwest weather led to swirling winds throughout the round, with drives sailing OB and seemingly strong putts suddenly taking nose-up trajectories to their doom. Anthon was not immune to these maladies, as well as some early bad luck: His 15-foot putt for par on hole 4 spit out just off the left side of the chains, leading to his first bogey of the tournament. He followed with a hole 5 drive over the baseball field that turned over out of bounds, then settled for double bogey after a headwind carried his 20-foot bogey attempt skyward.
Anthon settled down from there, though, carding six birdies on the back nine to gain some separation from the pack. Indeed, only one other player — Collin Bailey, who climbed into eighth place with a 6-under par showing — bested Anthon's score, as his competitors struggled with the conditions. Wysocki and McBeth combined for 10 total penalty strokes on the day, while Ulibarri's circle 1 putting rate dipped to 86 percent after he two-putted on holes 2, 7, and 13.
Even as the elements impeded scoring, 59 proved to be the magic number for making noise in the standings. Bobby Musick moved up a dozen slots and into seventh place with his 4-under par 59 round, while K.J. Nybo jumped up 11 places and into an eighth place tie with Philo Brathwaite. Cale Leiviska's own 4-under launched him 17 spots and into a 10th place stalemate with James Cole, but the day's biggest improvement went to Dave Feldberg. The veteran pro moved from 73rd place to 25th after — you guessed it — a 4-under par 59.
With a third round at Eureka Lake on tap today, the weatherman brings good news: Winds are not forecast to top 10 mph. The lead card tees off at 2:20 p.m. local time and will be live streamed via SmashboxxTV and the Disc Golf Pro Tour's YouTube channel, while real-time scoring and statistics will be available on UDisc Live.