Ulibarri, Wysocki post clean sheets en route to second and third place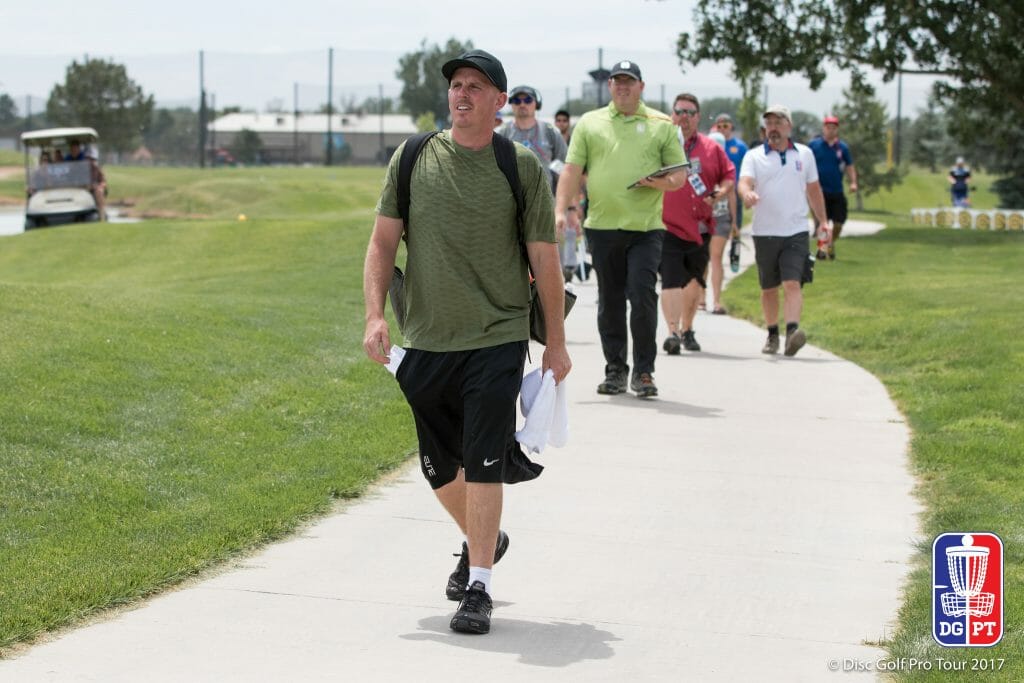 It's safe to say Josh Anthon has shaken off his disappointing Pro Worlds finish.
After averaging more than 30 points below his rating on the way to a 29th place finish five weeks ago in Georgia, the Northern California pro rebounded in incredible fashion yesterday at the Ledgestone Insurance Open, delivering a 1094-rated, 12-under par 51 opening round. Anthon overshadowed a sterling performance from Paul Ulibarri, who carded a bogey-free 10-under par 53 to land in second place after 18 holes at the Eureka Lake Temporary Course. Ricky Wysocki currently sits in third place after a 9-under par 54, while Gregg Barsby continued his hot play and landed in fourth place after an ace-assisted 8-under par 55. Eric Oakley, meanwhile, shot 65 points above his rating and rounds out the top 5 after a 1060-rated, 7-under par 56.
Anthon's round was not only his highest rated showing since his return to the sport earlier this year — he served two and a half years in prison after a fatal hit and run in 2014 — but also the second best of his career. That performance came more than seven years ago at the 2010 Memorial Championship, where he tossed an 1106-rated third round.
With three players breaking the 1070 plane yesterday — Ulibarri's round was rated at 1080, while Wysocki notched a 1073 — that now makes 19 performances in Ledgestone history that have crested that mark.
Much as he has during comeback events this season — and throughout the entirety of his career — Anthon made his money in round one on the putting green. He converted on 94 percent of his attempts from 10 meters and in, including four from circle's edge. He also closed each half of play with authority, hitting from 38 feet for birdie on hole 9 and canning a 50-footer to seal the deal on 18.
To go bogey-free at Eureka, though, means more than just close-range accuracy. Anthon also landed in the fairway on 89 percent of his drives, good for second place in the field, and successfully scrambled his way out of trouble on the few times he failed to hit the green in regulation. Now playing his second event on this season's Disc Golf Pro Tour, he's impressed his competitors with how easily he's resumed his stride.
"The way he's playing and [has] been playing this year, you'd never know he took as much time off as he did," Wysocki said of Anthon. "It just goes to show that some people have the competitive nature and some don't, no matter what happens. And he clearly has it."
Ulibarri was also quick to praise the veteran professional.
"It's incredible," Ulibarri said. "Josh is a friend of mind, and to see him back out doing what he loves — and at a high level — is awesome. Really happy for him."
Ulibarri can also be happy for himself. After a sixth place finish at the European Open and a win at last weekend's Brent Hambrick Memorial Open, the Arizona native is finally back in the form that saw him close out the 2016 season with seven top 5 finishes. Hampered by an offseason knee injury, and then a recurrence of a nagging wrist problem, Ulibarri says he is finally healthy. And it's showing in his scores.
"I switched my putt when I went home for my rest during the Masters Cup, and I've stuck with it," Ulibarri said. "I've never felt more confident in the circle in my whole career."
The stats back up that claim. Ulibarri connected on 100 percent of his putts inside circle 1 yesterday, including two from 27 feet. A 50-footer for birdie on the par 4, 1,080-foot 13th was also instrumental in helping him keep a clean sheet.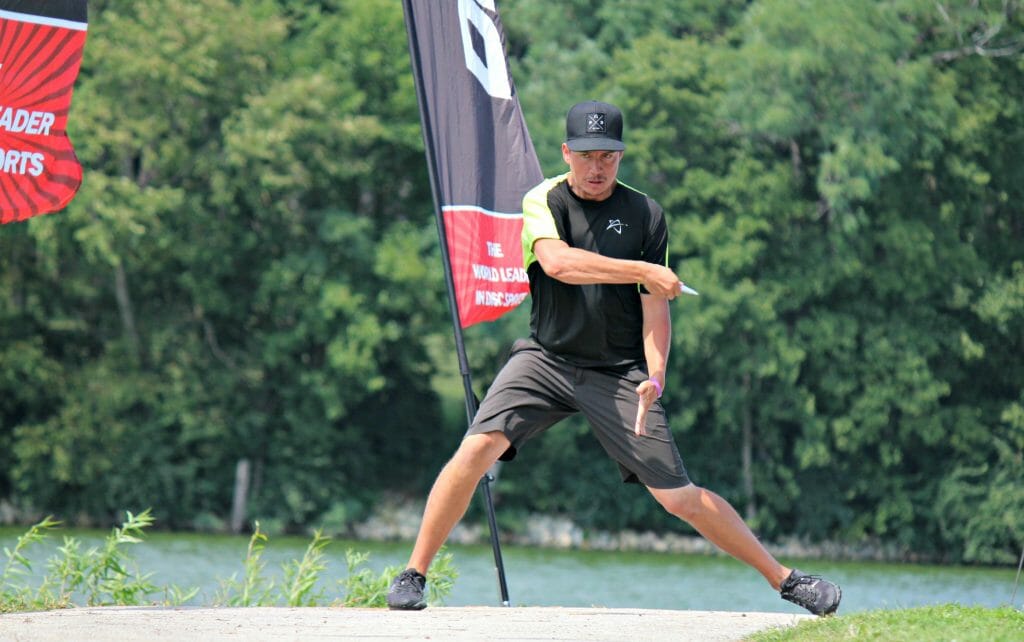 Wysocki, who also went bogey-free, said he was focused not only on avenging his 12th place finish at last year's Ledgestone, but also on starting more quickly after slumping during early rounds in Finland two weeks ago.
"I was able to take a week off and regroup mentally for this week's event," Wysocki said. "At the European Open I was completely burned out, mentally."
At the outset, though, it looked like Wysocki might be in for another sluggish day. He didn't card his first birdie until hole 5, then alternated deuces and pars for the next six holes. Still, he managed to hit the fairway on 84 percent of his opportunities and closed play with three straight birdies to climb up the standings.
"I seem to feel confident off the tee out there," Wysocki said. "I attribute that to some good quality practice rounds."
Though he sits four shots behind Anthon's lead, the highlight of the day belonged to Barsby. The European Open runner-up landed a hole-in-one on the "baseball field" hole — the par 3, 476-foot 5th — which also boasts an elevated basket. Barsby also strung together five consecutive birdies on the back nine and only missed one putt inside the circle.
Shortly after Barsby's ace, though, Mother Nature tried to steal the show. The fourth lightning delay of 2017 halted play for a half hour, but Ulibarri said the stoppage did not impact his round.
"I really have been focused on my mental game and not letting silly things out of my control get in my head," Ulibarri said.
In other round one action, Paul McBeth hit an early rough patch, carding two bogeys and a double bogey within the first five holes to go two strokes over par. The defending Ledgestone champion recovered with nine birdies on the last 13, though, to move into sixth place with a 6-under par total. He's currently tied there with Michael Johansen, A.J. Risley, Nate Perkins, and Collin Carter.
Now looking to track down Anthon's early margin, Wysocki said he would make some adjustments to his approach during today's second round at Eureka Lake.
"I went bogey-free and I want to keep that up," Wysocki said. "But there are also a few holes I took pars on that I can be more aggressive [on] and get in position for more birdies."
Ulibarri, meanwhile, was steady as she goes.
"Same as [yesterday]," Ulibarri said. "I know if I stick to my routine everything will take care of itself."
The lead card tees off at 2:20 p.m. local time and will be live streamed on both SmashboxxTV and the Disc Golf Pro Tour's YouTube channel. Additional scoring and updates can be accessed via UDisc Live and the Disc Golf Pro Tour's social media outlets.