Improve your game with some slow and steady practice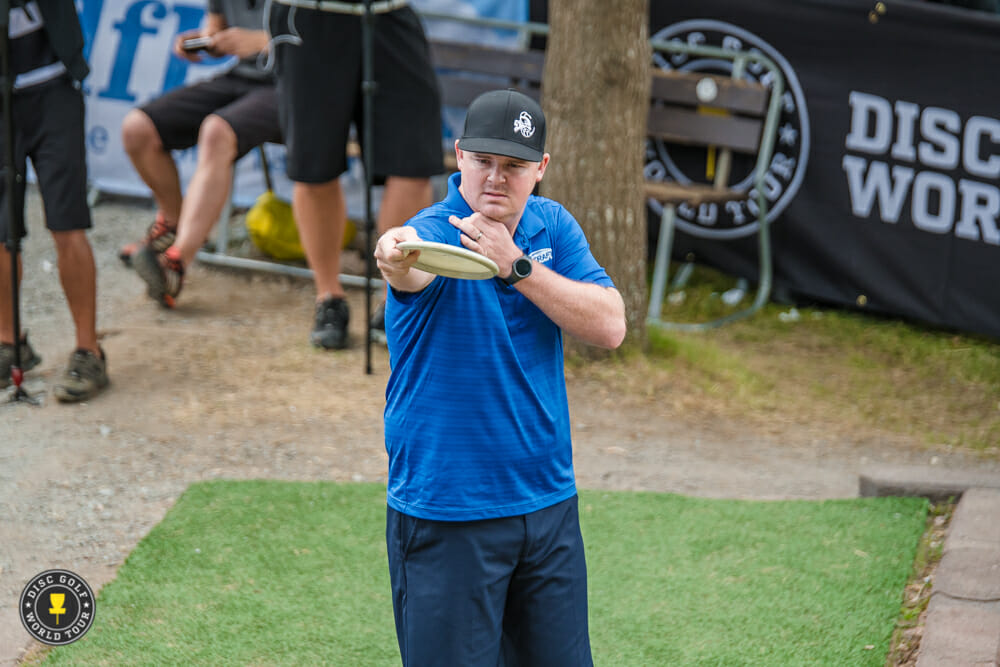 Playing a round with only your putter is one of the most common pieces of advice you hear from pros or fellow locals. And while it is definitely one of the best practice techniques to learn, it can be tough to convince some players – especially new ones — to try it out. Many golfers learn to play with a disc like a DX Leopard (recommended) or maybe a Champion Boss (bad idea), and these type of discs fly much differently than their slower, deeper counterparts. Throwing putters, though tricky, will show you the flaws in your form and teach you how a disc truly flies.
Ready to take it slow and steady? Here are some tips to keep in mind when going out for your putter-only rounds.
1) Pick A Neutral-Flying Putter. You want to be throwing a putter that has a pretty straight flight. Since it's your only disc, you will need to shape all your shots by throwing it on different angles of release. A neutral disc will hold the angle you throw it on depending on your spin control. My go-to, one-disc-round putter is a max weight DX Aviar.
2) Adjust Your Grip. Since putters are mostly used within 150 feet of the basket, many players specifically use a fan grip while using a putter. Fan grips work great for approaching and putting, but it is difficult to get a lot of power. For longer putter tee shots and approaches, try gripping the disc as if it was your distance driver, and then throw it on a smooth hyzer release. With the correct angle of release and enough spin, the putter should fly and finish relatively straight.
3) Get Some Air. Putters need to be thrown with a little more height than higher speed discs in order to get the desired distance. Since putters are slower discs, they don't cut through the air as fast, which causes them to drop quicker. If you're playing a hole on which you normally throw a midrange, try throwing your putter slightly higher than your usual line. If you're going for max distance with a putter, you need to throw it way up in the air and let the disc glide forward as it is slowly falling.
4) Give It A Flick. Throwing a sidearm with your putter will be a necessity during your putter-only round. Due to the amount of power and spin the sidearm throw naturally generates, it's tough to control sidearm putter shot off the tee-pad. However, putter flicks are incredibly useful for upshots and get-out-of-trouble shots. For these shots, try standing still and focusing on giving the putter a smooth flick of the wrist on the necessary angle of release. If you can learn this shot, you'll be using it multiples times a round within 125 feet of the basket.
5) Throw The Roller! For the average player, overstable fairway drivers are probably the most common disc choice for a forehand roller. Since you won't have that disc with you, you might need to throw a forehand roller with your putter. Putters are actually great roller discs; their low speed allows you have much more control. That being said, they obviously won't go as far and do roll a bit differently. Putters will want to flip over quicker, so you need to adjust the angle and speed at which the disc lands on the ground depending on each shot. Putter rollers thrown at slow speeds will hold their initial angle throughout, while rollers thrown faster will fight to turn over much quicker.
6) Remember, This Is Practice. Your putter-only round is intended for you to better yourself as a disc golfer. Don't go out to the course planning on shooting the same as you normally would (although it definitely might happen). Use this round to figure out the weaknesses in your game and practice those. Finally, you're bound to throw at least a few good shots, so try and remember what you're doing well and then figure out how to put that into your everyday rounds.