84 videos that will help you crush your New Year's disc golf resolutions.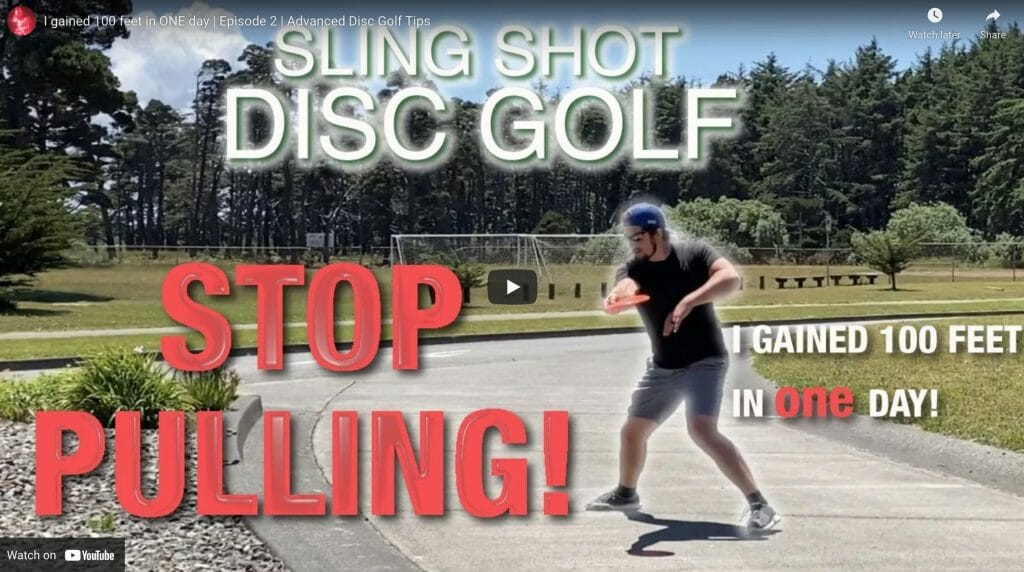 There is a ton of disc golf instructional content on YouTube. Everyone from the sport's best players to total rookies have advice about how to get better at the sport. So I've collected some of my favorite content right here as a one stop shop for improving your disc golf game.
Jump straight to the videos:
1. Health and Fitness
2. Advanced Instruction
3. Touring Pros
4. Beginner Friendly
5. Aspiring Pros
6. Manufacturers
7. One-off Videos
Julius Yego wanted to become a professional athlete more than anything. Luckily, he was born in Kenya, a nation second place to only the United States in athletics medals over the past 40 years. But, all of Kenya's medals were won in running events, and Julius wasn't very fast.
Instead of pursuing glory on the running track, Julius fell in love with the sport of javelin. "You can't compare the feeling of throwing a javelin, getting it just right and seeing it fly," Yego told the Associated Press. "That's just perfection. It's why I tell people that javelin lives inside me; it's my lifeblood. I've always believed this ever since I first started. I think I have a natural feel for it."
With no javelin coaching available in his home country, Julius turned to the internet. At the internet café, he could study the form of all his favorite throwers on YouTube. "I studied their technique and what they did and tried to repeat it the following day in my training," he said. "It was a way of trying to make the best of my situation and working with what I had. I was looking for little technical points such as the elevation of the javelin on the point of throwing. Everything began to change in my training. Javelin requires technique, power, flexibility, and speed, and there were many of these aspects which I'd never looked at. Andreas [Thorkildsen] was extremely powerful but he also had the flexibility of a gymnast. So I began working on things like that and it worked. My distances started to increase."
Yego is now the owner of a gold medal at the world championships, a silver medal at the Olympics, and the fifth longest throw in the IAAF record books.
4-time NBA all-star Joel Embiid had only been playing basketball for three months in his native Cameroon before he was recruited to play in America. Joel's 7'0" stature gave him a distinct advantage around the rim, but he still had to learn how to shoot. While searching for answers on YouTube, Embiid searched "white people shooting three pointers."
As Joel explained in his 'Players' Tribune' article: "Listen, I know it's a stereotype, but have you ever seen a normal, 30-year-old white guy shoot a three-pointer? That elbow is tucked, man. The knees are bent. The follow-through is perfect. Always. You know how in America, there's always an older guy wearing like EVERLAST sweat-shorts at the court? That guy is always a problem. His J is always wet. Those are the guys I learned from on YouTube. Just random people shooting threes with perfect form."
By almost any metric, disc golf is booming, and that includes a boom in instructional content. If you don't live near the Ulibarri Leadership Institute, or if you can't attend a Scott Stokely clinic, YouTube may be your best resource to help you improve your game. To help you navigate the 720,000 hours of content that is uploaded every day, here is Ultiworld Disc Golf's guide to instructional disc golf content on YouTube:
1. Health and Fitness
We are starting with health and fitness because injuries are the biggest threat to your game, and they can be prevented or mitigated. Improving your form will take repetitions, a lot of them. Changing your form and high repetitions can put a lot of strain on your body.
Disc Golf Strong is run by Seth Munsey, Director of Health and Sports Performance for the Disc Golf Pro Tour. He has plenty of videos and exercises to make sure you can maximize your athletic potential.
Videos to get you started:
Peter Cram graduated from the University of Connecticut with a clinical doctorate in physical therapy and is a board certified specialist in orthopedics. Although he hasn't been as active in the past year, there is a wealth of knowledge already posted to his channel and a thread on the Disc Golf Course Review forums with a table of contents to his videos.
 Videos to get you started:
2. Advanced Instruction
These channels are the gurus of disc golf instruction on YouTube. No matter what you are struggling with, one of these channels will have a drill for you.
Seabass22 is the Yoda of disc golf: a wise mentor with a distinct communication style, and enough drills to get you the full flight of the Force.
"I know I'm not a great speaker/presenter like the rest of you all, and it's not really my style. Paul McBeth really liked my Hershyzer Drill though." – Seabass22
 Videos to get you started:
Loopghost is a master of cutting through the noise and getting you to think about the core principles of loading and unloading the power in a swing. This involves a heavy focus on the brace as the main mechanic in powering a shot.
A standout in Loopghost's cache of videos is the excellent breakdown of American vs. Swedish styles of throwing using Ezra Aderhold and Garret Gurthie as examples.
Videos to get you started:
Bonus: In addition to their YouTube channels, Seabass22 and Loopghost are both regular contributors to the Technique & Strategy forum at DGCourseReview.com. Note, their user names are different (Seabass22 = Sidewinder22, Loopghost = HyzerUniBomber).
The DGCourseReview forum is an active, free community to talk form. I challenge anyone to make it through the 'What were your big lightbulb moments?' thread without having at least three epiphanies.
Do you want to feel the disc snap out of your hand like a rocket? Drop by Spin and Throw to learn from Bradley Walker, the Sultan of Snap.
Videos to get you started:
Danny is a Media Producer for Dynamic Discs, but he has plenty of information on his personal channel. Danny also hosts an active Discord where you can submit form review videos that he will review live on his Twitch channel. 
Videos to get you started:
Overthrow Disc Golf burst onto the scene early in 2021 and have turned the quality of instructional disc golf content up to 11. In addition to drills and form reviews, there are two standout videos featuring Simon Lizotte and Drew Gibson throwing every angle and distance, in slow motion, captured from three different angles (top/side/behind).
Videos to get you started:
Coach T took his distance from 300 to 500+ feet with the following formula: "I videotaped myself and compared it to Paul McBeth, Drew Gibson, and Simon Lizotte, and that's it." This channel shares what he learned on that journey.
Videos to get you started:
3. Touring Pros
I have a confession to make. One of my goals in writing this article is to humbly request Seppo Paju continue making (some) content in English. Seppo currently creates content in Finnish for his personal channel. The videos below are all from a vlog series Seppo used to do on the Prodigy Disc channel.
Videos to get you started:
Ezra's channel is a mix of instructional content, tour vlog, and casual/game rounds. With the level of quality and professionalism Ezra exhibits, it's easy to see why his star continues to rise.
Videos to get you started:
In addition to being a touring pro, Christine co-hosts The Par Tee Podcast and made her live commentating debut on the Disc Golf Network in 2021. It's easy to see why she is sought after on the media side of disc golf with her clear communication and presentation skills.
Videos to get you started:
Despite being an elite athlete in the prime of his career, Paul has the knowledge and craftiness of a player far beyond his years. Many of the tips in his 'Down the Fairway' series cannot be found anywhere else.
Videos to get you started:
Scott Stokely has forgotten more about disc golf than you or I could ever hope to know, and he has 17 World and National Disc Golf and Distance titles to prove it. He's taught more than 500 in person clinics and I'm betting on him to take down the DGPT Rookie of the Year award when he tours next season.
Videos to get you started:
Honorable Mention:
Brodie's channel is primarily entertainment content, but as someone who has recently converted to disc golf, there are some instructional videos well worth your time.
How To Throw The Scoober – The scoober is the Netflix of disc golf. You're not still shopping at Blockbuster, are you? (reference source)
How To Improve Your Putting FAST – You may have come across putting advice that tells you to step away between putts, go through your full routine, and pretend like it's a tournament. Brodie reminds us here that may not be the best advice for someone new to the sport. Beginners should be focusing on building myelin (muscle memory), and this involves reps.
4. Beginner Friendly
Learning a new hobby can sometimes feel like you have to learn a new language with all of the slang, jargon and acronyms that are involved. Robbie C does a great job at helping you improve without having to pause and check a disc golf dictionary every 30 seconds.
Videos to get you started:
Antonio at Gladiator Disc Golf does an exceptional job of getting into the finer points of form while keeping the material digestible an easy to follow along.
Videos to get you started:
The physics of a disc in flight are complex and there isn't a channel that communicates how a disc flies better than Best Disc Golf Discs. Despite not uploading a video in over three years, and only having 15 videos total, this is a must watch channel. All killer, no filler.
Videos to get you started:
5. Aspiring Pros
The channels in this category have a mix of instructional and vlog content, but they all have the same goal, to make it big in professional disc golf.
Ben Bennet is trying to make his dream of going pro a reality, along the way he is also producing some of the highest quality instructional videos out there.
Videos to get you started:
Chantel Budinsky threw her first ever PDGA rated round on August 1st, 2020. Just over a year later, she secured third place at Amateur Worlds, and she is now planning to hit at least four Disc Golf Pro Tour stops in 2022. More vlog than instructional, this channel is well produced and Chantel, with her partner Chris, provide a great insight on what it's like to break into professional disc golf.
Videos to get you started:
Coach Rick came within four throws of getting his first cash at a DGPT event in 2021. He's not a big name yet, but his videos helped me stop strong arming my throws.
Videos to get you started:
6. Manufacturers
The volume and quality of Dynamic Discs instructional content is impressive, certainly unmatched among their peers. With a beginners playlist 27 videos long, and the in-depth physics of flight series, Dynamic Discs is one of the few channels on this list that can be a one stop shop for anything form related.
Videos to get you started:
The Dynamic Discs Clips channel features clips from the companies podcast 'Disc Golf Answer Man' where a panel that includes 2010 World Champion Eric McCabe answers your questions about disc golf.
Videos to get you started:
The media team at Latitude 64 stepped up its YouTube game in 2020 with the addition of Jonathan Fastborg. Under the expert tutelage of disc designer Tomas Ekström, you can follow Jonathan from learning how to throw, all the way up to his first sanctioned tournament.
Videos to get you started:
Hidden within the promotional material that is typical on a manufacturer's channel are some great, usually short, instructional tips from Dave Dunipace and Innova pros.
Videos to get you started:
The instructional content on the Infinite Discs channel is a mix of brilliant insights from 7-time major winner Dave Feldberg and live recorded clinics from some of the top pros in the game.
Videos to get you started:
7. One-Off Videos
These videos provide some of the best instructional content out there, they just happen to be on channels where the primary content is something else.