Leiviska, Allen, Bygde Lewis, Hokom all collect A-Tier victories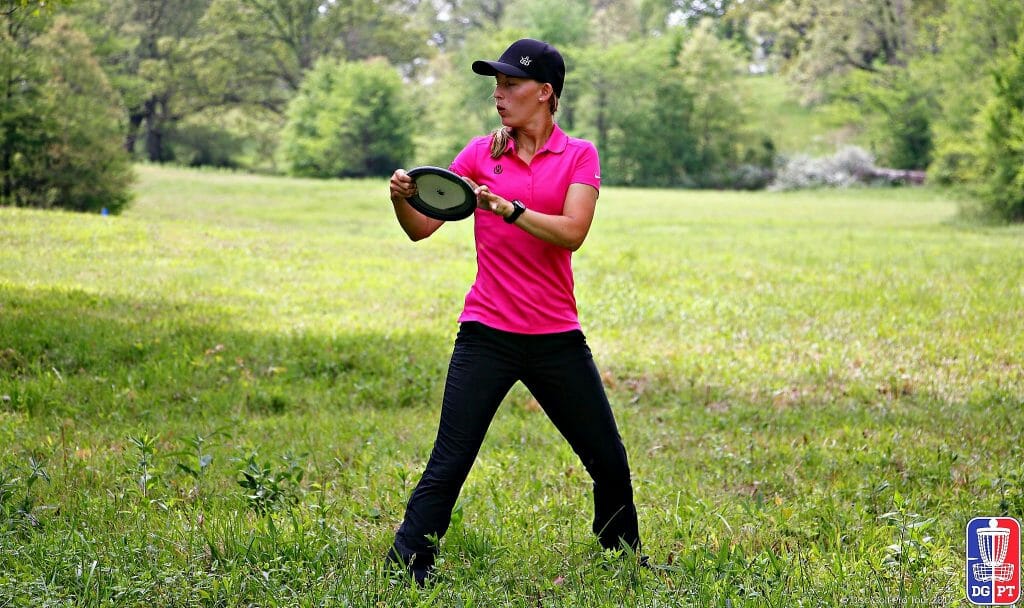 There will be no talk of a post-Worlds hangover for Paige Pierce or Ricky Wysocki, as both PDGA World Champions followed up their titles with wins this past weekend in their first events since triumphing in Georgia just two weeks ago.
Pierce was victorious at the bi-annual Rocky Mountain Women's Disc Golf Championships in Superior, Colorado. An 8-under par 46 final round, which was rated at a scorching 1029, spurred her to her first win in her third attempt at the event, and her 16-under par 146 total was six strokes better than Valarie Jenkins' 10-under par 152. It was the second straight tournament where the pair finished one-two.
Pierce's 1021-rated opening round led to an early lead. Much like at Worlds, though, Jenkins fought back to keep things close with a 6-under par 48 second round that tied things up. Pierce then dropped her 16th 1000-plus rated round of the season to close things out, with the newly minted four-time world champ's final round featuring nine birdies, including a stretch of five in a row to start the back nine.
Hannah Leatherman maintained her momentum from her fifth place Worlds finish to take third place with a 2-under par 160, while Lisa Fajkus ended the three-round event at an even-par 162 to take fourth. Colorado pro Mckayla Thomas rounded out the top five with a 2-over par 164.
Wysocki took to Europe to keep his Worlds momentum going, winning the Skellefteå Open EuroProTour event in his sponsor's hometown in northern Sweden. The defending world champion averaged 1038-rated golf over three rounds, finishing with a 29-under par 166 at the Disc Golf Terminalen course. The score was good enough to best Finnish pro Teemu Nissinen by one stroke, and Finland dominated the rest of the top five: Väinö Mäkelä finished in third place with a 25-under par 170, two strokes ahead of Janne Hirsimäki's 23-under par 172. Erik Aalto and Seppo Paju tied for fifth place with 21-under par 174s.
In the Open Women's division, Swedish native Ragna Bygde Lewis took the win after a 952-rated final round helped her to a 14-over par 209, five strokes better than second place finisher Hannele Määttä. Vanessa Van Dyken and Kristin Tattar each came in with 23-over par 218s to tie for third place.
Back in the United States, the A-Tiers continued in Minnesota, a state known for it's concentration of northern European heritage. Native Minnesotan Cale Leiviska – who is also the state's highest-rated player – took down the Majestic with a 29-under par 172. The win was Leiviska's third Majestic win of his career and first since 2013. He finished two strokes better than Paul Ulibarri, who came from well back in the field after he erased a below average first round with a 1065-rated final. Terry Rothlisberger ended up in third with a 24-under par 177 total, while Collin Bailey and James Conrad rounded out the top five.
Like Leiviska, Catrina Allen picked up her third Majestic win in the Open Women's division, finishing at a 2-over par 202 for an 11-shot victory. Erika Stinchcomb and Holly Finley tied for second with 13-over par 213s, while Lesli Todd and Maria Oliva took fourth and fifth.
Heading north of the border to British Columbia, Canada, Sarah Hokom made the trek south from Alaska and got her second win in two weekends at the BC Open. Her even-par 177 performance over the three round A-Tier was good enough to beat second place finisher Zoe Andyke by two strokes. British Columbia-based pros Briana Ainsley, Kristy Lee, and Aleesha Bird filled out the top five. In the Open division, Scott Withers averaged 1032-rated golf to win by four strokes over fellow Oregon pro Dustin Keegan.
In B-tier news back in the States, Joe Rovere took the win at The Bloom in Conifer, Colorado, by five strokes over Jake Palmer. Zach Melton, meanwhile, got his first win of the season at the Blue Ridge Open in Pembroke, Virginia. He bested Chris Dickerson by one stroke, as both Tennessee-based pros tossed rounds rated in the 1060s during the one-day, two-round event. Jennifer McGibbon took the Open Women's win by 13 strokes over Donna Barr.