Leatherman, Schweberger also notch victories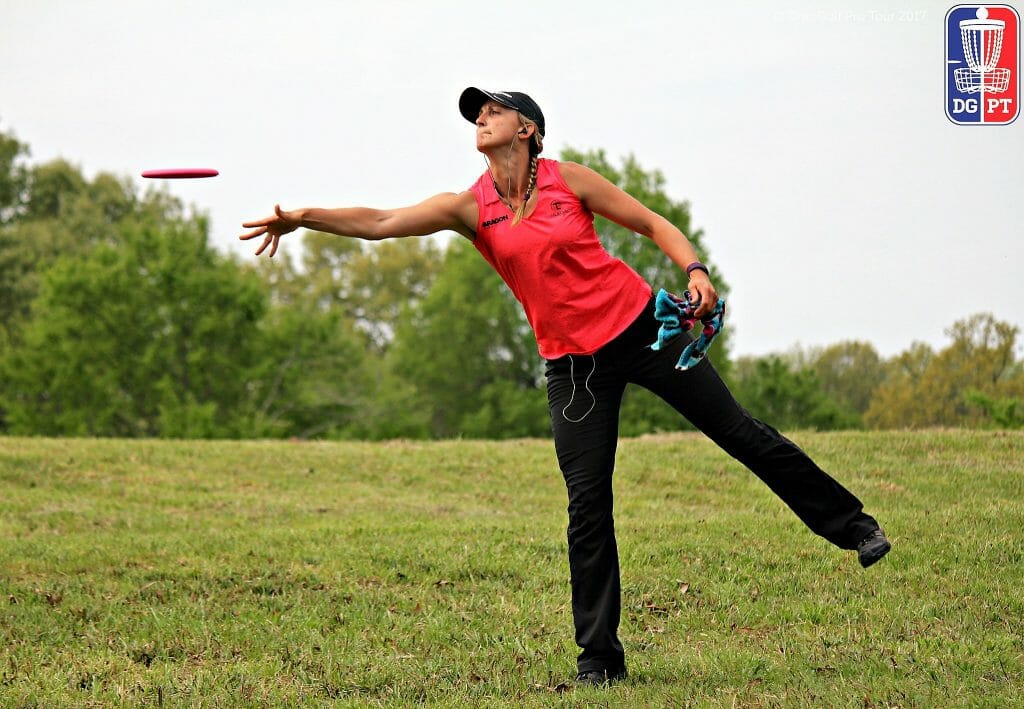 While most players took the weekend off after Pro Worlds, a handful of touring players made their rounds at a few A-tiers and B-tiers across the country.
At the Delaware Disc Golf Challenge, a registration list stocked with Zach Melton, Manabu Kajiyama, Steve Brinster, and James Conrad caught the eye before the tournament. Andrew Fish, though, stole the show en route to his third A-Tier win of the season.
Fish followed up his 14th place Worlds finish by tossing a 22-under par 194 over three rounds at Iron Hill's Gold course, averaging 1026.7-rated golf in the process. Lance Brown finished in second place with an 18-under par 198 and averaged 1018.7 on the weekend, well above his 997 player rating. Maryland pro Kevin Gleason shot a 17-under par 199 to claim a solo third place finish, despite being rated just 978. Melton, Kajiyama, and Brinster all tossed 16-under par 200s to tie for fourth place.
In the Open Women's division, Hannah Leatherman used a blistering 996-rated second round to vault her to a 14-shot victory. Leatherman finished the weekend with a 9-over par 225, while Elaine King took second place in the five-player division with a 23-over par 239.
The action this weekend spanned all the way from the first state to the 49th, as the 7th Annual King of the Hill tournament took place way up in Anchorage, Alaska. Brian Schweberger took his fourth straight King of the Hill victory, averaging 1013.3-rated golf before the final nine and finishing with a 61-under par 236 for the four and a half round event. Robert Lockwood shot a 1076-rated final nine to jump into second place with a 59-under par 238, while Tim McDill and Chandler Fry tied for fourth place with 54-under par 243s.
Sarah Hokom, meanwhile, blasted the rest of the Open Women's field and took a 40-stroke victory with an 11-under par 227. Amy Lewis took second place after shooting a 29-over par 267, with her average rating for the weekend representing a 20-plus point dip from her current 888 threshold.
Back down in the mainland United States, the 2nd Annual Red, White, & Booom — a B-Tier in Dayton, Ohio — garnered the attention of top pros like Drew Gibson, Patrick Brown, Cam Todd, Izak McDonald, and Eric Oakley. It was a local, though, who ended up taking the crown, as Lebanon, Ohio's Matthew Blakely finished with a 17-under par 97 for the two-round event.
Blakely and Gibson were tied after round one, and it looks as though conditions may have been a bit windier during the second round, leading to much higher scores across the board. Blakely averaged 1016-rated golf over the course of both rounds, besting his player rating by 15 points. Dutch Napier pushed from the chase card to tie Gibson for second place, as the pair finished with 15-under par 99s. Oakley, who aced hole 16 during the first round, rounded out the top four with a 13-under par 101 performance.
The top four finishers of the event also played an unsanctioned final nine showcase for an additional $1,000, which Oakley took down to add this to his successful weekend. The sanctioned portion of the event was filmed by Jomez Productions and is available here.
Lesli Todd and Tina Stanaitis were tied after day one in the Open Women's division, but Todd emerged victorious a 2-over par 116 total. Alicia Villnave tossed a 924-rated second round to move from fourth place to second, where she ended up tied with Stanaitis with a 3-over par 117. Christine Jennings played 53.5 points above her rating to claim fourth place with a 5-over par 119 total.