Catrina Allen looking to make a move for the win after climbing to third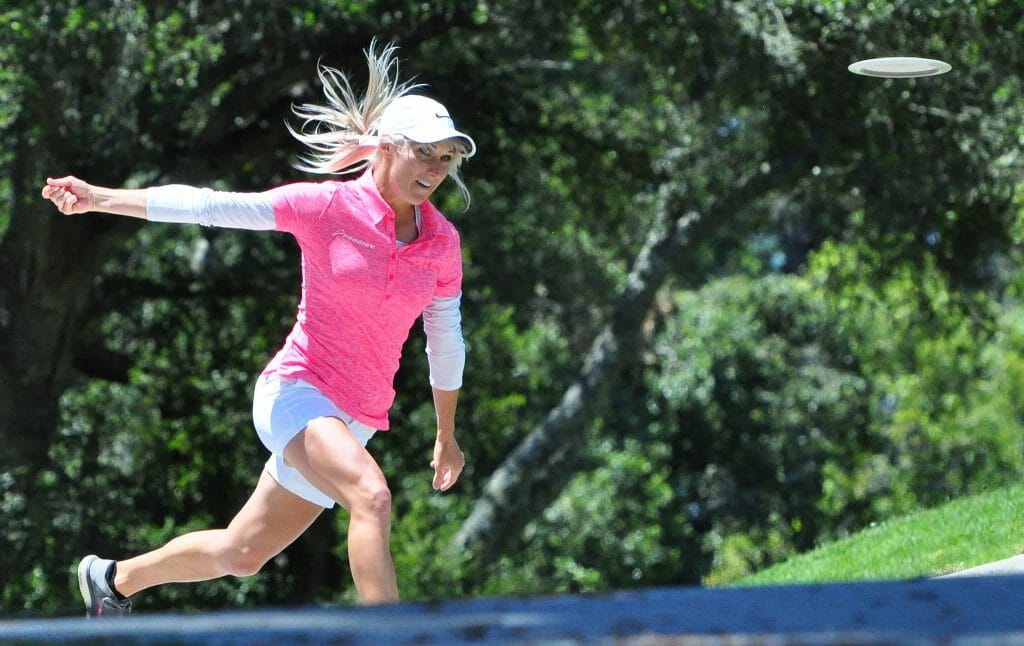 Paige Pierce widened the gap between herself and field at the Masters Cup after carding a 1-over par 73 second round yesterday in Santa Cruz. With only one round left to play, Pierce is looking to snag her third PDGA National Tour victory of the season.
Pierce's 989-rated round moved her total to 6-over par 150,and six strokes clear of Jennifer Allen, whose 4-over par 76 second round has her at a 12-over par 156 total for the event. Catrina Allen moved from sixth to third with a 3-over par 75, bringing her just one stroke behind Jennifer Allen at 13-over par 157 overall.
Even though Catrina Allen's round was rated at 975, putting her in position to make a run at Pierce, she knew that if some breaks had gone her way she could have scored much better.
"I played really well, but my score didn't really show it," Allen said. "I felt like I was playing really clean, but that's DeLa. You can shoot the same round twice, and one round can feel horrible and one round can feel awesome. You can hit the gap and then what happens after that is what happens."
Even as she was in the midst of a climb up the leaderboard, she felt lukewarm about her play. Indeed, this assessment was apparent in an interaction with Drew Gibson and Nikko Locastro when she reached hole 25, near the course's clubhouse. With four holes to play she stopped to talk to the pair and they asked her how her round was going.
"I said, 'It's going OK, but whatever, kind of a boring round,'" Allen said. "And Nikko responded saying, 'Sounds like you'll be moving up, you'll be in second or third.'".
Allen hopes that the transition over to the DeLaveaga Golf Course for round three brings more of an opportunity for both good shots being rewarded and a chance to get comfortable putting. During the second round, Allen said she was not faced with a real tester putt until hole 12, as she was either parked for birdie, par, or bogey for the entire first half of the round. And even after hole 12, her next real putt wasn't until hole 19.
If there is any place where a run at Pierce's lead is possible for Allen, it's at the DeLaveaga Golf Course. It was there, just one year ago, that Allen pulled well ahead of the field by shooting a 1020-rated final round to win the Masters Cup.
But catching Pierce has been a difficult task so far in 2017. While many have gotten close — and even tied Pierce for the victory — only Allen has actually accomplished the feat of coming from behind to take the win outright over Pierce, earlier this season at the Open at Temple.
Still, Allen almost accomplished the same feat twice more this season. First, she nearly erased a 13-stroke deficit in the final round  of the Gentlemen's Club Challenge, but came up just three strokes short. Then, at the Texas State Championship, Allen came back from four strokes down after the first round to push Pierce to a sudden death playoff, which took two holes to decide and left Pierce the victor.
Even though the deficit is seven strokes for Allen, she said that gap doesn't feel daunting.
"The one thing that was better for me [yesterday] was my mental game, so if I can have the same attitude I had today that would be awesome," Allen said. "I'm in a good mental place and, like I said, I know that course. I think you guys know me, and know I don't ever think it's over. I'm not going to be like laying up for second place or anything weird like that."
This was a fact Gibson was sure to remind Locastro of as Allen teed off on hole 25, saying, "Don't you know her? She doesn't care about second or third place."
Pierce, Jennifer Allen and Catrina Allen will be joined on the final lead card by Sarah Hokom, who, despite twisting her knee toward the end of round one, has managed to stay in touch with the top of the field through round two, posting a 7-over par 79. She sits tied for fourth with Nicole Bradley, who dropped from second place after round one. Valarie Jenkins is just one stroke behind the pair, alone in sixth place at a 17-over par 161.
The lead card tees off at 10:30a.m. Pacific time. Follow along with PDGA Live for video and live scoring updates throughout the round as Pierce attempts to secure her eleventh win of the season.