Koling in second after strong putting performance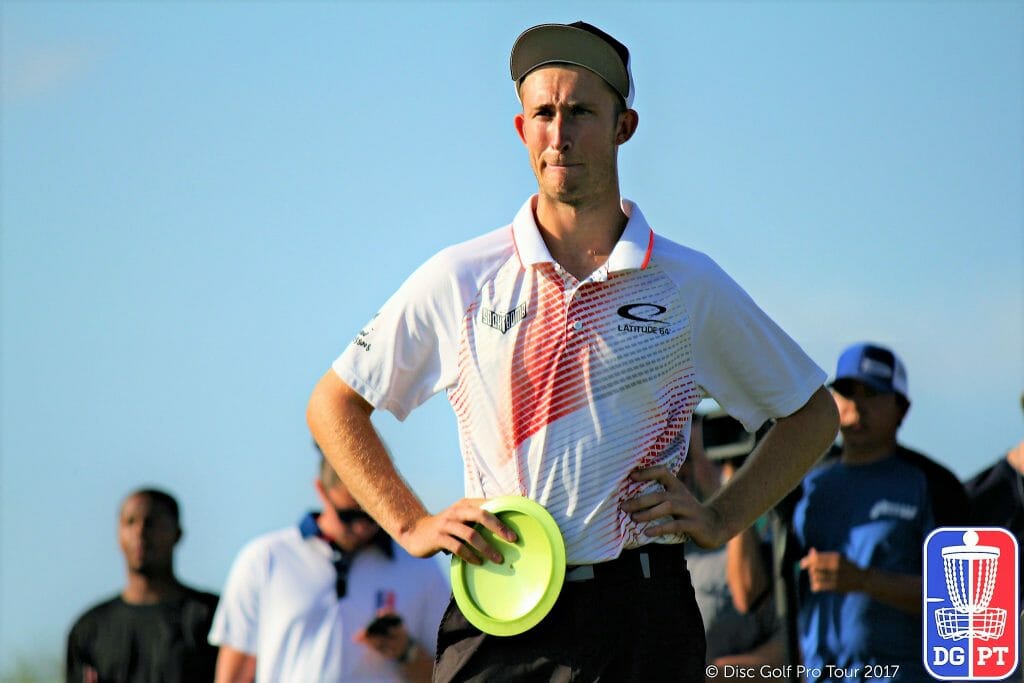 Sometimes, even world champions need a boost.
Fresh off a dominant victory at last week's Texas State Championship, Ricky Wysocki parlayed his momentum into a bogey-free 13-under par 51 during yesterday's first round of the Spartan Mowers Jonesboro Open. The performance puts him in a familiar position: atop the leaderboard and two shots better than Jeremy Koling, who fired off an 11-under par 53 to open play. A five-way logjam for third place finds Matt Dollar, Lewis Bitney, and Tim Barham relegated to the chase card after their 10-under par 54s, while Simon Lizotte and JohnE McCray's lower PDGA numbers give them lead card honors for their matching scores.
While Wysocki's round was the hottest of the day and netted him 1073 rating, he didn't do it without an assist. Faced with the lenghty, sloping terrain of the Disc Side of Heaven course and temperatures hovering near the 80s, he said he needed a little extra pep in his step to be at his best.
"It's pretty long, grueling rounds," Wysocki said. "I've been staying hydrated, that's the number one thing. I drink coffee sometimes, so I drink a little more – I don't drink it all the time, but I've been drinking it more lately because it gives me a little energy boost out there."
It wasn't only caffeine that powered the 2016 PDGA World Champion: On a course ripe with par 4s, Wysocki thrived on his accuracy. He landed in the fairway on 79 percent of his drives and paced the Open field by hitting circle 1 in regulation on 67 percent of the holes. Plus, he added in a perfect circle 1 putting percentage for good measure.
With this round following his Texas State Championship performance in quick succession, it seems Wysocki is on the verge of a hot streak. Still, he wasn't going to let himself get too excited about his recent uptick in success.
"Obviously I feel like I'm starting to find my groove here, but at the same time, for me, it's nothing out of the ordinary," Wysocki said. "For me, it's normal to be playing the way I have in the last few tournaments because that's what I expect of myself. I expect to play at a high level."
Koling, meanwhile, was never far off Wysocki's pace. He went on a seven-birdie streak from holes 2 through 8 and landed in the fairway a tournament-best 95 percent of the time through the round. The reigning United States Disc Golf Champion was actually two strokes ahead of Wysocki heading into the day's 16th hole, but managed only a birdie on the relatively soft par 5 — it played as the second easiest hole of the round, with 64 percent of the field carding a birdie or better — while Wysocki took an eagle. Wysocki then closed the round with consecutive birdies, while Koling parred 17 and two-putted on 18 to end the day with his only bogey.
"I just airballed a 25-footer," Koling said. "It was my only bad putt of the round, but it wasn't anything special. A routine bogey — out of position off the tee and scrambled to get myself a par look, and missed it."
Despite that hiccup, Koling said he is feeling more comfortable in the circle of late, and he credited that comfort — as well as a lack thereof — for both his successes and failures up to this point in the season.
"The feel of the putt's the main thing keeping me from being in the hunt every weekend," Koling said. "…I don't think it's necessarily as much about the new putters [after switching to Innova] as much as it is just sometimes you putt well and sometimes you don't. For me, I'm not nearly as consistent as some of the top putters on tour on a regular basis, but when I'm making my putts I think that I'm just as dangerous a player as anybody."
Elsewhere on the leaderboard, James Conrad's 9-under par opener has him in sole possession of eighth place, while Chris Dickerson's blemish-free 8-under par 56 put him in ninth. Four players, including Philo Brathwaite and Drew Gibson, are tied for 10th place at 7-under, with late addition to the tournament Nikko Locastro part of a three-man tie for 14th place at 6-under.
Play continues with another round at Disc Side of Heaven today, and with higher winds in the forecast, Wysocki cautioned that there might be an impact on the score sheet.
"I think the scores will be a little bit lower," Wysocki said. "But you never know. It depends on the conditions at the time and when you tee off, really."
The lead card begins at 4:00 p.m. EDT and will be livestreamed on the Disc Golf Pro Tour's YouTube channel, while real-time scoring of prior cards can be followed at UDisc Live.