Which schools can rise to the top of a crowded field?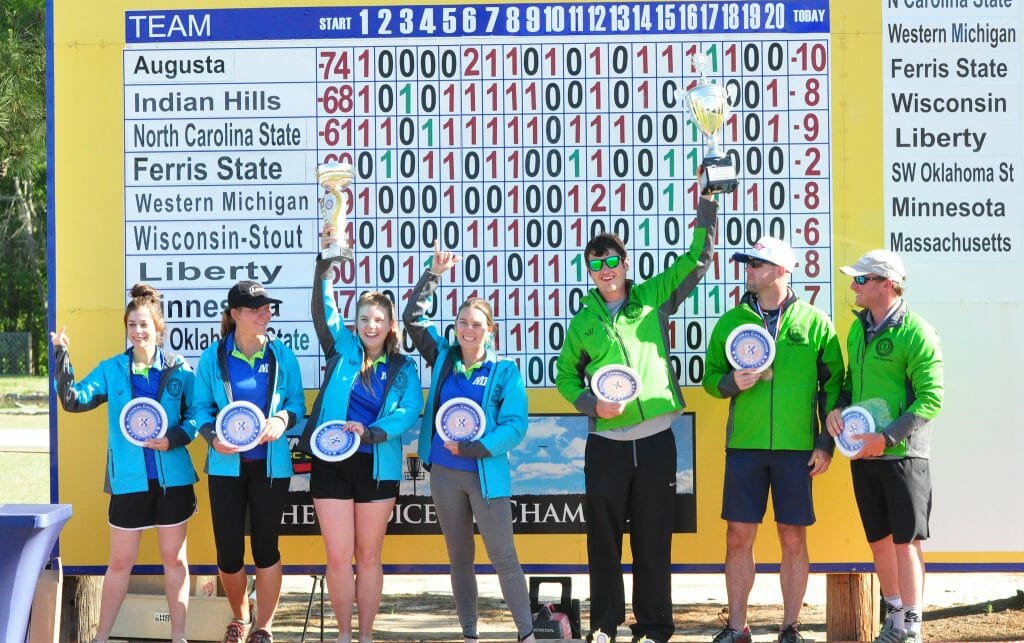 Ultiworld Disc Golf's coverage of the 2017 National Collegiate Disc Golf Championship is presented by Savage Apparel Co.; all opinions are those of the authors. Please support the brands that make Ultiworld Disc Golf possible and shop at Savage!
The collegiate disc golf season culminates this week with the National Collegiate Disc Golf Championships in North Augusta, South Carolina. This PDGA Major will showcase the best college disc golf teams in the country in a four-day showdown at the Hippodrome Disc Golf Complex.
One thing that separates the NCDGC from other PDGA Majors is the format: Each team will have a total of four players representing their school, and teams will compete in eight total rounds consisting of five team doubles rounds and two singles rounds. The top 28 individual golfers with the lowest scores will advance to the finals of the individual competition, to be played on Friday. The school with the overall lowest total cumulative score, consisting of all four team member's singles scores and team's double scores, will be crowned the 2017 National Champion.
Teams qualified for the NCDGC by finishing highly in one of the several qualifier tournaments held throughout the Fall and Spring. The tournament also includes a first and second flight for schools with multiple teams or those that did not qualify for the elite National Championship flight. All in all, there are 43 different teams vying for the national title in the main event, along with another two teams that will be competing for the women's title.
Venue and Courses 
The Hippodrome Disc Golf Complex is home to six different disc golf courses. The National Championship will be played on four of them.
Old Glory (Wednesday, Thursday, Friday, Saturday) — 20 Holes, Par 65, 7,010 feet
Hogback (Wednesday, Thursday, Friday) — 20 Holes, Par 60, 4,952 feet
Dunipace Dunes (Thursday) — Par 55, 5,650 feet
Moody Woods (Friday) — Par 56, 4,684 feet
These four different courses will test each teams' ability to execute on a variety of hole styles, including both wooded and open. The Hippodrome Disc Golf Complex is also infamous for a number of elevated baskets and other various obstacles that will make every putt a challenge.
Contenders 
Which collegiate powerhouse teams will continue to assert their NCDGC dominance, and which new competitors will rise to the top? Much like other sports, collegiate disc golf is unique compared to professional disc golf due to the high turnover rate. Each student-athlete is only allowed to compete for their school for a total of six years, and most compete for only four. This can lead to teams having to rebuild after losing their top talent. A prime example of a team being bitten by turnover in 2017 is 2016 champion Augusta University. Augusta alum Dustin Perry — last year's individual champion and a key cog to the school's title run –has moved into the professional ranks, and other key contributors graduated, leaving he currently seventh-ranked Jaguars as unlikely to repeat as champions.
Indian Hills Community College, the 2016 NCDGC runner up, might be working with an even smaller championship window than most teams. The two-year Iowa school has to capitalize on its talent while it is there, and it will attempt to do so with All-Americans Ryan Anderson and Brock Dowell leading the way. As a result, Indian Hills appears to have the strongest team in the event, with three of the top 10 players in the field based on PDGA ranking. They enter as the number one seed and as the favorite to win the event.
Ferris State University is another perennial powerhouse that will look to make some noise this week. The 2015 National Champions just came off of a victory at the Tigertown Throwdown, in which they dismantled the rest of the 17-team field by 17 shots or more.
Other teams to look out for include Arkansas State, who won the the Southern Collegiate Disc Golf Association and Mid-South Collegiate Open; Alabama Slammer Champions Mississippi State; Wolfpack Classic Champions North Carolina State; and West Coast powerhouse Oregon. A full list of qualified teams, as well as their rankings, can be found here.
The individual competition will be highlighted by four players ranked 990 or better, including UNC-Charlotte's Travis Chumley (994), Oregon's Nathan Ryan (996), UC-Santa Cruz's Trevor Parker (996), and N.C. State's Collin Carter (1003).
On the women's side, it's hard to bet against California State University-Monterey Bay, who will be going for their third straight collegiate title. 800-plus-rated players in the women's division include CSUMB's Jenn Schopfer (807) and Bayli Miller (819), along with Portland, Oregon, native Mandy Gunkel (822), who will be playing for a mixed team of women from various schools.
Past NCDGC Winners
NCDGC Past Winners
| | Men's Team | Men's Individual | Women's Team | Women's Individual |
| --- | --- | --- | --- | --- |
| 2018 | Mississippi State | Andrew Lowrie | Liberty | Alex Lambert |
| 2017 | Ferris State | Ben Clark | CSU-Monterey Bay | Bayli Miller |
| 2016 | Augusta University | Dustin Perry | CSU-Monterey Bay | Allison Carlton |
| 2015 | Ferris State University | James Proctor | CSU-Monterey Bay | Camille Skweir |
| 2014 | Georgia Regents University (now Augusta University) | Bryan Murphy | Humboldt State University | Allison Carlton |
| 2013 | Tennessee Tech | Brett Wishon | Mississippi State University | Colleen Thompson |
| 2012 | Colorado State University | Jared Roan | Mississippi State University | Sara Lamberson |
How to Follow 
The National Collegiate Disc Golf Championships website will have live scores and results. Additionally, Ultiworld Disc Golf will have a full recap of the team and individual competitions following the event.