Cincinnati's Clark, CSUMB's Miller take home individual crowns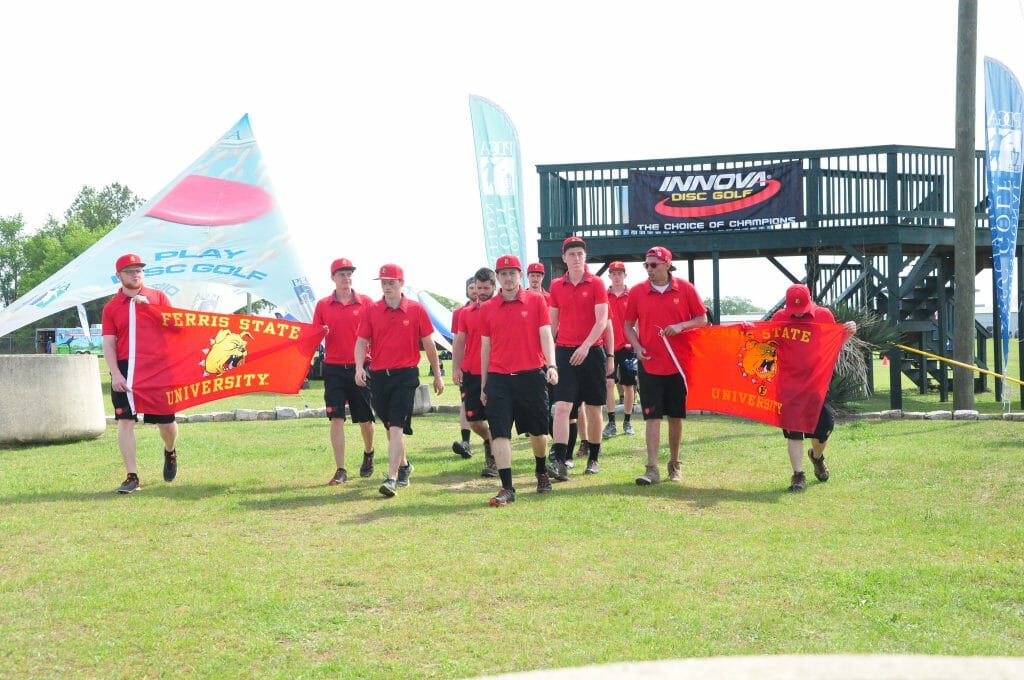 Ultiworld Disc Golf's coverage of the 2017 National Collegiate Disc Golf Championship is presented by Savage Apparel Co.; all opinions are those of the authors. Please support the brands that make Ultiworld Disc Golf possible and shop at Savage!
After following up their 2015 National Collegiate Disc Golf Championship with a disappointing fifth place finish in 2016, Ferris State University worked hard over the offseason to get back on top.
"Throughout the winter, guys played tournaments and weekly leagues in freezing weather, blowing sleet, and one foot of snow, rain — you name it," Ferris State Coach Leonard Johnson said. "They also competed two nights each week in a putting league… and worked inside on campus those evenings throwing into a net, using slow motion video to analyze form."
The hard work paid off for the Bulldogs as they took home their second National Collegiate Disc Golf Championship in three years this weekend at the Hippodrome Disc Golf Complex in North Augusta, South Carolina. Ferris State (687) outlasted North Carolina-Charlotte (691) and upstart Arkansas State (694) to take the title after a combined seven team and individual rounds.
Consistency and teamwork over the event's four days was the key for the Bulldogs, who never had the hot round during the event. Ferris State just shot consistent, good scores to separate from the pack.
After going into the final day with a five-stroke lead, the new National Champions slammed the door on the competition, shooting a 58 in the final team doubles round to defeat UNC-Charlotte and Arkansas State, who both tried to chase down the Bulldogs with matching 57s.
Former Ferris State standout Brian Murphy knows a thing or two about winning. Murphy took home the individual national title in 2014 and helped lead the Bulldogs to their team title in 2015. Now helping coach the squad, Murphy attributed the team's success to its ability to bounce back from adversity.
"I was just so proud of everyone on our team," Murphy said. "They stayed focused throughout, never got down, always bounced back after giving up a stroke."
Another factor contributing to the team's victory was its depth. Not only did the university's "A" team nab a national title, but its "B" team won its third straight first flight title.
"No doubt in my mind that bringing 12 to 20 players each of the past three years has been huge," Johnson said.
A team that turned some heads at the NCDGC was Arkansas State. The Red Wolves are not known for being a collegiate powerhouse, but finished third at the event.
Senior team captain and All-American Matt Reid said he overheard plenty of chatter about the school's impact at the event.
"They were pretty surprised to see that some new school, that these guys have never heard of, was performing at a top-notch level," Reid said.
The Southern Collegiate Disc Golf Association champions look to be early favorites to challenge Ferris State for the title next year, as their entire team returns, minus Reid.
In the other divisions, North Carolina-Chapel Hill won the NIT championship. While Ferris State and Clemson won the first and second flights respectively.
The women's side saw California state University-Monterey Bay winning a historic, third straight national title. The Otters were led by Bayli Miller (+15), who beat Oregon's Reily Warren (+22) by seven strokes for the individual women's title.
Miller said that her desire to play strong and contribute to her team's total drove her individual effort.
"Switching from singles play to doubles play in the same day is a whole different, and challenging, game, "Miller said. "Without having your partner there to strategize with during individual rounds, you're forced to play smart. But during my entire individual rounds, my mentality for my score was always to keep it low so our total team stroke count wasn't greatly affected. I played my smartest game of disc golf and It just so happened to also help keep my lead for first throughout the rounds."
Miller also said that checking off both the individual and team titles was a dream come true.
"Getting that three-peat and making history was our main goal when we came out here, after all," Miller said "But to top that off with also placing first individually is an all-time life and career highlight, and one I never expected to become a reality."
Cincinnati's Ben Clark took the men's individual title with a tremendous comeback. Clark was down four stokes to the highest rated player in the event, N.C. State's Collin Carter, going into the finals. Clark, playing on the third card, shot a 1066-rated hot round of 35 to overtake Carter, who shot a 40, to win the title.
Clark said the backing his fellow Bearcats provided – the school took 12th place in the team flight – was instrumental throughout the weekend.
"It was an unreal feeling after winning the NCDGC singles," Clark said. "It really didn't hit me right away because I was just in disbelief I was able to make the comeback in the finals. It was also very special because my teammates were with me the whole round and got to share in the excitement of winning. I couldn't have done it without their support."
It wasn't all on the team, though. Clark said he had an additional ingredient that contributed to his victory.
"Also, the key to success was eating Zaxby's every night," he said.
In other action at the event, University of North Carolina-Chapel Hill took the team title in the NIT flight. Iowa State's Austin Blackmer won the first flight individual title, while Clemson's Austin Couch won the second flight division.