Lizotte, Wysocki tied for second as storms loom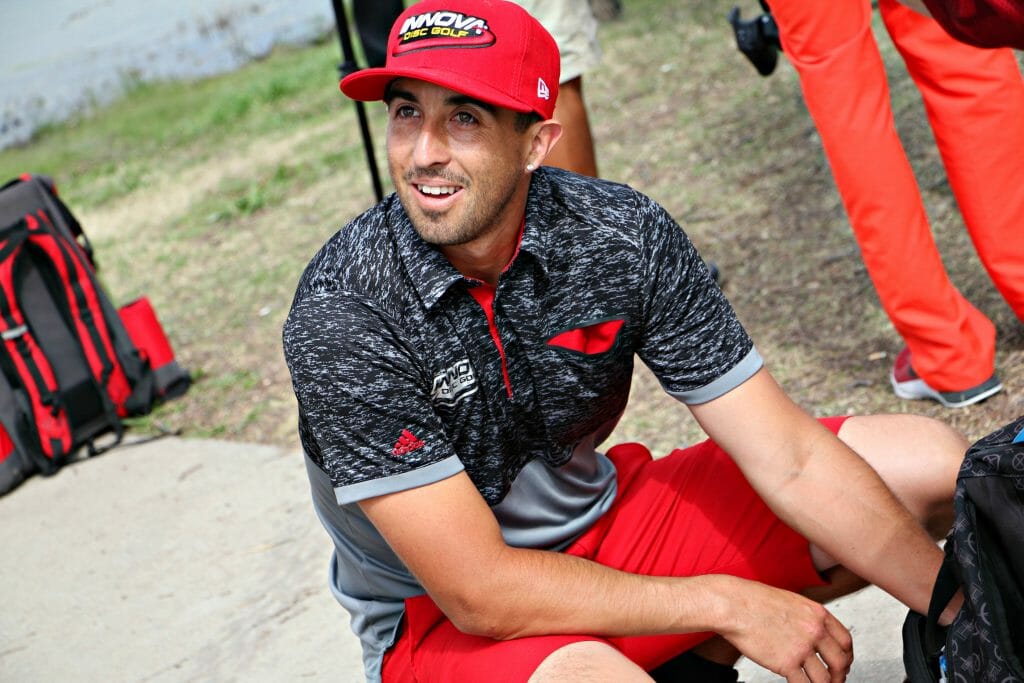 Through the first two rounds of the Nick Hyde Memorial, 13 has been Paul McBeth's lucky number.
The four-time PDGA World Champion shot a 13-under par 51 for the second straight round yesterday at Harry Myers Park, and this time the score proved to be even more fortuitous. He's now at a 26-under par 102 total and in sole possession of first place heading into today's final round, two strokes up on Simon Lizotte and Ricky Wysocki, who also replicated their round one scores with 12-under par 52s to move into a tie for second place with 24-under par 104s. Nikko Locastro and Nate Sexton share fourth place with 21-under par 107s, with Locastro's 11-under par second round giving him lead card honors for the final.
McBeth said after the first round that he felt like he played better than his score indicated, but that he suffered a couple bad breaks. For round two, he said he trended in the opposite direction.
"It's funny, today I didn't feel like I played nearly as good," McBeth said. "Still had some cut-throughs and some missed putts in the circle – I think my putting percentage was 86 percent today, which is really bad. It was another odd day where not everything was working, but I had a good score. Now I need to have a good scoring day tomorrow but play really good."
McBeth opened play by parking the 306-foot hole 1, taking the only birdie on the lead card. After hitting a tree off the tee on hole 2, he threw his upshot to tap-in range to save birdie, then took another on hole 3. He missed an opportunity to make it four straight, though, two-putting on hole 4 before adding two more birdies to go five down through the first six holes. He was six under through eight before again two-putting on hole 9 – this time on a cut-through – but still had a clean sheet after the first half of the day.
Lizotte, meanwhile, was putting on a show on the same card. After his drive on hole 3 landed out of bounds, he hit a 72-foot putt to still capture a birdie. He then parked seven of the next nine holes and gathered his second eagle of the tournament on the 402-foot, par 4 hole 9. Three more birdies in a row brought him to 12-under par through the round's first 12 holes.
Lizotte 72-Foot Nick Hyde Putt GIF
The hot streak put Lizotte three shots ahead of McBeth, but the last six holes saw their scores diverge.
Lizotte struggled on holes 13 through 15, going par-bogey-par with another penalty stroke as he landed his drives just outside of makeable putting range. McBeth, meanwhile, birdied each of those three, then added two more on holes 16 and 17. Lizotte only managed one birdie in the same stretch and saw his lead evaporate into a two-stroke deficit by the time the pair both parred hole 18 to close out the round.
Lizotte knew the exact numbers of the Jekyll and Hyde-style of play he's carried throughout the tournament: He's scored 21-under par on the course's first 11 holes, and only 3-under par on the final seven.
"Today was almost like a similar round for me, just shredding the first couple holes — first 12 — and then falling apart on the last six holes somehow," Lizotte said. "I don't know what I'm doing wrong. It's like I just lose focus and lose my touch. But other than that I'm playing really well, everything's feeling good. I don't know what I've got to do to be strong on the last six holes also."
He also said he wasn't going to worry himself about the breakdown heading into the final round, though, as he had full confidence that scoring that way two times was too many.
"There's no chance I will do that same mistake three times in a row, so chances are pretty high I'm gonna do better on those holes tomorrow," Lizotte said. "If I can get a good start going again like I did today and yesterday, then it'll be tough to stop me, I think."
McBeth said he would like to clean up the putting woes that have cost him an estimated three strokes each round, but that he wouldn't otherwise change his approach as he looks to salt away the win.
"I think this is a fun course, so I'm gonna play the same way — be aggressive on most of the course," McBeth said. "[Hole] 18's a little tough to be aggressive on, but other than that every shot will be very similar regardless of the position I'm in because I'm going for birdie on every hole, for sure, except for 18. It'll be aggressive."
While he wasn't in the spotlight of the lead card, Wysocki took a dash of Lizotte's game, mixed it with the heat of McBeth's, and made it his own. After going bogey-free through the first 11 holes but never really getting on a roll, Wysocki hit a 60-foot putt on hole 12 to start a six-birdie hot streak. He ended the day having hit circle 2 in regulation on 94 percent of his holes to tie Locastro for the lead in that statistic.
Elsewhere on the course, some equally impressive rounds saw players make significant moves in the standings. Austin Turner and Jeremy Koling both tossed 12-under pars to break into the top 10, while Drew Gibson and Matt Bell both climbed 22 spots on the leaderboard and into an 11th place tie with their own 12-unders. Both Koling and Gibson were perfect from 10 meters and in during the round.
With McBeth holding a negligible two shot lead heading into today's final, the chasing field won't be his only concern. Severe storms are set to hit the Dallas area throughout the day, and while most of the weather's intensity will be reserved for the early hours, the course is likely to be sloppy. McBeth, though, did not anticipate that the conditions would adversely affect play.
"Luckily not too much, because the par 3s are very short, so you don't really need big run-ups on them," McBeth said. "But the par 4s are definitely gonna take a little bit of a hit on the distance, but it shouldn't be too much of an issue. We'll see how it goes. Hopefully it continues to blow over like it has every day it was supposed to rain."
Lizotte shared a similar casual attitude when it came to the weather. Aside from perhaps calling on a caddie and packing some extra towels, he didn't think he'd need to make many other adjustments.
"We've played in the rain so many times," Lizotte said. "It doesn't really affect us anymore."
The lead card tees off at 4:30 p.m. EDT, with the live broadcast on the Disc Golf Pro Tour's YouTube channel beginning at 5:00 p.m. EDT. Live scoring and statistics will also be available on UDisc Live.