California pro sets new course record, while McBeth and Sexton are tied for second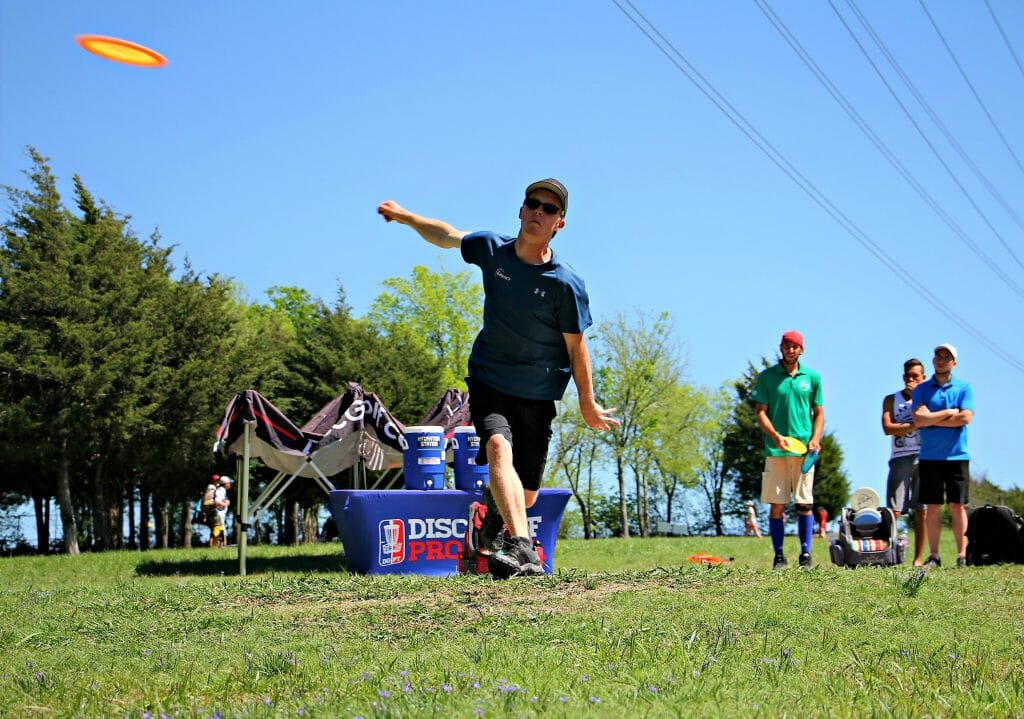 Peter McBride didn't have the fastest start to his 2017 season, but he made up for it yesterday.
After finishing tied for 65th place at The Memorial and tied for 19th at the Waco Annual Charity Open, the 20-year-old California pro flipped his fortunes during the opening day of the Nick Hyde Memorial with a 1078-rated, 15-under par 49 round to seize an early lead at the Disc Golf Pro Tour's third stop. The performance set a new record on the Harry Myers Park tournament layout and put him two shots ahead of both Paul McBeth and Nate Sexton, who are tied for second place after their 13-under par 51s. Simon Lizotte will round out the lead card today, as his 12-under par 52 is tied with Ricky Wysocki and Emerson Keith for fourth place.
For McBride, the hot round was the culmination of shaking the early-season rust off his game.
"I was kind of just, the last few tournaments, definitely getting back into the swing of the tournament mentality and throwing that many shots, and mainly just keeping the focus for a whole round," McBride said. "Even though I didn't play well at my past tournaments, I definitely felt good about them because I knew where I needed to be — and it's a good place to be, to know exactly what needs to happen. And it clicked together for this round."
"Clicked" might be an understatement. McBride stormed out of the gates during his early afternoon round, carding birdies on the first 10 straight holes. He cooled only slightly for a stretch in the middle of the round where he went par-birdie-par, then caught fire for another four-birdie streak on holes 14 through 17. By the time he missed his only putt of the day from inside circle 2, it was already hole 18 and he had secured the clubhouse lead – one that held, even with a bevy of higher rated players still on the course. And while the round was stellar, the approach McBride employed was relatively simple.
"I had a game plan going in, and I knew pretty much all the discs and all the lines I needed to hit," McBride said. "I just stayed pretty focused. Had a good group, and they were positive, and I was able to focus in and throw good drives and pretty much make all my putts."
McBride's perfect putting from 30 feet and in was matched by Sexton, who took one hole more than his young counterpart to rack up a 10-under par total through the beginning of the round. He added two putts from outside the circle and a 100 percent success rate while scrambling to buoy his 1062-rated performance.
"In a little bit of wind that's a really solid day," Sexton said. "I didn't have any doinkers. Obviously I was putting the disc in position to make birdies, so it was a good round."
Coming off a second place performance at last year's Nick Hyde — in which he led late but ultimately lost to Lizotte in a playoff — Sexton said he wasn't looking for redemption. Instead, he recalled last year's showing as reason for confidence.
"I don't know if I feel like I need to prove that I can [win] it," Sexton said. "I feel like last year I proved to myself I could do it even though I lost, you now what I mean, because I was right there. I don't know if I feel like, 'Oh man, I need revenge,' as much as I feel like, 'Oh sweet, Nick Hyde's coming up. I know I can kill it at this one.'"
McBeth, meanwhile, took a slightly different route to his bogey-free round. He took nine birdies, but kept pace with the pack by being the only player in the field to card two eagles – on the 402-foot hole 9 and the 888-foot, par 5 hole 17 – during the round.
"I was driving really well, putting pretty good," McBeth said. "Everything was pretty much working, there was just a soft patch in the middle where just random, freak things were going on. I probably should have shot a lot better. I had no 2s on the back nine, just like a cut through, random OBs…I played really well today, I would say better than my score showed."
Now entering the second round atop the lead card, McBride did not hesitate to admit that the spotlight that accompanies the position might make for some added stress.
"Yeah, there's definitely pressure," McBride said. "Especially on the lead card, there's a lot of stuff going on. The media and the gallery, and it's probably — the main hurdle for me is keeping focused with people around, and with the cameras. But it looks like I'm in good company."
And he might be wise to call on that company for some advice. Sexton recalled a similar scenario when he was a young player where he played well and, as a result, was the fourth player on a stacked card.
"I remember a Beaver State Fling — I don't know what year, maybe 2006, something like that," Sexton said. "I was on the second card and I was with Nate Doss, Avery Jenkins, and Ken Climo. I was probably like — I don't know what I was rated at the time, but I was playing great for me to get to that spot. This is the second or third round, maybe, of the tournament. I think I shot a 947-rated round and I was on the back of the box the entire round."
Sexton was confident, though, that McBride would not experience a similar fate.
"Well, Peter's a lot more of a seasoned pro than I was at that time," Sexton said. "He's been in big moments already, so I am not worried about him. I think he's a pro. He's a great thrower of the disc."
McBeth also remembered a similar experience that came during his first PDGA National Tour event at the 2008 Memorial. Like McBride, McBeth said he was more nervous about the gallery than the players on his card. But he also suggested McBride could take advantage of that energy and make his mark.
"Just have fun with it," McBeth said. "People are out there to watch you play well. They're not out there to watch you blow up — they want to see you play good golf — so why not go out there and put on a show? Regardless if you're playing your top game or not, they want to see you succeed. So whatever you define as succeeding in that moment, do it to the best of your ability…This is Peter's time to define it. If he wants to be aggressive and take all those lines, that's what people will remember."
In other round one action, Eagle McMahon carded an 11-under par 53 — which included an eagle on the 579-foot, par 4 hole 3 — to end up in sole possession of seventh place. Nikko Locastro, James Conrad, Zach Melton, Chandler Jones, and Bo Tillman are all knotted up in eighth place after 10-under par 54s, while another five players make up a 13th place logjam with 9-under par 55s. Further down the leaderboard, Waco Annual Charity Open winner Jeremy Koling is currently tied for 26th place after a 6-under par 58 first round, and Paul Ulibarri and Will Schusterick are tied for 56th place with 3-under par 61s.
The lead card tees off today at 4:30 p.m. EDT, with coverage of round beginning at 5:00 p.m. EDT on the Disc Golf Pro Tour's YouTube channel.