Texas' highest rated player looks to Southern Nationals as an outlet for competition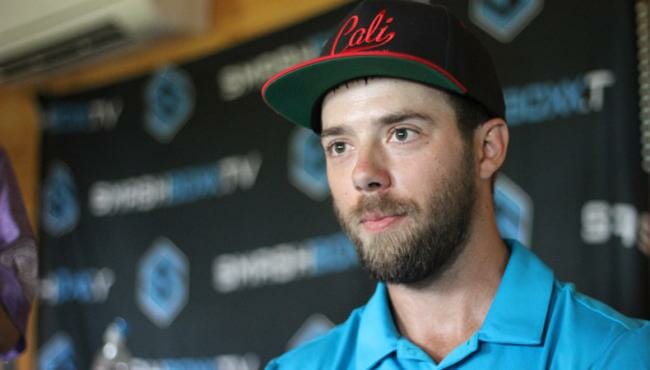 For better and worse, 2016 was a significant year for Bradley Williams.
It started off with the better: After a slew of high finishes and some regional wins in the Midwest, the Texas native's season reached a crescendo when he ousted Michael Johansen in a playoff to win the Vibram Open, his first PDGA National Tour victory. Shortly thereafter, Williams was picked up by Innova Discs, and it seemed like he was well on his way to putting behind his past reputation – one that earned him the nickname "Cactus" due not only to his Lone Star State roots, but also his prickly demeanor – and becoming a positive force in the sport.
Then, the worse.
An altercation with Matt Dollar during the Ledgestone Open in early August resulted in the PDGA handing down an 18-month suspension, as Williams had been on probation related to a prior suspension. His appeal was denied, and he missed both the Disc Golf Pro Tour finale and the United States Disc Golf Championship.
With the Disc Golf Pro Tour ready to make its second stop in Texas, and most players being parked there for the better part of the last month, the absence of the state's highest-rated player hasn't gone without notice. Williams won the 2016 Texas States Championship at Brazos Park East – home of the Waco Annual Charity Open two weeks ago – and came in fourth place at the 2016 Nick Hyde Memorial, for which the 2017 iteration takes place Friday through Sunday. All of this begs the question: Seven months into his suspension, what is Williams doing now?
Not a whole lot of disc golfing, he told Ultiworld Disc Golf recently.
Aside from a winter trip to California, Williams said he's mostly been staying off the course, instead focusing on conditioning. He's able to get by without a conventional job, though, selling discs and giving lessons – plus relying on a savings account – to meet his day-to-day needs. And while he said he's picked up on a bit of the early season media coverage of PDGA and DGPT events, he said he hasn't paid close attention.
"I follow it. I usually try to not get too excited or focus on disc golf during the winter," Williams said. "It's just kind of a general rule for me. I just kind of let it wash over and don't think about it too much."
With friends and competitors trickling into town, though, he said that might change.
"As soon as competition starts, I think the Texas swing will probably pique my interest a little bit more," Williams said.
Though he's had more than half a year to cool from the situation, Williams still directed plenty of vitriol toward the PDGA and how he feels the organization handled his suspension. He said he was given an "ultimatum" that mandated he take anger management classes, and that if he were to do that he would be able to return to play sooner, but face added probation. At this point, he has not taken those classes.
"They weren't open to any sort of — they wouldn't answer any questions," Williams said. "The PDGA was stone-faced. They didn't follow any of their policies, they didn't answer any questions, they broke all of their rules."
Williams also asserted that his situation was not managed in the same fashion as other players who have come under discipline from the sport's governing body.
"The more we've looked into their policies, we've started to realize they haven't treated people evenly across the board in other examples," Williams said. "We've talked to a lot of people and there's a lot of people that have had issues where the PDGA either ignored it, didn't follow policy, or incorrectly followed policy. Then when it comes to this situation with me, they did nothing. They didn't follow any of their policies. They cheated. They cheated their way out of it."
While PDGA guidelines did not allow her to comment on the specific details of Williams' suspension, PDGA Board of Directors President Rebecca Duffy was unequivocal when addressing if the organization followed its suspension policy properly.
"I can 100 percent say that yes, we did follow our policies," Duffy said. "And we were fair."
The PDGA was not the only organization at which Williams directed his ire. When asked how he felt about being a catalyst for some of the late-season turmoil that saw the Disc Golf Pro Tour unsanctioning its finale, Williams was critical of both Pro Tour director Steve Dodge and organizers of the Heart of Texas Tour, a seven-event circuit that also dabbled in unsanctioning last year.
"I'm actually a little concerned with that," Williams said. "There were two groups of people who used my case to boost interest in what they were doing with their lives in disc golf, and then whether it stuck out or didn't stick out, they decided to change their position or change their stance.
"Steve Dodge approached it like, 'Let's get people fired up and possibly put our issues and differences with the PDGA out there,' and then do things like not sanction the event and then possibly not sanction the whole tour and just go out of our way to draw a lot of interest into their prize and then change their minds and then sanction it and continue as usual," Williams continued. "There was also a governing group of people who run tournaments in Texas who did the same thing. They took a strong stance, made a political statement, then recanted and changed their mind and went the other way, and I think that's pretty silly."
Williams said he had not spoken to Dodge since the PDGA discipline – and a separate DGPT suspension – were handed down.
"He was only interested in his party," Williams said. "It was just to take advantage of a media thing, I think. Media hype."
Dodge, in an emailed statement to Ultiworld Disc Golf, acknowledged Williams' concerns and clarified that Williams' suspension was only one of many issues he had with the PDGA.
"I have not had a chance to talk with Bradley about this yet," Dodge said. "I can understand where he is coming from. From my perspective, the lack of inclusion of the Pro Tour in the suspension discussion was only one of the issues we raised with the PDGA, but since it was one of the final catalysts it got a lot more attention than the scheduling and communication concerns. Bradley's perspective is valid and understandable.
"Lastly, thanks to substantive conversations, it is worth noting that the PDGA and DGPT have improved communication, on-course representation, media coordination," Dodge said. "And it is expected that we will work closely together on scheduling in the coming months."
Team Justice, a five-person collective that runs the Heart of Texas Tour, issued a statement to Ultiworld Disc Golf and defended both its motives for unsanctioning its 2016 finale and its reasons for moving forward with sanctioning its events this season:
Everything we do that has to do with disc golf is for disc golf, a charity, or disc golfers. It has always been our goal to be a positive influence and help the sport grow. The BW situation did open up an opportunity to shed light on improvements we'd like to see in the PDGA, but our stance was never about a single incident or our individual lives. We're looking at the big picture, and want to see changes in the PDGA leadership and policies. Changes are happening and people are fired up.

Not sanctioning the Oktoberfest/HOTT Final last year was a difficult decision, and, yes there was a vote (Team Justice has a voting board). The announcement we made about not sanctioning the 2017 tour included a statement about how that could change if we saw change in the PDGA (paraphrased). We have seen a major change in leadership, and we intend to see more. There is a critical board election this year, and we as PDGA members CAN make change happen. Our decision to sanction the 2017 HOTT series wasn't 'silly,' it was well thought out and voted on.

How can we, as an organization, say we want to make change happen in the PDGA and not be part of the PDGA? Overall, we decided that if we want players to support the PDGA and help make change happen, we would need to do the same.
Now standing on the sidelines as his fellow players wrap up their stint in his home state, Williams acknowledged there are plenty of people who will not be sympathetic to his cause and assert that he should take his medicine. And he is OK with that. He's just not satisfied with how the suspension unfolded.
"I feel like there's truth in how they feel and I empathize with their — I see their point of view," Williams said. "I can put myself in their shoes and look at my case and agree with them, for sure. But the thing is — the only thing I don't agree with is how the investigation took place."
At some point, he will have to move on, and he did say that he might acquiesce to the PDGA's request for anger management courses when the time feels right.
"I'm on the fence," Williams said. "I think once my disc golf training starts picking up and I'm playing disc golf more and starting to yearn for the competition, I think my willingness to comply with such ridiculousness will probably push me more to doing it, just to squeeze in maybe a competition or two before the end of the winter season."
And even if he does not go that route, there are opportunities – albeit less lucrative – for him to play. He alluded to traveling out of state for upcoming competitions, and played coy when asked in a follow up text message if he would look at Southern Nationals events.
"Maybe ;)" he texted, along with a link to the Southern Nationals schedule.
Per Southern Nationals Board of Directors member Michael Kernan, Williams would be allowed to play any SN events that are not dual-sanctioned as PDGA tournaments.
"Simple as that," Kernan said in an email.
If that happens, Williams said that he will be ready.
"Right now my health is well, my game is good, and my physical fitness is getting better than it's ever been," Williams said. "I suspect that my game will be in top shape whenever I compete again."