2016 Women's Player of the Year reflects on how to improve after her Memorial performance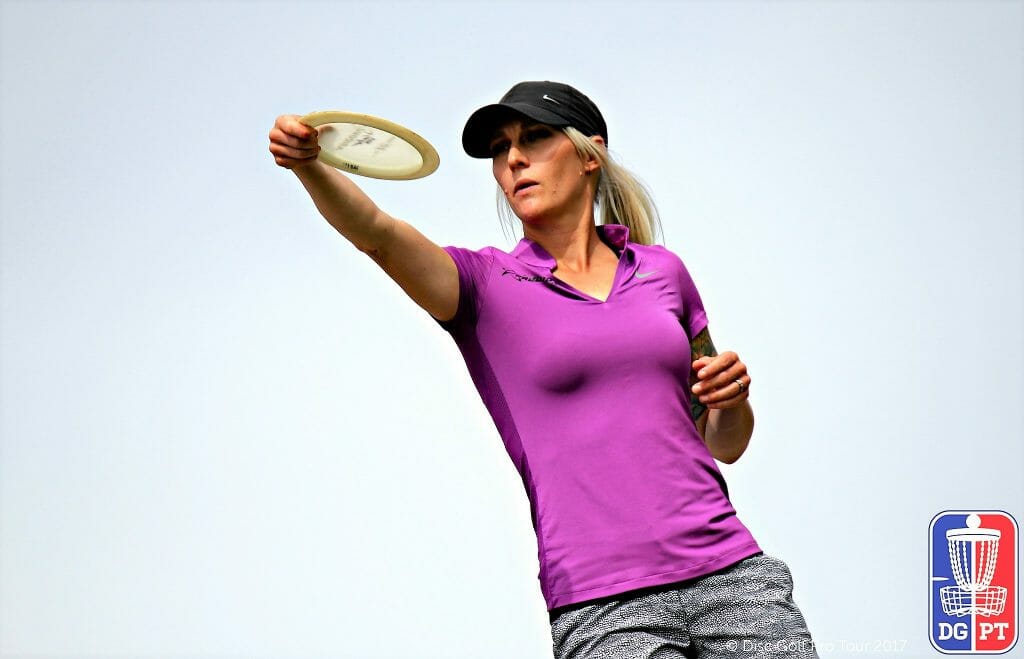 After carding a 1003-rated round to close out the Gentlemen's Club Challenge and move into second place, Catrina Allen appeared to be on the cusp of another memorable season.
So when the 2016 Women's Player of the Year tackled her de facto home courses in Arizona and shot all four rounds of the Memorial Championship below her rating, it registered as a surprise. Rarely in recent memory had her game seemed so out of sorts, and in order to find a performance in which she duplicated that dubious feat one has to wind the clock back 63 tournaments, all the way to the 2015 Memorial. On those same courses, at that same event, Allen again spent the entire tournament below her rating.
But instead of dwelling on the negative aspects of the performance — she was able to laugh at her infamous seven-putt showing on hole 13 of the first round at Fountain Hills, for example — Allen has spent the time leading up to this week's Waco Annual Charity Open dissecting her game. And what she's found is that, over the offseason, she made some improvements that she hasn't quite adjusted to yet.
Now, drawing on her background as a high school volleyball coach, she's trying to take the lessons she used to pass on to her players and teach them to herself.
"I remember saying this to certain girls," Allen said in a lengthy conversation this week, "sometimes you have to take a couple steps back to take a couple steps forward."
The first step back, Allen said, relates to her distance off the tee. Through an offseason regimen that consisted of an increased amount of yoga, Allen came back after the winter to discover that she had more power than in the past. As a result, she is flipping discs more than she wants to, or has found herself in unfamiliar ranges on her upshots. While it's a good problem to have, it's still a problem that she has to grow into.
"I know one thing that is just kind of bizarre is I felt like I didn't have — not a game plan, but I just felt in between discs and distances are a little weird," Allen said. "So I'm just moving back into…maybe where I was throwing a fairway driver [before, now] I can throw a mid. So I'm just kind of learning this new distance."
In addition to the newfound power, Allen also spent the offseason trying to take advantage of the distance and accuracy she already possessed. In 2016, she led the women's division in the Disc Golf Pro Tour's fairway hits rate (64 percent) and both circle 1 (33 percent) and circle 2 (54 percent) greens in regulation. Taking a cue from husband Paul Ulibarri and winter training partner Ricky Wysocki, Allen worked on a more aggressive putting style that, once she dials it in, she feels will help her land some more of those long distance birdies. In the meantime, though, it is leaving her with some dangerous comeback putts and actually adding strokes to her scorecard.
"That's a little uncomfortable, because I've always had a really slow, nice [putt, and] if I miss it's right there," Allen said. "Just a lot of changes in my game. They're all good changes. None of them are bad."
The early results, though, have made Allen press in certain instances. And even when she has started off a round well, she said she is working on what she called "padding her scores." For instance, if she begins on a hot streak but encounters a hole that might cause some more difficulty, she said she's trying to stay within herself and not try to keep the streak going, as it can result, more often than not, in racking up a bigger number instead of playing it safe.
"Just trying to get back into – a friend said I really well – 'Catrina golf,'" Allen said. "Not thinking, 'I have to shoot well because this is my home course,' or 'I've gotta shoot well because I can throw far now.' Getting out of my way, and just playing my golf again and going back to my mental process and the things I used to say to myself to kind of get in my groove and take it one shot at a time again."
One thing she won't do, she said, is let fellow competitors dictate her approach. After Paige Pierce's recent comments that she would not lose this season, Allen said that her friends and supporters were more upset about a perceived slight than she was. And while she appreciated their support, she knew that what mattered more was her own game.
"I'm not ever playing against her," Allen said. "If I were to do that, that would be the dumbest thing I could do…I'm only out there to play the course and do what I can do."
Instead, she'll continue to tweak her game and keep trying to improve. Even after a near historic 2016 season, Allen said she is not content to rest on her laurels.
"I think that's why I love disc golf, because there is always something you can change and you can always become better," Allen said. "Maybe that means, like I said, a couple steps backward. But if that's what it takes to go further, be the first 1000-rated [women's] player, or the first whatever, I'm willing to try."