Catrina Allen battles back to second place with strong final round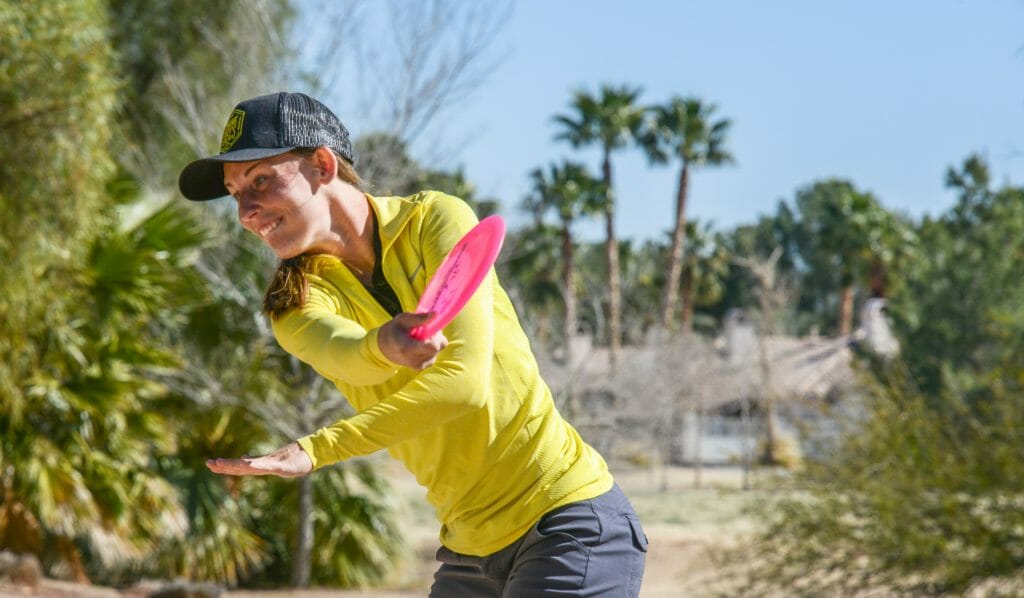 HENDERSON, Nevada – After three days of virtually mistake-free golf, Paige Pierce started to come undone.
Pierce needed every bit of the eight shot lead she carried into yesterday's final round of the Gentlemen's Club Challenge, as she carded four bogeys and a double bogey on the front nine of the Wildhorse Golf Club's Innova Course. But with Jennifer Allen unable to capitalize on the miscues, and Catrina Allen with too large of a deficit, Pierce rallied late and hung on for a three shot victory, her 8-over par 68 bringing her to a 7-over par 242 total and netting her $2,000 in prize money.
Catrina Allen's best effort of the tournament, a 2-under par 58, saw her climb to second place with a 10-over par 245 total, while Jennifer Allen slipped to third after a 4-over par 64 added to her 11-over par 246 total. Sarah Hokom rebounded with an even-par 60 final round to move into fourth place at a 15-over par 250, where she shared honors with Eveliina Salonen after the 17-year-old Finnish national champion tossed a 4-over par 64 in the final round.
The victory was Pierce's second wire-to-wire win of the season.
The women's final round unfolded in similar fashion to that of the Open final, with the leader coming in with a seemingly insurmountable lead and fellow contenders mounting fierce attacks. And, just as Ricky Wysocki did, Pierce took comfort in the lead she had compiled throughout the week.
"Errors," Pierce said of her day. "Mental errors, throwing errors — just way too many. Luckily the past three days I played very well and built a little room for error, because today there was plenty of it. I pulled it back together toward the end, but it was really hairy out there."
Catrina Allen managed to put a dent in Pierce's lead early, carding a par and two birdies to take three strokes off of the gap in the first three holes. She gained two more after Pierce's double bogey on hole 5, then two more by hole 9.
By the time play reached hole 12, Catrina Allen had closed the gap to four strokes, and Jennifer Allen was making her own charge with a birdie on the previous hole. So when Pierce hit a tree off the tee on hole 12 and had it still land in bounds halfway down the fairway, she tried to use the break to her advantage. After pitching up to within 25 feet of the basket, she was still faced with a tricky downhill putt, with a rollaway almost certainly meaning OB.
Undaunted, Pierce took to a knee and squared up the basket. Raising her Swan overhead and giving her signature flick of the wrist, spun her putt into the center of the chains.
"I just told myself, 'Take that luck and don't waste it. Save your par,'" Pierce said. "I left my upshot a little short, scared of out of bounds deep. The knee putt I hit, I think any other hole I would have laid up. But I couldn't let the momentum stay that way. I had to do something about it."
Though Jennifer Allen tapped in her birdie putt, Pierce's par save signaled her recovery. She took a clean sheet, which included two birdies, and her four shot lead over Catrina Allen – Jennifer Allen faltered a bit on holes 14 and 15 and lost pace to the leaders – into hole 18, poised for victory.
Facing a 732-foot, gradually uphill par 4 with water on the right and OB on the left, all Pierce had to do was keep it safe and cruise to the title. But her tee shot sailed too far right, hugging the water and not fading back enough to the left. Her splash landing meant she would be throwing three, with Catrina Allen apparently safe off the tee.
After Pierce took her second shot and played safely to the middle of the fairway, Catrina Allen approached her tee shot, only to find that it had actually skipped out of bounds by mere feet. Her misfortune was Pierce's gain, and after a long uphill drive and another easy upshot, Pierce was able to breathe, taking home the win by three.
Pierce acknowledged that, if she had encountered similar trouble in a final round last year — when she was embroiled in a contract dispute with her then-sponsor Prodigy Disc — she likely would not have been able to answer the way she did yesterday.
"We've talked about last year a lot, and I think that my mental capacity was not there at all," Pierce said. "For 12 holes it wasn't here and I brought it back, and hopefully that's the last time it happens this year."
For Catrina Allen, the final round salvaged her tournament. She still was not satisfied with her performance, but she hoped it would be a good learning experience for the rest of the season.
"Paul [Ulibarri] just said to me, 'You know, you're never out of it,'" Allen said. "I was 13 strokes behind this morning, lost by three, I think. So maybe it was a little blessing in disguise, I guess. I think I was thinking the wrong way out there…just trying to play catch up the whole weekend instead of — just like today, I finally was like, 'All I can do is play the course and play my own game.'"
Jennifer Allen, meanwhile, said she went against her better instincts during the round, and it cost her when she should have played safe on a putt but went for it and lost strokes.
"My pride completely got me, and I was like, 'You can't lay up every putt, Jennifer,'" she said.
Still, she acknowledged that there was more she could have done outside the final round to put herself in better position.
"I gave up many strokes out there, like the five strokes on hole 7 yesterday," she said. "Even though I knew I made that one mistake today and it was going to cost me, there were many more strokes out there that got me to that point."
Jennifer Allen has now come up short to Pierce in consecutive events – "two for two," she joked – and said she sees a different competitor in her this season.
"She did not have the drive to win last year," Allen said.
Pierce ended up shooting three of the four GCC rounds more than 25 points above her rating. It's a pace she will look to continue at this week's Memorial Championship, the first stop on the Disc Golf Pro Tour.
"I play this sport because I'm passionate about it and I'm passionate about competing in the sport, so I never want to lose," Pierce said. "I just want to give it everything I have to at least put myself in position on this last hole, so mostly just motivated to succeed and see all the hard work put to good use."