Aggressive play in the works for round two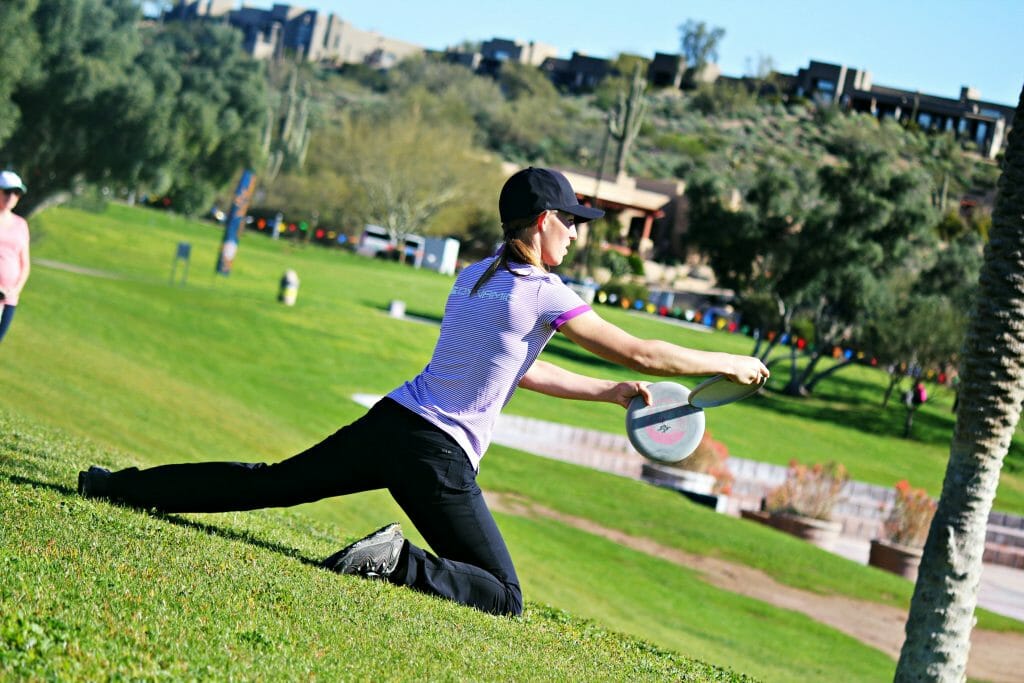 Paige Pierce is off to a strong start again, her 3-under par 53 at Fountain Hills Park yesterday during the first round of the Memorial Championship bringing her five strokes clear of Sarah Hokom, who sits in second place after a 2-over par 58.
Pierce had, in her words, a "pretty steady" round. Indeed, she collected four birdies to one bogey and went out of bounds just three times, but only once did she not rebound to come away with a par after the penalty stroke. It was her eighth round rated 980 or higher in 2017, which might be steady for her, but puts her ahead of the competition early for the second week in a row.
Hokom and Catrina Allen – who notched a 3-over par 59 opening round – will join Pierce on the lead card for round two at Fiesta Lakes, as the event sticks with threesomes in the Open Women's division. Hokom went out of bounds just once, on hole 1, and hit the second circle in regulation on 44 percent of the holes. Allen was at even par heading into hole 13, but seven-putted at the elevated basket to take a quintuple bogey 8. She managed two more birdies on the final five holes, but that wasn't enough to make up for the snowman.
Putting was one part of her game Pierce was most encouraged about after round one.
"That's one thing I was telling my caddie today," Pierce said. "My putts were feeling really, really good, even on my 40 and 50-footers. I didn't necessarily make them all, but I hit the baskets on every one of them, so even when I missed it was just by an inch. So, tonight I'll probably just do a lot of putting practice to keep the stroke how it was feeling today."
As competitors head to the Fiesta Lakes course tomorrow, a confident putt will fit right in to Pierce's game plan to attack the course. "Fiesta is the one course out here that I feel like I can be very aggressive on because it's shorter," Pierce said. "I'm going to try to get a lot of birdies and run some putts I wouldn't normally, and try to make up some strokes on holes that I can reach that I don't think a lot of the field can."
With the short turnaround between events, Pierce's GCC finish is fresh in her mind as she looks to build on her lead in round two.
"I would obviously like to have as much buffer as possible," Pierce said. "So I think trying to play a little more aggressive at Fiesta, where it's feasible, [will help] to try to build a lead in case something like the last round at GCC happens again."
The chase card for round two features Zoe Andyke tied with Vanessa Van Dyken, after both ended up with 4-over par 60s. Valarie Jenkins rounds out the chase card after tossing a 5-over par 61 with her brand new Discraft bag. The defending PDGA World Champion got off to a rough start in round one, but stayed even par through the final 14 holes.
The lead card tees off at 2:04 p.m. local time, with scoring updates available via UDisc Live.