Koivu in second, four tied for third after round one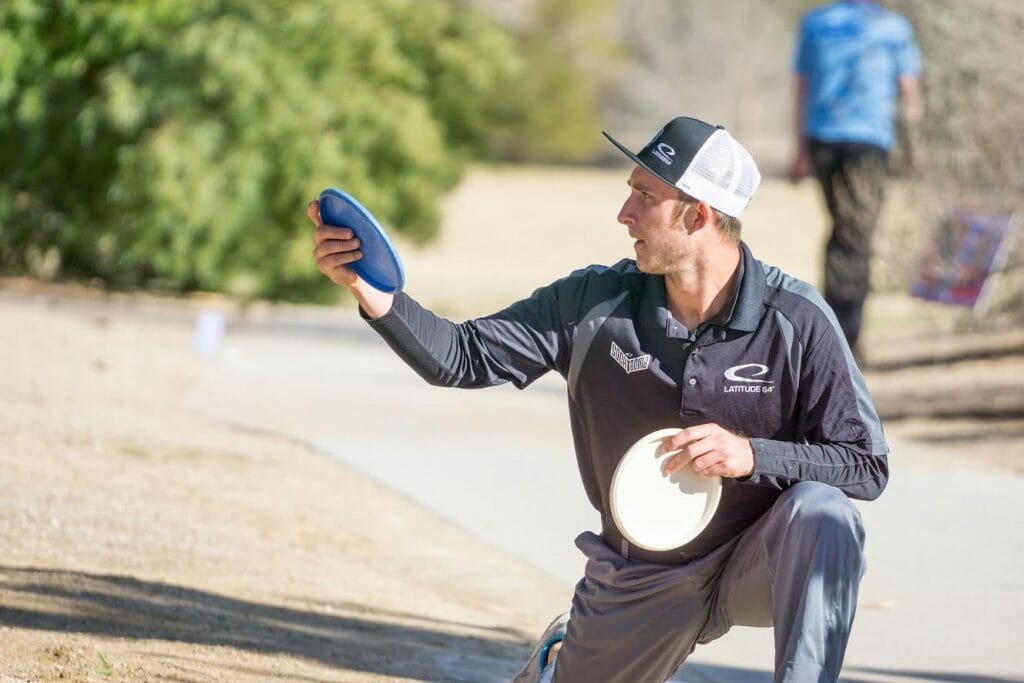 Mere miles from the glitz of the famous Las Vegas Strip, it was Ricky Wysocki's decidedly non-Vegas approach that managed to light up the scorecard yesterday during the first round of the Gentlemen's Club Challenge.
Picking up where he left off at last month's Aussie Open, Wysocki started the first PDGA National Tour event of the season on fire, shooting an 8-under par 48 hot round to lead play at the Wildhorse Golf Club's DiscGolfValues.com Course. His nine birdies were a tournament best, leading him to an unofficially-rated 1064 opening frame.
Pasi Koivu's bogey-free 7-under par 49 brought him to second place on the day, while four players — JohnE McCray, Nikko Locastro, Paul Ulibarri, and A.J. Risley — tied for third with 6-under par 50s. McCray and Locastro will join Wysocki and Koivu on today's lead card.
RELATED: Pierce Leads, Hill Surprises After GCC Round 1
Wysocki opened play with a style he dubbed "semi-aggressive," employing a strategy that he has honed over time and that he puts to particular use on golf course layouts such as the ones at the GCC.
"Aggressive when you need to be and not aggressive when you don't need to be," Wysocki said. "I've just established my place and I know my limits. If there's a hole where I feel comfortable attacking, I'm gonna go ahead and attack it very aggressively. And if it's not, then I'm gonna play it safe and go for the par."
Clearly, Wysocki was feeling comfortable on the DiscGolfValues.com Course, carding three consecutive birdies and jumping to an early lead over the rest of the day's feature card, which also included Eagle McMahon, Simon Lizotte, and defending GCC champion Philo Brathwaite. Wysocki then birdied every other hole for the next eight and, by hole 11, had tied Koivu for the clubhouse lead.
Wysocki's pace cooled slightly on the course's back seven, as he carded two birdies and one bogey — on the 489-foot, par 3 hole 17 — to finish the day.
"I just put myself in a weird spot," Wysocki said. "It was definitely unfortunate, I would have liked — I had a clean scorecard. It's always nice to have a clean card. It was just one little hiccup, and I won't let it kill any of my momentum heading into tomorrow."
Ulibarri, meanwhile, took the opposite method of Wysocki en route to a spot on today's chase card. The Arizona native started off slowly, bogeying hole 1 and only ending up at 2-under par through the front nine. He heated up on the back, though, carding four consecutive birdies from holes 13 through 16 and closing the day strong.
The back half wasn't all good for Ulibarri, though: He re-injured the medial collateral ligament in his right knee when he slipped on some loose pebbles while straddle putting on hole 15. It's the same knee he injured during the offseason, when he stepped on a stray bottle someone had left at the bottom of a stairway in his apartment complex, and he had entered the GCC feeling like it was mostly healed.
Still, he remained confident that, with some ice and Tylenol, he would be in good shape for round two.
"It's kinda scary, really," Ulibarri said. "[It's more of an] I don't want it to get worse type of thing. It kind of popped, and then there was a little bit of pain in there. But I just tweaked it. I didn't do anything crazy, you know?"
Ulibarri said the knee could affect his follow through — "commitment on shots" might be tough — but that his putting, which he credited for much of his round one success, would not suffer.
"Kind of trying to add a little bit of a push hyzer putt in my game, and I made three or four of those," Ulibarri said. "So that was probably the key."
He also said it helped spending the offseason training with Wysocki, who spent his winter in Arizona. And while Ulibarri didn't learn what Wysocki's Kryptonite is, he did credit the current world champion with motivating him to improve from both within, and outside of, the circle.
"He just makes everything man, that's his secret," Ulibarri said. "Playing with him in the offseason, I really tried to work on my putt, because that's where he's beating everybody right now. He just makes everything…When I first started, everybody was like, 'If you make 30 to 25-footers every time,' it'll be tough to beat me if I make all those. The game's evolving, and now Ricky and Paul [McBeth] — when they're on, they're making everything from — Paul's making everything from 45 and in, and Rick's making everything from like 60 in, and that never used to be the case. So for sure, I'm always trying to get better."
Wysocki said that the coaching and encouragement went both ways, as he would seek Ulibarri's advice on his driving form.
"It's a good trade off," Wysocki said. "Me and Uli are really pushing each other. It's great to have that. Most times in the offseason I've never had someone I feel comfortable asking for advice from…It's the closest thing to a swing coach, I think, as it gets, really. I help him with his putt or swing, and vice versa."
Perhaps the most surprising round one performance came from Risley. A 989-rated Southern California native, Risley has been a fixture on the national touring circuit the past few summers and is planning on being on the road full time this year. He finished in third place at last weekend's Wintertime Open in Pasadena, California, and – like Ulibarri – credited his offseason dedication to extra putting practice for positively impacting the rest of his skillset.
"I think that definitely affects the rest of my game," Risley said. "When you're putting well, there's not as much pressure on everything else. I've been practicing my putting a lot, and that's made me feel more comfortable on the green when I get close to the basket, and in turn that's made my drives feel a little more comfortable."
Though this is Risley's hottest start at a National Tour event, he has been on the second and third card at an NT a handful of times in his career. He said he'll draw on the lessons he learned in those cases, as well as during last weekend's event, to help stay in the moment.
But that doesn't mean he won't be feeling some jitters.
"Some guys will try to be tough and say, 'Aw, no, nerves don't bother me,'" Risley said. "But I think anybody that is passionate about the game, they'd be lying if they said they had zero nerves when they're in this type of situation. I tell a lot of people this, but I always remember Tiger Woods saying in an interview that, even after so much success, he feels nervous. And he says that's a good thing, because that means that he cares, that he wants to be there. I definitely share that feeling."
How will he deal with that feeling, though?
"What got me through last week was taking it one hole at a time, one throw at a time, really," Risley said. "Sticking to the game plan. And lots of breathing."
Further down the leaderboard, McBeth shot a 4-under par 52 and sits in a seven-way logjam for 10th place. McMahon, Nate Sexton, and Matt Orum all tossed 2-under par 54s and are tied for 22nd place, while Steve Rico, Zach Melton, and Zackeriath Johnson are in 31st place after 1-under par 55s.
Two players entering the event with a fair amount of intrigue got off to slow starts, as well. Lizotte, in his first event since knee surgery, shot an even par 56. Jeremy Koling, who missed the Aussie Open due to illness and is playing in his first high profile event under his new sponsorship with Innova Discs, also sits with Lizotte in 38th place at even par.
Play now moves to Wildhorse's Innova Course, a venue Wysocki said will require players stay within themselves in order to score well.
"You're not gonna be reaching a lot of the par 4s because there are bunkers and OB around the green, so it's really gonna be about placing yourself in the right spots with the wind, because it's really windy," Wysocki said. "Being strategic and playing smart and consistent, because the ways the greens are laid out, there's lots of danger."
Risley, meanwhile, said the Innova Course was his favorite on the property. But he also used that same word Wysocki did to describe what awaits on the par 59, 8,310-foot track: danger.
"I think you'll see a lot more stroke swings out there," Risley said. "There's some really good holes and lot of holes where some water comes into play… It makes us step back assess everything that's going on, especially the upshots."
The lead card tees off at 1:40 p.m. local time today.