Jennifer Allen in second after windy day in Vegas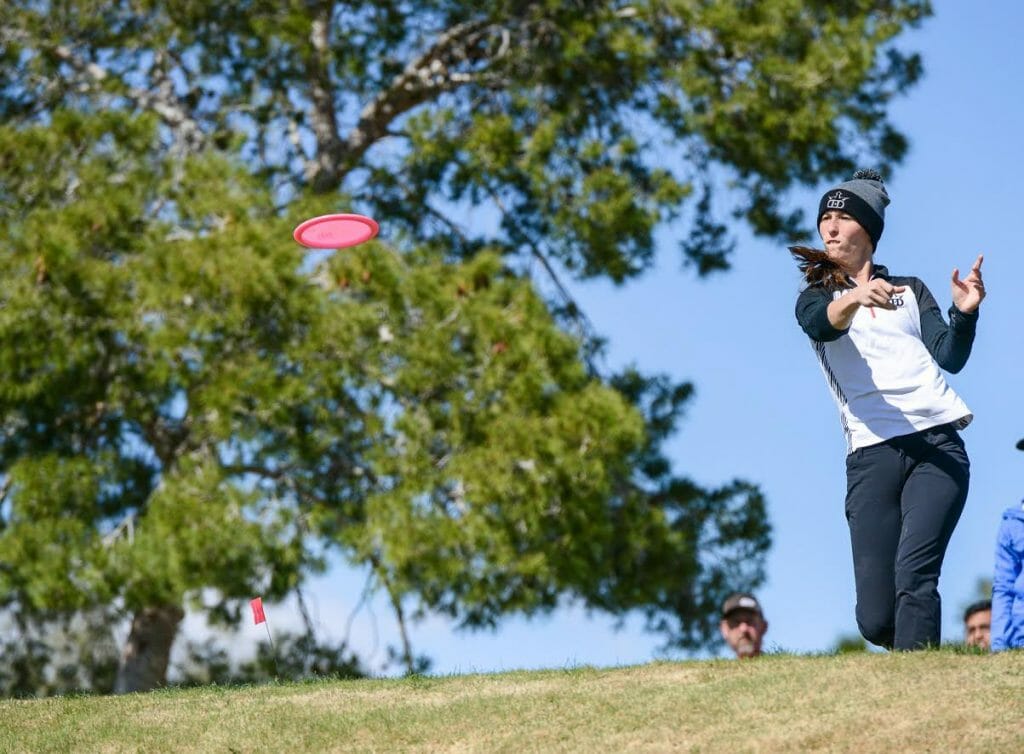 On a cool and windy morning in Las Vegas, Paige Pierce made like she was back in the 100 degree heat of Western Australia and jumped out to an early lead at the first PDGA National Tour event of 2017. Pierce continued her torrid start to the season, carding a 1-over par 57 in the Open Women's division yesterday at the Gentlemen's Club Challenge to come in at a preliminary rating of 983.
Jennifer Allen sits in second place after a 3-over par 59, while Florida pro Jessica Hill shot out of the gates with a 4-over par 60 to end up in third. Elaine King, Catrina Allen, and Jessica Weese are all tied for fourth place after 5-over par 61 rounds.
RELATED: Wysocki Gets 'Semi'Aggressive' For Early Gentlemen's Club Lead
Pierce got off to a better start than her fellow competitors on the feature card, staying at even par through the first five holes while carding a birdie and bogey. She spent the next nine holes parring out before ending the final four holes one over par, taking bogeys on holes 15 and 17 and taking her second birdie of the round on hole 16.
That kind of consistency was not that norm, though, for the rest of the field.
Being on the first card out on the course Thursday morning, Jennifer Allen wasn't quite sure what to make of her round at the end.
"I didn't really have any high expectations, and I didn't feel like I was playing really well because I ended the round with a few bogeys," Allen said. "But I didn't have too many mistakes on the front nine."
Turns out, she ended up just two strokes back of Pierce on a day when a combination of wind and tricky greens made birdies scarce.
"Even if you had a good drive, you kind of still had to lay up," Allen said. "Unless you threw a perfectly placed drive, there weren't a whole lot of birdie opportunities."
Allen was complementary of her first round card and will be looking to keep the positivity going today with the last two members of the lead card, Hill and five-time PDGA World Champion King. Hill's presence at the top of the leaderboard may come as a surprise to some, as the 895-rated Florida pro finds herself just three strokes off Pierce's pace after a 957-rated performance.
"I feel like if you compare my rating to the outcome, you could assume I was very happy — so yeah, I felt pretty positively about the round," Hill said. "My goal coming in was to just not allow expectations to affect my mental game, so I really didn't have many expectations. I just wanted to play consistently and execute shots and not get nervous or throw off course. I'm much newer to the game than a lot of the women playing, so consistency is something I'm always working on."
But it wasn't just realistic expectations that benefited Hill. Playing in a familiar setting also helped.
"I think comparing Las Vegas to my home courses in Florida, there are a lot of similarities with water, fast greens, OB, and being a little more open," Hill said. "So I definitely get to practice that often."
Additionally, Hill placed well at last year's Glass Blown Open and credited that experience, too.
"I think a couple of the GBO courses are similar to the ones here, specifically Jones East and the Country Club," Hill said. "I think that's a kind of golf I have a lot of experience at, though I don't necessarily think that's what I'm best at. But it is fun to just throw big shot after big shot."
Like many competitors who balance careers outside of playing professionally, Hill was both realistic and optimistic about her preparation for today's second round. She noted that the Innova Course was the one course she hadn't practiced on after arriving late on Tuesday night and not wanting to throw out her arm on Wednesday.
Laughing, she added that the plan for today is much the same.
"Just stay out of trouble as much as I can," Hill said. "It's a balance between not restricting your shots and overcompensating, almost, for the risk. It'll be about figuring out the right amount of risk to take on a shot and still managing to stay out of trouble, that'll be my goal. We'll see how it goes."
In her first big event in almost a year, Weese got off to somewhat of a slow start through the first five holes, before going even par the rest of the way to finish tied for fourth place.
Weese stuck to her normal pre-tournament routines and felt confident going into the event.
"I just made sure to focus on one thing, and that was playing my game," Weese said. "I ended up playing almost up to my expectations, but I left a few mistakes out there — maybe a handful or more, so I just want to focus on making fewer mistakes tomorrow and remember to read the wind every time so I can land where I want to set up my putts."
Looking ahead to the final three rounds, Weese plans to draw on her experience from playing the event last year.
"I kind of feel like the DiscGolfValues Course has a lot of similar shots to the Innova Course, but overall, the Innova Course and the Adidas Terrex Course have more in common," Weese said. "Lots of tricky OB to be aware of. And, I feel like the Adidas Terrex Course has a lot of blind shots — you don't know where the hazards are exactly, so I feel like the Adidas Terrex Course will be a lot more of a challenge and for the people who didn't play it before, or much in practice, they might not be as comfortable there."
The women's lead card tees off at 8:20 a.m. local time.