It was only one tournament, but Pierce's Aussie Open birdie percentage was incredible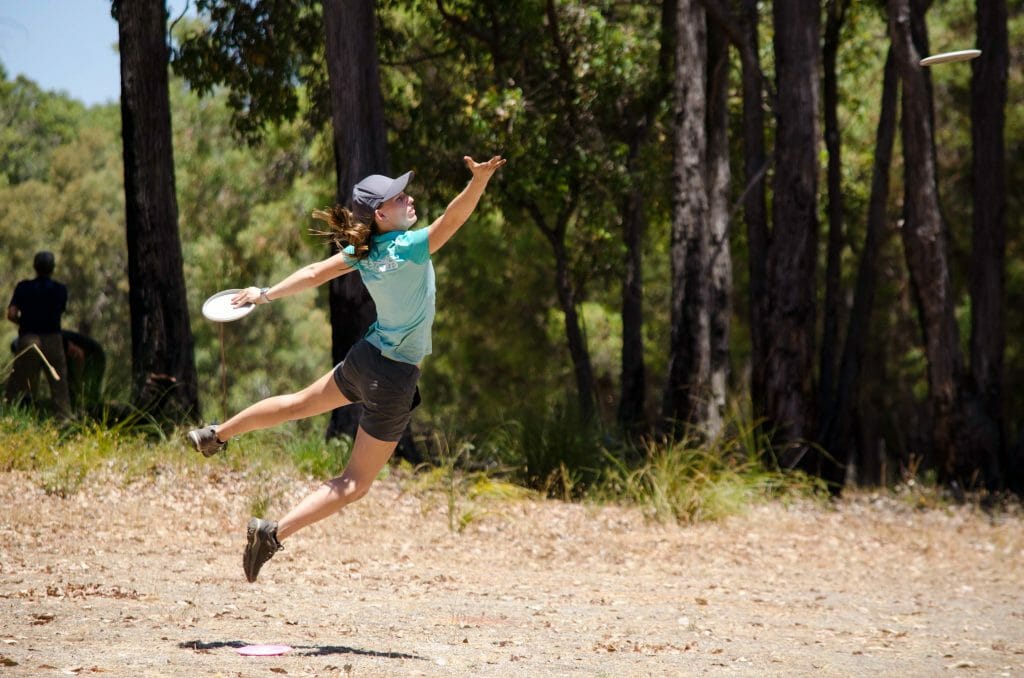 While the Disc Golf Word Tour does not offer the advanced statistics for the women's field, the PDGA's hole-by-hole scoring of the Aussie Open offered plenty of insight into how Paige Pierce was able to dominate the field during her 20-shot, USDGC-qualifying victory. Let's drill it down a bit.
On hole 17 — Mundaring DiscGolfPark's longest par 3, at 393.7 feet — Pierce beat the field by 70 percent, averaging a 2.25 score while her counterparts averaged nearly a bogey. On the massive, 1200-plus foot hole 16, she took the only birdie for the entire weekend on the hole in round 3, then took pars the rest of the tournament. Her competition, meanwhile, averaged over a bogey on that hole over the four rounds. On top of dominating the women's division, she also outperformed the Open field on half of the holes in play.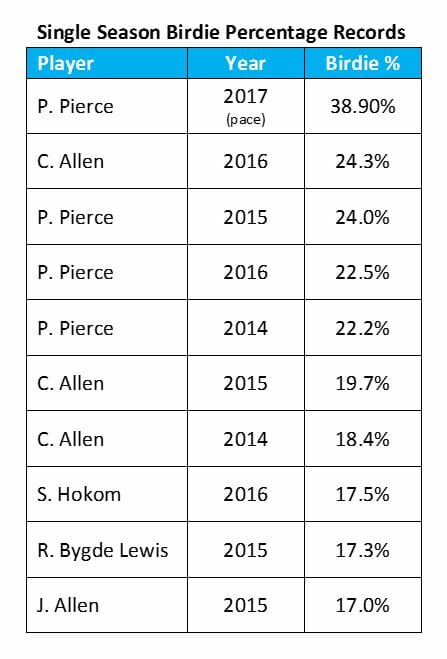 Where she truly shined, though, was in her birdie percentage for the weekend. Her 38.9 percent birdie rate puts her on pace to crush the previous highest birdie percentage for a single season by nearly 15 percent (24.3 percent from Catrina Allen in 2016). It's only one tournament, but to have that kind of outing in the first event of the year, and with a new sponsor, is incredible. The chart at the right shows how impressive her numbers were.
When players switch bags, there is always some concern that there will be an adjustment period to get comfortable with new plastic. Even though Pierce has been throwing Dynamic Discs for a while now, it was still unclear how long the transition would take.
After her Aussie Open performance, it seems like Pierce may be following the Sarah Hokom path, switching sponsors and reinventing herself at the same time. In 2014, Hokom's rating began to slip. She started the year rated 957, and by November had dropped to a rating of 933. In 2015 she switched to Legacy Discs and had her rating back up to 950 by September of that year. Additionally, she took home more than double her earnings from 2014 in five fewer tournaments.
It could be that a new bag helps in the rebuilding process when players need to recover from a down season, and I would expect Pierce to be back battling with Allen, and the rest of the field, each weekend this year.