Three-time world champion adds two more accolades to an impressive résumé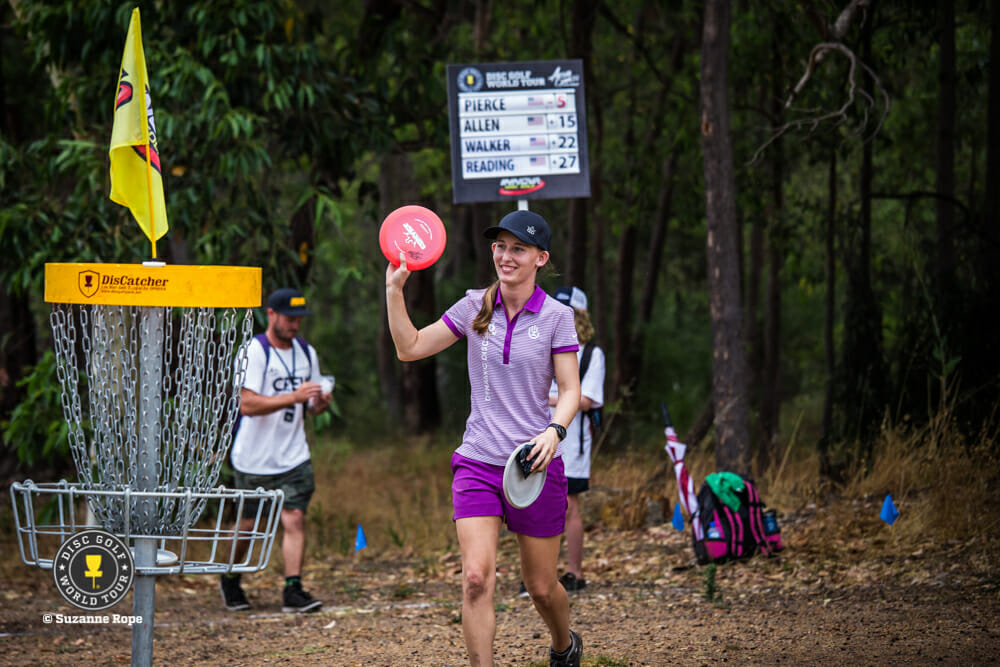 PERTH, Australia — For the first three rounds of the 2017 Aussie Open, it was Paige Pierce against the rest of the field. In the final round, it was Paige Pierce versus Paige Pierce.
And though she struggled a bit on the tournament's last day, her final round 4-over par 69 not only secured the Aussie Open win, but also contributed to a 6-under par 254 total that clinched her a spot in the United States Disc Golf Championship. Jennifer Allen held on to her second place standing with a 5-over par finish to bring her to a 14-over par 274 total, while Madison Walker's 22-over par 282 found her in third.
Des Reading chased Walker, but couldn't quite keep pace en route to a final round 7-over par and a 28-over par 288 total to finish in fourth place, while Kristina Bair's 57-over par 317 left her in fifth place.
Pierce's day didn't get off on the right foot. Good form has this habit of making us think it will never leave, so when we find that note in our disc golf bag that says "It's not you, it's me," there's always some shock. The break-up started with a double-OB, triple bogey 7 on hole one, followed by another bogey on hole 2, then a couple of missed birdie putts. The loss of control had the three-time world champion standing off in the bush on her own between holes, staring into space and trying to get her emotions back in check.
Everybody following the women's top card was thinking the same thing, that her shaky start was due to the added pressure of being close to qualifying for the USDGC, which she would achieve by having one of the 12 best scores in the entire field. Pierce didn't subscribe to that theory, though.
"I just couldn't get a grip on my disc," Pierce said after finishing a round that was played in temperatures thirty degrees cooler than in previous days, but with extremely high humidity and steady rain. "It just seemed like everything got damp and I couldn't keep my hand dry. Even when it wasn't wet, it got inside my head. I was either tugging the disc right, or they were slipping left. Mentally, I thought I stuck to my game plan pretty well, but I just couldn't execute."
The spectators were acutely aware that all Pierce really needed to do was stay in the scoring range she'd set herself for the week — between 60 and 65 — and she'd be almost assured of the coveted spot.  So with every missed birdie putt, as she fought hard to rein in the bogeys, there was a collective groan of frustration. Then, when she did finally make birdie on hole 8, it was followed by another slide into OB and a bogey. Then another birdie on 10, then another bogey.
Back to back bogeys on 14 and 15, both from going OB, had a few thinking the dream was over. But Pierce finished the round with two birdies to keep her slim hopes alive. It wasn't until late in the men's rounds that afternoon, though, when she knew that Masters division winner Das Loomis wasn't going to beat her score, that Pierce felt confident she'd made it. She tallied the 11th best score in the tournament.
It was only then that the significance of the achievement hit home.
"It's really special," she said. "I feel like, if I can compete with the men, here on this course, with its long holes and OB ropes, then I can be competitive at Winthrop."
Accomplishing the feat in the first Disc Golf World Tour event that featured a specific division for women, she also recognized that it might mean something bigger.
"I hope this makes a statement about women's disc golf," Pierce said. "I heard that last year only two TDs put their hands up to host the USWDGC. It seems like we are always fighting for that tiny bit of exposure. Hopefully this is another step toward equal opportunity for us."
Allen, who continued her strong play to keep Walker out of second place, was pleased to be able to keep her composure despite a few rough holes.
"As the tournament went on I got better at letting go," Allen said. After finding out the hard way what it's like to "go bush" off the Mundaring DiscGolfPark fairways and having a couple of early tree-hits on her way to a double bogey 6 on hole 10, Allen responded with par on hole 11 and then par on the very difficult hole 12.
"I hadn't [parred] 12 all week," Allen said. "So it was pleasing to be able to recover my composure and do that."
Walker was disappointed to finish in third after starting the tournament with the goal of getting first or second. Her final day saw her continue the struggles that had started in round three.
"It's hard to come out-of-body and look at yourself," she said when asked about a cluster of bogeys in the middle of the round. "I was trying to coach myself and make it stop, but couldn't seem to make the adjustments I needed."
Walker wasn't conscious of the battle she was having with Reading, who'd closed the gap with Walker to three throws by the steep, 265-foot hole 13. Reading was aware, though, and set a challenge to her younger rival by canning a 50 foot putt for birdie.
"Both our discs were a similar distance," Reading said. "So when I got that putt I knew the pressure was on her to match it. And kudos to her. She made it."
"That was a turning point," Reading continued. "I started the round knowing that fifth was a long way back, so I could afford to be aggressive. It'd paid off up until then, but on the next hole I had an OB six and I knew Madison was gone after that."
Reading echoed the disappointment of the entire women's top card that the round wasn't filmed, as had been previously arranged.
"They didn't keep their word," she said.
After playing in groups of three for the first three rounds, the women's field was rearranged into groups of four, three, and two for the final day, for the purpose of filming. The production crew, though, became unavailable due to technical issues.
"I had my parents sitting up late at night back home following me," Allen said. "It's disappointing they won't get to see the round."
The biggest improvement on the other cards came from Bair, whose 70 lifted her into fifth place, one throw clear of Germany's Christine Hellstern. Aussie Champion Cassie Sweetten, Japan's Naoyo Yoshida, and local Arana Kenyon rounded out the rest of the women's field.
For Pierce, the win was something that she hopes is a sign of things to come.
"I've won eight or nine Majors, but I did not win a single one last year," Pierce said. "It feels good to get back to being myself again."