New World Disc Golf Complex plays host to October tour finale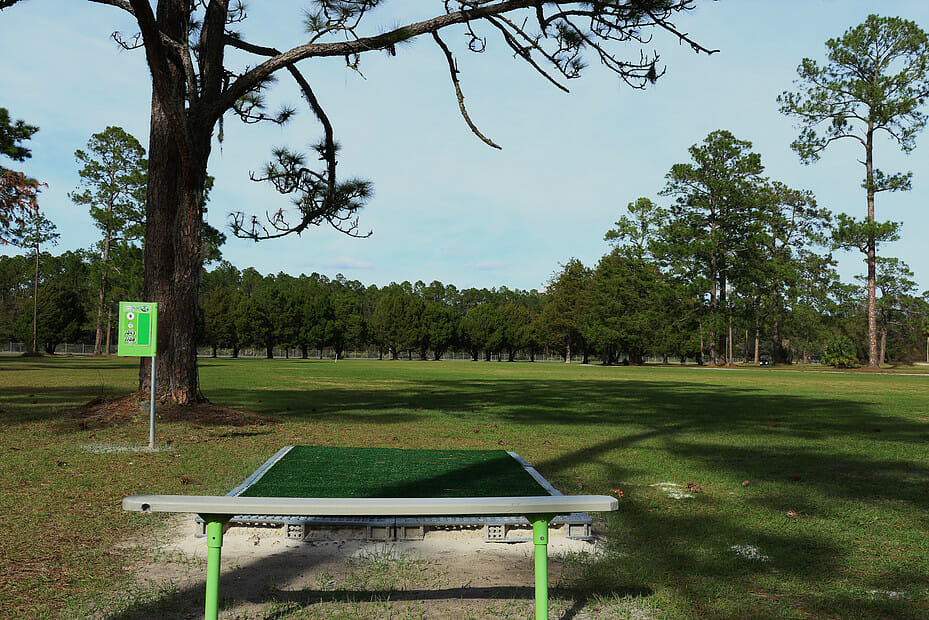 First we had a date. Now, we have a venue.
The 2017 Disc Golf Pro Tour Championship will take place at the New World Disc Golf Complex in Jacksonville, Florida, DGPT Tour Director Steve Dodge told Ultiworld Disc Golf this week. The four-course facility sits on a 405-acre former golf course roughly 40 miles west of the Atlantic Ocean and boasts camping facilities, a pro shop, and other amenities.
"They are building a world class facility down there, and we're very excited to be partnering with them," Dodge said. "It's going to be very fun having a standalone tour championship that is a celebration of the season in and of itself."
The event takes place from October 18-21 and comes at the end of an 18-day stretch that begins with the United States Disc Golf Championship in Rock Hill, South Carolina, and includes the PDGA National Tour finale at the Hall of Fame Classic in Appling, Georgia. Dodge said that the schedule lines up conveniently not only from a travel perspective – it's a four and a half hour drive from Appling to Jacksonville – but also a financial one.
"It might be the richest stretch of disc golf, as far as added cash goes," Dodge said.
There is one small tweak that is atypical of most disc golf tournaments, though: The Wednesday to Saturday schedule was created in an effort to attract viewers who might be more inclined to watch NFL football on Sunday.
"Football in general, not necessarily Jacksonville," Dodge joked. He also noted that the top 25 of 50 men's qualifiers and top nine of 15 women's qualifiers would not play the first round, thus incentivizing higher seeding and providing those players some extra rest.
Additionally, Dodge confirmed that the event — like all of those on the tour this season — will be PDGA-sanctioned.
At the center of the Tour Championship action will be New World's USA Links Course, a recently-installed championship level course co-designed by Will Schusterick and Phil Arthur of Prodigy Disc. Boasting a 10,347-foot par 65 layout that will be used for the event, the track features three par fours and four par fives. Arthur said the company has been using the facility as a testing ground for some of its new products and that the course will feature Prodigy's recently released turf teepads.
While the layout was crafted in part by one of the longest throwers in the game, Arthur said the course was more suited toward placement-oriented golf.
"You start off with being able to score, and it gets technical and difficult on the long holes," Arthur said. "They're not just holes that you blast down the fairway and take advantage of your length and get ahead of everybody else in the pack. The more you bite off, the more difficult it is to stay in position to score."
Arthur also noted that the facility and its design align nicely with the Pro Tour's focus on the spectator experience.
"I've not had any issues with the [cell] coverage out there at all, and the course itself sets up – we designed it around the idea of galleries for watching and filming," Arthur said. "It sets up perfectly for all of it."
2016 DGPT Points Champion Ricky Wysocki has played at New World before – "It's like playing on Mars," he said of the facility's varied terrain that makes up a few of the courses – but not on the USA Links design. Still, he said the location would be well-received.
"I think it'll be a good venue," Wysocki said. "It's got good quality holes, there's a lot of longer holes. The grass is pretty short for rolling, so you'll be able to throw some long, bombing rollers. It's suitable for the fans and the players to watch the showcase final the Pro Tour is going to have."
New World owner Robbie Newcomer, who isn't a disc golfer by trade but has partnered with Prodigy to invest considerable resources to make a top-notch facility, said he was looking forward not only to hosting the event, but to hopefully making a larger impact on the sport.
"I love these kids coming in playing," Newcomer said. "They'll come in and thank me for what I've done for disc golf. I'm 65 years old, and this is all new to me, but I love it, and I see it. I get it. I'm excited about it, and if I can grow disc golf with my course here and make it better — I have all intent of going big. I told Phil — once we got involved with this and we were spending so much money — I said, 'Phil, go big or go home.'"