His lead remains at three heading into the Aussie Open's final round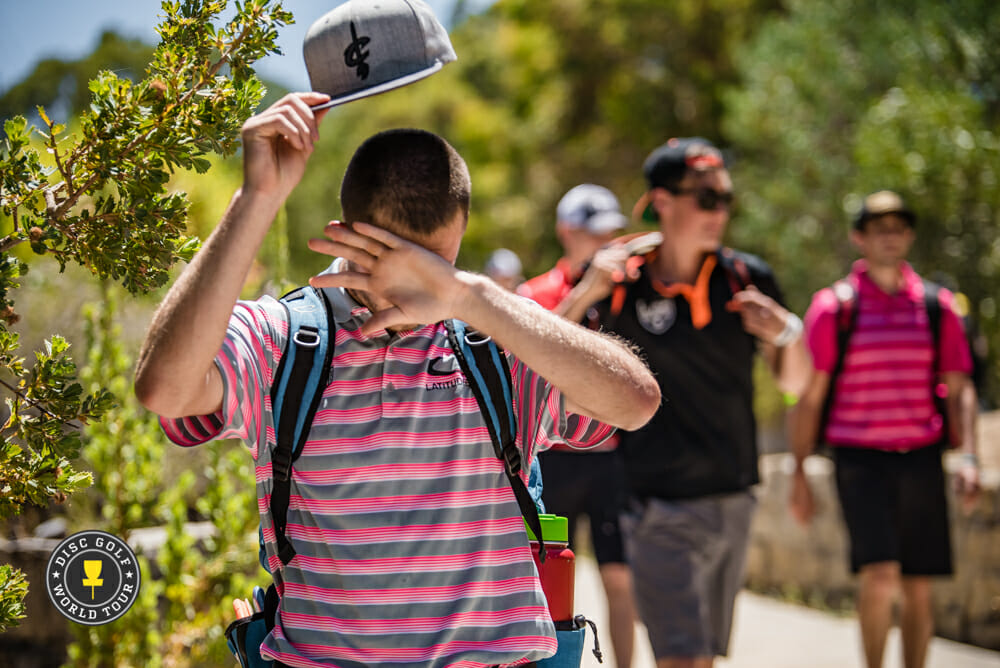 After a third day of oppressive Australian summer heat, and a second day of the same players leading the field, Eagle McMahon said moving day at the Aussie Open felt more like cinema than a competition.
"The third day, waking up, getting out to the course, playing – it's starting to feel like Groundhog Day out here," McMahon said. "It's over and over again. Same conditions, same grind."
And just like in that quintessential Bill Murray film, McMahon will wake up for a third day in a row in the same position: atop the leaderboard, three strokes ahead of Ricky Wysocki after inconsistent days from both players led to matching 7-under par 58s. Paul McBeth tossed a 6-under par 59 to lose one shot to the leaders and bring him to a 24-under par 171 overall, while Manabu Kajiyama remained in fourth place with a 22-under par 173 total. Philo Brathwaite rounds out the top five at 21-under.
At the beginning of round three, it seemed as if a repeat of McMahon and Wysocki's historic round two performance might be in store, as both players started with consecutive birdies. On hole 3, though, McMahon missed a putt inside the circle, leaving it low to clang off the cage. Wysocki answered with a birdie – then another – while McMahon carded three straight pars. McMahon's bogey on hole 9 saw him concede the lead for the first time since the middle of round one, as Wysocki carded his seventh birdie of the round to take a one shot lead.
"I had a lot of opportunities that I missed," McMahon said. "But I'm just happy that things went down how they did, because it could have gone a lot worse. Ricky was on a tear for while."
That tear came to a screeching halt on hole 10. McMahon hit a long putt from a knee to snag a birdie, while Wysocki struggled to go up and over the trees after a poor tee shot. He went out of bounds twice and ended up with a triple bogey 7, and McMahon had recaptured a two shot lead.
"I lost focus a little bit," Wysocki said. "I was a little bit too lackadaisical, and that's exactly what happens — I don't know about just me, but for me that's what happens when I lose focus. I'm gonna learn from that for tomorrow and keep 100 percent focused for the whole time and not let up at all."
Wysocki took back another stroke on hole 11, then he and McMahon kept even for the next two holes. Another disastrous sequence on hole 14, though, saw Wysocki again going twice out of bounds and swatting the air in frustration. McMahon took advantage of the miscues, carding a birdie and extending his lead to three, where it stayed through the rest of the round.
"I was out of position on a few drives and tried to make up for it and tried to save a par, and it turned into chaos," Wysocki said. "Hopefully tomorrow I'll get off the tee better and not put myself in those tough positions that caused me to have the big numbers."
Despite his own struggles on a day that he characterized as "sloppy" in certain areas, McMahon was pleased with his mental fortitude. He said the pressure of moving day, plus the hangover from the high of round two, may have been reflected on the scorecard.
"I was kinda spraying them everywhere at certain points, but I tried not to let it get to me and I feel I did pretty decent, overall, considering what mindset I could have carried out after those bad shots," McMahon said.
He admitted, though, that he wasn't entirely sure of what approach he would take to holding a lead heading into the final.
"I don't know the mindset tomorrow," he said. "From the events I have won, I've just gotta find that. It's all about being in the moment tomorrow and not getting sidetracked by anything else."
Wysocki, meanwhile, said he planned to tackle the course the same way he has the first three rounds, and would evaluate his standing at the midway point of the final.
"It's gonna depend on the situation and how the front nine goes," Wysocki said. "If I'm within reach and a few strokes back I might have to do something crazy and try and gain a stroke."
He also said that some expected rain in the forecast – reports currently call for cooler temperatures and a 50 percent chance of precipitation through Sunday – might bode well for him.
"I'm always a quick player, and I think that's to my advantage," Wysocki said. "I have a lot of experience in the rain, and I feel like I have the best strategy, so I think that's definitely gonna be in my favor. The scoring's gonna be a lot harder in the rain with the conditions of the course…I think that in the long run that's gonna be beneficial for me in getting closer to the lead."
The final round of the Aussie Open tees off on Sunday at noon local time.