Wysocki's late struggles put him in a seven shot hole, while Koling jumps into second place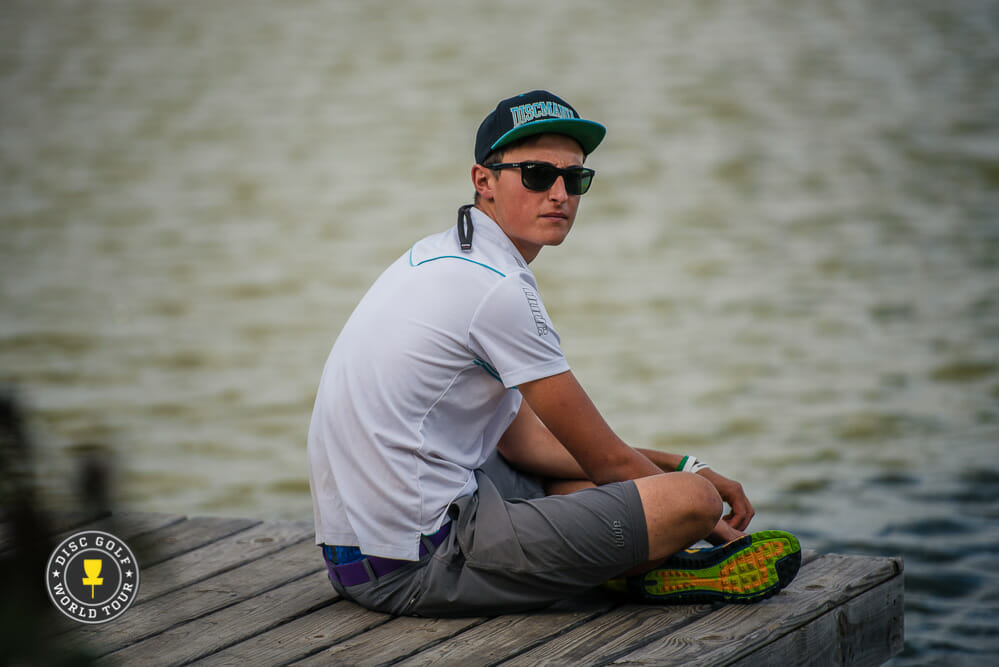 Ultiworld Disc Golf's coverage of the 2016 United States Disc Golf Championship is presented by Savage Apparel Co.; all opinions are those of the authors. Please support the brands that make Ultiworld Disc Golf possible and shop at Savage!
ROCK HILL, S.C. – While sitting on the end of the dock that serves as Winthrop Gold's 18th tee, Colorado native Eagle McMahon looked more like a seasoned veteran of the United States Disc Golf Championship than an 18-year-old playing the event for only the second time. Relaxed, with his legs folded and Ray-Bans adorned, McMahon watched patiently as the card ahead of his group finished the round.
There was no nervous energy, no chit-chat with fellow players. Much like the weather here throughout the day, it was simply the calm before the storm.
McMahon's next move hit the crowd with hurricane force, as he unleashed a 500-foot moonshot that hung in the air for 10 seconds and elicited slack-jawed expletives from onlookers. The heroic blast led him to an easy birdie to close his 7-under par 59 round with authority, bringing him to a 15-under par 116 total after two days to extend his lead and put him one step closer to his first PDGA Major victory.
And on the same hole in which McMahon's fortunes continued to glimmer, Ricky Wysocki's USDGC dream hit a roadblock. After landing safely off the tee, the PDGA World Champion found a tree on his second throw, then got an unlucky roll out-of-bounds on his third. Faced with a 25-foot putt to save bogey, Wysocki hit the cage low and had to settle for a double bogey 6, knocking his score for the day down to a 3-under par 63. The misfortune dropped him into third place after Jeremy Koling, who fired off his own 7-under par 59 to match McMahon, leapfrogged into second place.
Nikko Locastro shot a 5-under par 61 on the chase card to move into a third place tie with Wysocki at an 8-under par 123 overall, while Michael Johansen's 6-under par 62 brought him up to fifth place with a 7-under par 124 total.
For McMahon, who said after Wednesday's first round that he would look to make more "aggressive safe shots," the closing statement on 18 certainly satisfied the first part of that strategy. And from where he was sitting, it met the second ideal, as well.
"I felt very confident off the tee knowing what could happen," McMahon said. "I was almost expecting to turn it over out of bounds. My main concern was getting past the mando and right. From over here it's a pretty easy pitch up shot from the out-of-bounds, easy pitch up for a four. Just knowing that – knowing I could get a lot of distance bit off and have the opportunity to get an easy three – that's why I decided to go for 18."
It wasn't the only line he played with more vigor than the rest of his card, though.
After matching Wysocki through the first eight holes by being 4-under par for the round, McMahon ratcheted up the pressure. He ran the 447-foot peninsula green on hole 9, but landed in the hazard and settled for a par. On hole 10 – a 554-foot par 4 with another O.B.-shrouded green – he was the only one to aim for the eagle while the rest of his cardmates took safe lay-up tee shots. McMahon made the green, but missed the attempt and took a birdie along with Koling and Wysocki. Still, it signified the first of a few momentum shifts during the latter half of the round and fit in with McMahon's preferred tactics.
That tide began to shift back Wysocki's way on hole 12, though, as McMahon's approach shot on the 901-footer sailed O.B. He cleaned up a bogey while Wysocki parred, and McMahon's lead – which was at three strokes to begin the round – was down to one.
The youngster stayed collected, though, as competition moved through the back nine and down the home stretch. He added another shot to his lead with a par save on hole 14 – Wysocki's bid to match from outside the circle splashed out the right side of the chains – and birdied hole 15 after lacing a drive through the triple mandatory. After hole 16 – which found Wysocki grip-locking his tee shot into the gallery and out-of-bounds en route to a bogey, while McMahon tapped in another birdie – McMahon had gained four strokes on Wysocki in three holes.
"I just kept playing," McMahon said. "I fed off of some of Ricky's mistakes, some of his opportunities, and just played clean pretty much the entire round. I wasn't really thinking about anything."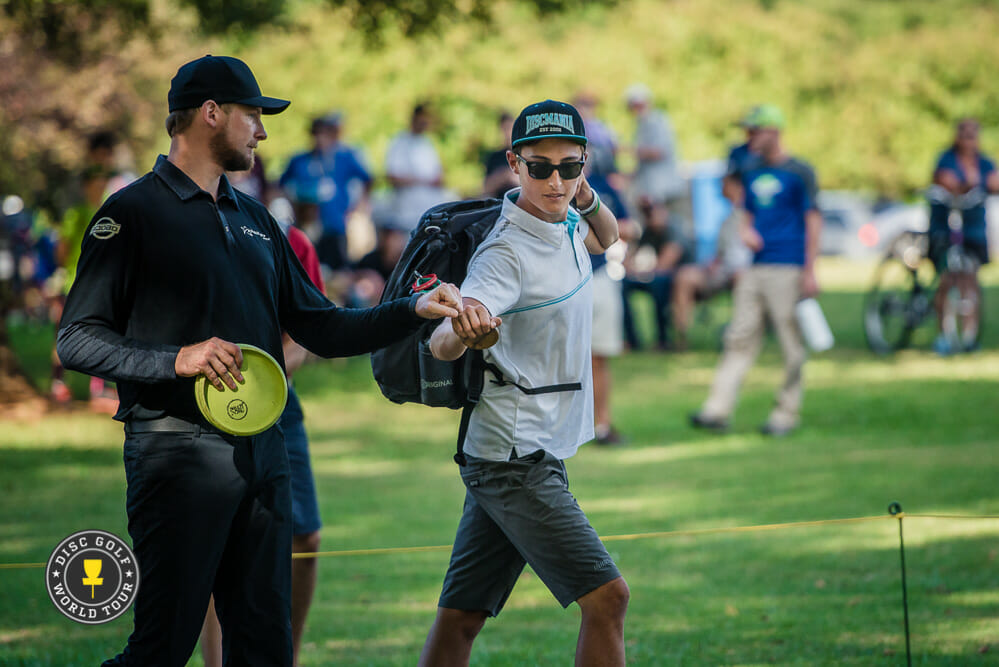 Koling, though, would not be outdone. After staggering through the first few holes and becoming visibly frustrated, he heated up on the back nine, matching McMahon's scores through the last four holes to jump Wysocki on the leaderboard.
For the North Carolina native – who early in the round playfully joked with Wysocki about which of the two players was "more local" to the Rock Hill area – the key to overcoming those early struggles was respecting both himself and the course.
"The game plan is to just not let any one mistake be too big, and by that I mean don't let one bad throw turn into three and four," Koling said. "So when things weren't going my way early on, it was left behind me in the past and I cleared my mind to focus on the next shot. Every single shot out here – every single one – is important. So if you let something bother you that you've already done, you're gonna struggle the rest of the way."
Wysocki, who said he was battling some grip issues on the final holes, said he would have to play more aggressively in order to chase down McMahon's lead. Like Koling, though, he was also ready to defer to the will of the course and the impending conditions due to nearby Hurricane Matthew.
"Out here there's always – not always – but there's that hole that can come out and bite you at any time," Wysocki said. "I'm just happy, if I am not confident with a hole, to lay up and play for a par."
With two rounds left to play and a large cushion over the pre-tournament favorite, McMahon said he was not ready to let his foot off the gas.
"I don't really wanna back off until I get to hole 17 on the last day – that's when I know I have a chance," McMahon said. "So I've just gotta keep firing hard, playing my game until the last day – really the whole tournament – because you can't back down on this course. People back ten [strokes] are as good as – they're in striking distance on this course. I've just gotta keep up playing how I am and just stay calm. Staying calm is the key."
As will be navigating the weather. Forecasts call for rain all day Friday and Saturday, with wind speeds increasing for the final round. Still, McMahon planned to stick with the blueprint that has gotten him this far.
"It's gonna be play it as it goes," McMahon said. "Still gonna plan to be aggressive, but if it really makes sense to play a safe shot and if I can't get my footing on some I'll back down. But otherwise, I'm still going aggressive."
The lead card begins today at 12:40 p.m. local time, with updates being provided by the PDGA and the Disc Golf World Tour.