Wysocki rides hot putter to sit in third, while McBeth shoots over par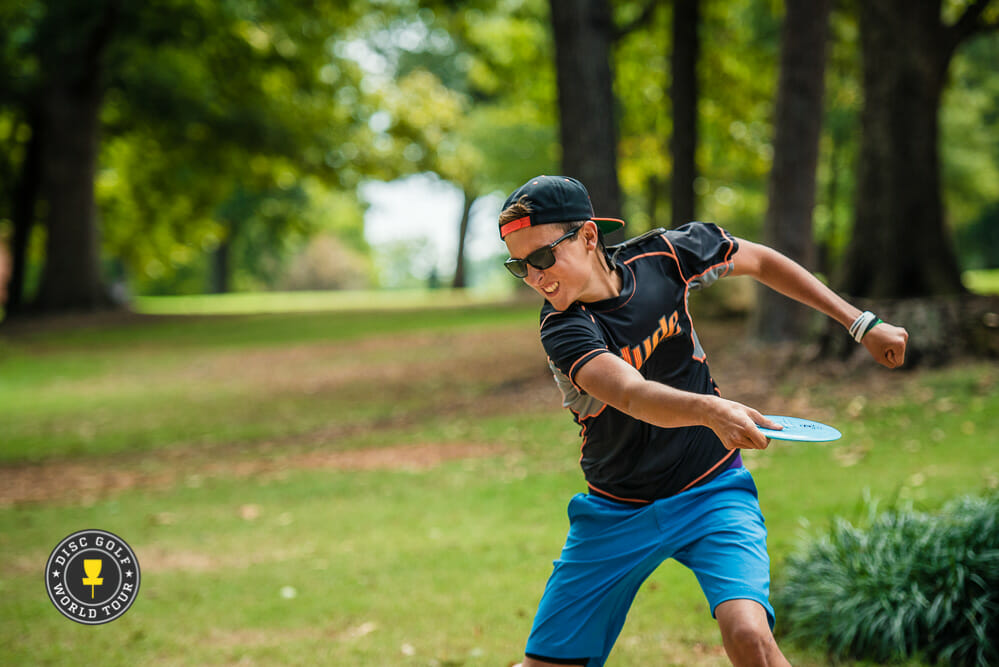 Ultiworld Disc Golf's coverage of the 2016 United States Disc Golf Championship is presented by Savage Apparel Co.; all opinions are those of the authors. Please support the brands that make Ultiworld Disc Golf possible and shop at Savage!
They may be separated by 30 years in age, but Eagle McMahon and Patrick Brown have one thing in common after day one of the United States Disc Golf Championship: a leading score.
McMahon, 18, and Brown, 48, fired off 8-under par 57s at Winthrop University's Gold course Thursday to jump out to an early lead over Ricky Wysocki, whose 5-under par 60 landed him in third place. Jeremy Koling sits in fourth place after a 4-under par 61, while Nikko Locastro rounded out the Top 5 with a 3-under par 62.
McMahon and Brown's paths to the same number on the scorecard, despite differences in their individual games, were strikingly similar. Both carded only a single bogey on the day, and both ended up hitting the green in regulation on 50 percent of their shots or greater. The only major differences between their 1073-rated rounds were penalty strokes – McMahon colored outside the lines on three occasions to Brown's two – and outside-the-circle putts, where McMahon made two to Brown's zero.
Now on the lead card after round one for the second straight year, McMahon said the key to avoiding his 2015 round two fate – an even-par 67 derailed his championship hopes – would be to manage the nerves that plagued him in his first USDGC appearance.
"I kinda fell off and Winthrop started to eat me alive," McMahon said. "Right now I'm just going out and playing. There's only one thing you can do. You can't be scared of this course. This course senses fear. It'll attack that."
Instead, the Colorado product said he'll counter with his own barrage of "aggressive safe shots" to take advantage of Winthrop's many changes, which included converting areas that were out-of-bounds in 2015 to hazards this year.
"You can bite off a lot of the fairway," McMahon said. "My game plan pretty much for the whole tournament is attacking. Last year was playing safe, and this year is attacking."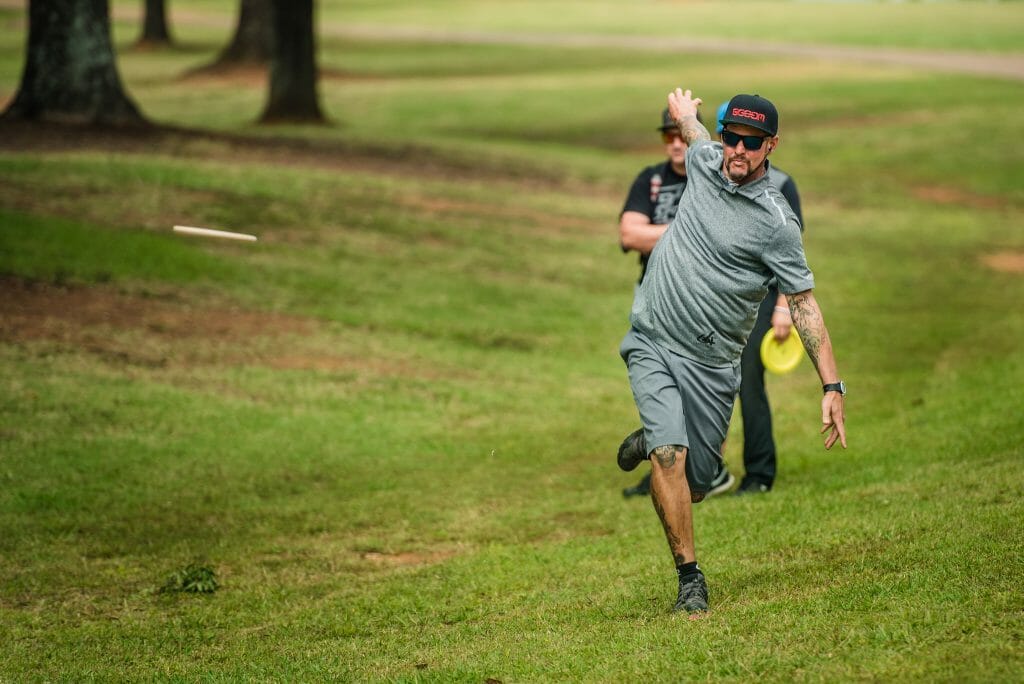 Brown, a San Francisco native, came into the USDGC on a hot streak. In addition to winning last month's Tim Selinske U.S. Masters Championship in Stockton, California, he also scored Masters division victories at the Brent Hambrick Memorial Open and the B-Tier San Francisco Safari. He's no stranger to success at Winthrop, either, as he finished in fourth place at the 2014 USDGC.
Wysocki, meanwhile, brought his signature long putting game with an early vengeance, draining a tournament-best six putts from outside the 10-meter circle. His approach game was also on point, as he put himself within three meters of the pin on five separate holes, as tracked by the Disc Golf World Tour's new Bullseye statistic.
Faced with a mere three shot deficit, Wysocki said he was pleased with his position, especially with poor conditions in the forecast.
"I'm glad to be within a few strokes of the lead, as the weather is going to get bad later in the week," Wysocki said. "It's going to be tough to make up shots in the rain and wind in the upcoming rounds."
Further down the leaderboard, defending USDGC champion Paul McBeth struggled to keep it in bounds, rolling up a double bogey 7 on hole 5 and a triple bogey 6 on hole 17 en route to a 2-over par 67. The off day finds McBeth in a logjam for 30th place, but he did make 92 percent of his putts in the circle and landed one from outside 10 meters to close out the round with a birdie. Three-time USDGC champion Will Schusterick also has some serious ground to make up, as his 6-over par 71 leaves him tied for 52nd place.
Tomorrow's lead card tees off at 12:40 p.m. local time, with Winthrop's second pin placements being swapped in for holes 1, 5, 13, and 16 through 18. Live scoring updates can be accessed via both the Disc Golf World Tour and the PDGA.