Our staff makes the case for a handful of players not named Wysocki or McBeth to take home the title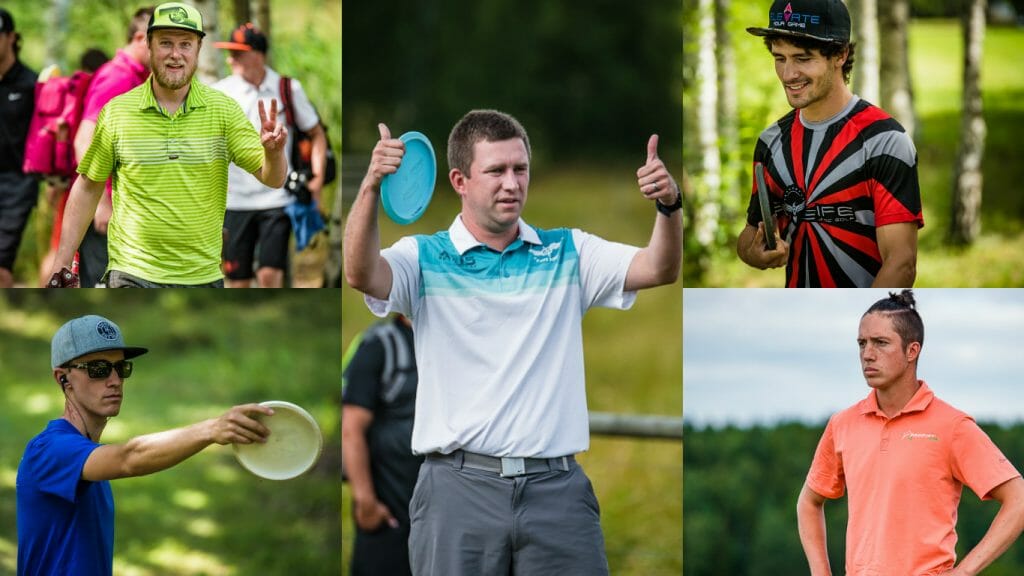 Ultiworld Disc Golf's coverage of the 2016 United States Disc Golf Championship is presented by Savage Apparel Co.; all opinions are those of the authors. Please support the brands that make Ultiworld Disc Golf possible and shop at Savage!
Sure, Paul McBeth and Ricky Wysocki – as they have been all season – are the odds-on favorites to win the United States Disc Golf Championship this week in Rock Hill, South Carolina. No one outside that dynamic duo has won a PDGA Major since 2014, and only twice in that span have they not finished in first or second place at said Majors.
But that doesn't mean USDGC is a lock for the reigning champ or the current PDGA World Champion. The event has not seen the same winner in consecutive years since Ken Climo accomplished the feat in 1999 and 2000, which more than leaves the door open for a host of other top contenders to emerge from the scrum victorious. Who's got the best shot? Our staff members each took a stab at who could realistically unseat the PDGA's best.
The Case For Nikko Locastro
The case for Nikko Locastro to win this year's USDGC is supported as much by his past play as his recent efforts.
Locastro being the enigma he is, though, that same case can be dismantled as easily as it was built.
Take, for example, Locastro's USDGC history. He won this event in 2009 in only his second attempt at Winthrop University's Gold course, then followed it up with a runner-up finish in 2010. In the eight rounds that comprised those two years of competition, Locastro shot above his rating in seven of them, demonstrating the elite level of play that would help him become a household name.
The last three years, though, Locastro has not managed a Top 10 USDGC finish, with his 14th place effort in 2014 serving as the high point of that span.
His recent play, however, tells the story of a rejuvenated player who has rediscovered his groove. After a consistent week to finish in third place at this year's Worlds, he notched Top 10 placements at the Ledgestone Open and the Green Mountain Championship, then dazzled at the Disc Golf Pro Tour Championship to take home second place. He averaged a 96 percent in-the-circle putting average during the DGPT finale after shortening his pre-shot routine, and his mental game – once known as a liability – has served him well in the latter half of this season.
Still, his early season was a roller coaster, and his performances at large events outside of Worlds – save third place showings at the Memorial and the Beaver State Fling – all ended with double-digit placements. He's also rolled into Rock Hill on a hot streak before, only to go cold as soon as the bright lights were on.
So why cast your lot with a player who can take you from edge-of-your-seat excitement to pure heartbreak in the same hole? Maybe it's the improved putting routine, or what he showed in his consistent strength and stamina at Worlds. Perhaps it's a combination of experience and recent self-confidence that makes me feel like Locastro has a shot. Or how about the fact that he is sitting on 99 career wins, and sometimes the disc golf gods pay attention to these things?
Maybe it's all of the above. Maybe it's that the Locastro-types – players who live on their emotions as much as their talents – are exactly why we watch sports. Whatever it is, I'm feeling Nikko Locastro this week for a throwback to 2009. Let's hope he's feeling it, too. – Steve Hill, Ultiworld Disc Golf editor
The Case For K.J. Nybo
It's time for K.J. Nybo to break through.
The 38-year-old, 11-time Danish Champion is still seeking to capture that watershed moment and win his first PDGA Major title. Nybo, however, is no stranger to the spotlight, as he has been a staple on the lead card throughout the Disc Golf World Tour and is one of three players who is still in contention for the DGWT points title. After a crowdfunding campaign funded his trip to the USDGC, look for an inspired Nybo to delight his fans with a strong finish to his 2016 campaign.
Ranking fifth on the World Tour in green hits percentage at 47 percent, Nybo is an expert in course management and will work the ropes of Winthrop with ease. He has putted well this year and has an inside-the-circle rate of 93 percent, which is good for 16th on tour. The key for Nybo's success this weekend, though, will be his putting outside the 10-meter circle: Nybo ranks 90th on tour in that category and averages only one long putt per round. If Nybo can get his putter hot from long range and can change some of those pars into birdies, do not be surprised to find him on yet another lead card with an opportunity to become the United States Disc Golf Champion. – Baker Helton, Ultiworld Disc Golf college reporter
The Case For Will Schusterick
I am a big San Francisco Giants fan, and if you know much about the San Francisco Giants, you know they have three championships in the last six years. They won in 2010, 2012, and 2014, and they're in a wild card playoff game today against the New York Mets. They have something special in those even years.
You know who else has that? Will Schusterick.
Guess what: He's bagged championships in 2010, 2012, and 2014. It's 2016, and it's his time to make the comeback. Schusterick has struggled this season with the putter, there is no way around that. He is unbelievable off the tee, maybe one of the best – if not the best – in the game, but he cannot putt. But for whatever reason, he just shows up at the USDGC, and I think he's got a real shot to show up here yet again. If nothing else, that self-belief – "Hey, it's 2016, it's my time again" – can make a difference with the putter, because a lot of it is mental.
Maybe Schusterick is able to turn it around. If he can putt well, he's going to be right there. Even year for the Giants, even year for Will Schusterick. It sounds pretty good to me. – Charlie Eisenhood, Ultiworld Disc Golf publisher
The Case For Nate Sexton
So, who's got a chance to win the USDGC, besides McBeth and Wysocki? How about Nate Sexton? He's finished in the Top 5 in the last two USDGCs and averaged 1037 golf throughout both events. Now, a 1037 average doesn't surpass the ratings of Wysocki and McBeth, but there's nothing about Winthrop Gold that's easy on anyone.
For comparison, the average ratings across all eight rounds in 2014 and 2015 for McBeth and Wysocki are 1046 and 1023, respectively. Sexton is seven ratings points behind McBeth and well ahead of Wysocki. Let's see what it looks like if we drop all three players' lowest rated round from each of the two events: McBeth 1052, Sexton 1043, Wysocki 1031. Sexton is still ahead of Wysocki and 11 ratings points behind McBeth. Since 10 ratings points equals roughly one stroke, Sexton has played Winthrop Gold a little less than one stroke per round behind McBeth for the past two years. Can Sexton make that up in 2016? Let's explore some other reasons why he could.
He's said the second shot on hole 18, with the original basket position, is the hardest on the course for him. That's not in play for two rounds this year, so there's four fewer throws he'll have to think about. Known for his forehand proficiency, Sexton typically goes with that on 14 of the 18 holes at Winthrop Gold, and led going into the final round last year.
Sexton is known for his mental game, as we detailed earlier this year. He sticks to his game plan, regardless of if he loses a stroke with a bad skip into a hazard. He's not afraid to keep playing his game instead of trying to make up for misfortunes. Additionally, there are few holes out at Winthrop where players have to really step up to the tee and crush drives. Rather, it's all about controlled distance and smart golf, areas in which Sexton excels. It's this consistency that could propel him out to the lead again and help him stay there in the end. – Alex Colucci, Ultiworld Disc Golf staff writer
The Case For Paul Ulibarri
No one on tour has a more questionable rating than Paul Ulibarri. He's tied as the 18th-highest rated player competing in the USDGC, yet he has only finished worse than 10th place six times all year  – including when he was injured. He's third in cash on tour in 2016 and Top 10 in half of the DGPT stats categories. His superior mental game, though, is what makes him a strong favorite, to me, for a Top 4 finish and his first career Major victory. He's coming into this weekend on the heels of the Sportscenter bump and great showings at Green Mountain Championship and Nantucket Open. If the PDGA starts running daily fantasy sports, with Uli ranked 18th he'll be tripling his income betting on himself. – John Klimp, Ultiworld Disc Golf metrics and research analyst