10-time Danish national champion was in danger of missing the events due to financial constraints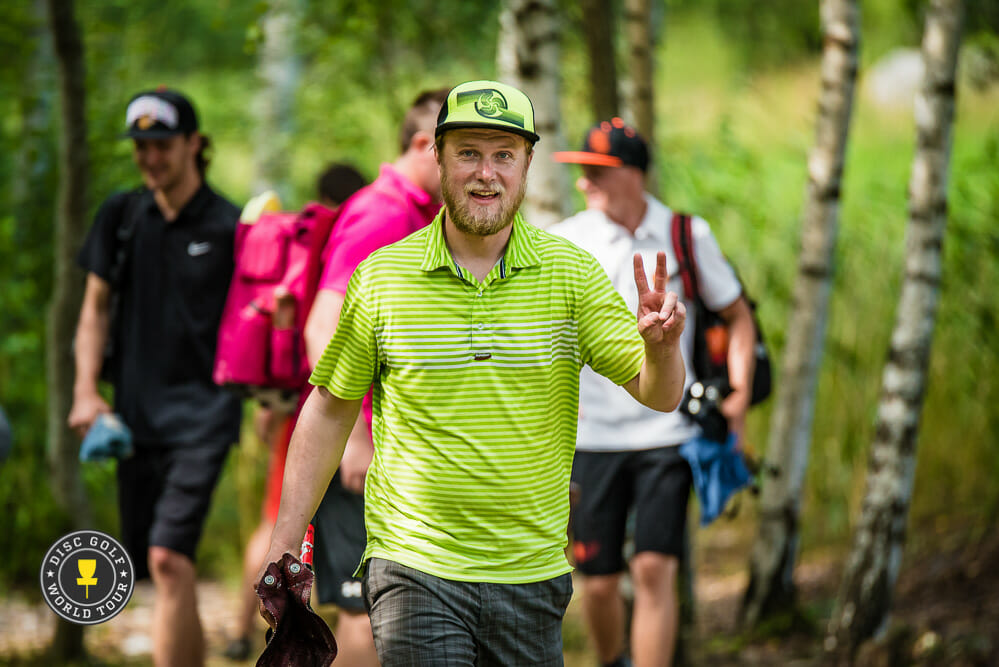 As the highest rated PDGA player in Europe and a fixture on lead cards at the Disc Golf World Tour, it made sense that K.J. Nybo would be a shoo-in to contend for titles at the upcoming European Disc Golf Championships and, later this year, the United States Disc Golf Championships. Due to some financial hardships precipitated by the recent death of his mother, though, Nybo was on the verge of skipping both events due to lack of funds.
That's no longer a problem, as fans of the 10-time Danish national champion have raised nearly 17,000 krone – almost $2,500 – in a crowdfunding campaign to help defray his travel costs.
"It is totally amazing and I'm really thrilled about it," Nybo said. "Humble. It's crazy."
The campaign was spearheaded by Kristian Engsig-Karup, a long-time Nybo friend and captain of the Danish national contingent heading to the European Disc Golf Championships on August 24 in Oulu, Finland. He said that, after Nybo told him he might not be able to make the tournament, he wanted to do anything he could to help.
"I could hear that it was a bit of a problem for him, so I said to him, 'Don't worry about it,'" Engsig-Karup said. "'I'm going to fix it.'"
Engsig-Karup took to the Danish crowdfunding site Caremaker in the hopes that he might be able to raise some money to offset the nearly $800 flight from Copenhagen to Finland. After quickly achieving an initial goal of 6,000 krone, Engsig-Karup upped the number to 12,000 in hopes of being able to assist further. As of press time, the current number raised is 16,745 krone, or $2,496. The added contributions are enough to guarantee not only Nybo's trip to Finland, but also the U.S. in October.
"I thought there might be a couple of people in Denmark that would support him, and it turned out that there were a lot," Engsig-Karup said. "And there were a lot in other countries that wanted to help him as well."
Nybo said he has lobbied for more overseas travel support from his sponsor, Innova Discs, but that his placement on the company's Team Champion sponsorship level was not high enough for them to pitch in.
"I asked – that was last year – if I could get one flight ticket to the states or whatever, one overseas, and they told me I had to win a major," Nybo said. "Then I told them that 'How am I going to win a major if you're not paying for my trip? I have to get over there and win a major.' [Innova Europe head Jussi Meresmaa] kind of explained my situation of what I'm having for them. I'm getting like 100 discs, and then I get some bonuses, and that's probably the same for every Team Champion member."
Meresmaa confirmed that Nybo was receiving the standard Team Champion compensation, but also said that he was "on the edge of [an] upgrade" to a higher placement. Nybo will also collect undisclosed profits from sales of a recently released Tour Series disc.
"There are travel stipends on [the] highest level," Meresmaa said. "It is always hard, when you want to support all of these guys."
Nybo owns a landscaping company in Denmark, and he said that missing one day of work costs him nearly $250. With the recent time he has missed due to his mother's death, it was not going to be feasible for him to attend more tournaments, but Engsig-Karup said that money was not reason enough for a great player to have to skip the events.
"That's because he's a great ambassador," Engsig-Karup said. "He's a nice guy and everybody likes him, so he should be in all the tournaments that he's able to. I don't think that it should hold him from coming because of economics."
Meresmaa echoed those sentiments when asked about the funds raised.
"He is awesome, a Danish Viking," Meresmaa said. "He is 38, has a full-time job and a family. Lots of respect from the people."
Engsig-Karup said he plans to continue raising funds for Nybo beyond this initial run in the hopes that less of a financial burden will allow him to focus his energy on his job and his preparation for events.
"He told me that the only thing he thinks he's missing compared to the McBeths and stuff is the mental game," Engsig-Karup said. "And if he can take out the money issue and the money problems, he will be a lot more relaxed and he's going to play better."