Lizotte, Nybo tied for third after one round at The Beast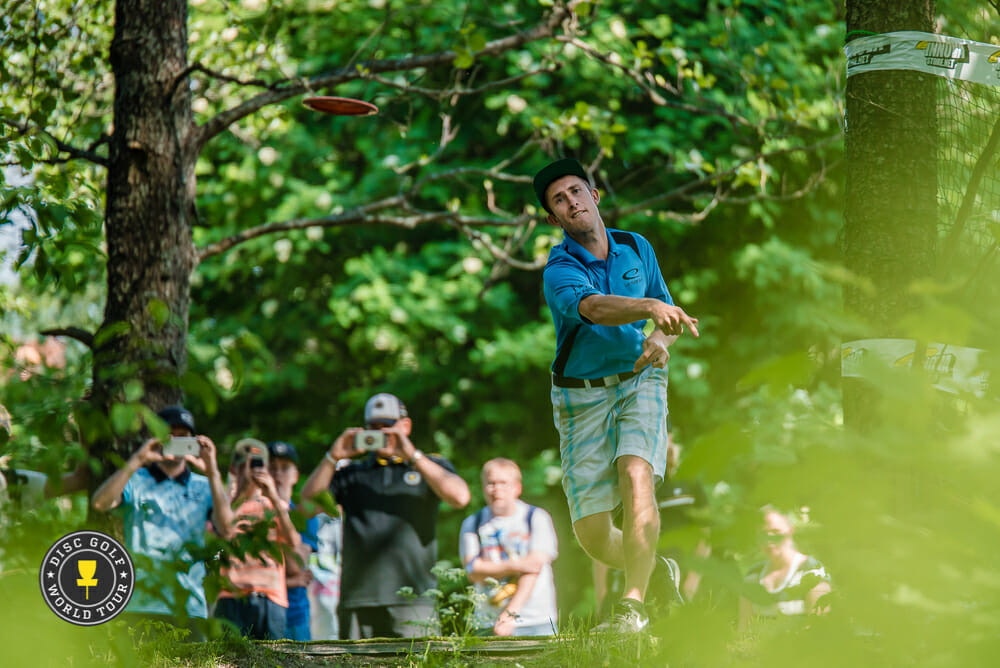 The world's two best disc golfers took two different routes to the top of leaderboard today at the Disc Golf World Tour's European Open, as Paul McBeth and Ricky Wysocki sit tied for first place after carding 8-under par 56s in the tournament's opening round.
Wysocki set the tone for his performance with five consecutive birdies out of the gates at The Beast before calming down in the middle of the round. His birdie on the 18th Hole – the course's toughest, per the DGWT's new Course Statistics – put a cap on a day in which he struggled through the course's wooded midsection.
"I had a pretty slow round really altogether," Wysocki said. "I started off well in the beginning and kind of fizzled out in the middle. You've really got to be on top of it the whole round here, and I didn't have it mentally the whole time so I wasn't really into it. I'm looking to improve on that tomorrow."
McBeth, meanwhile, was one of few players to carve up a stretch where others faltered, as he carded seven birdies on Holes 6-13 and missed a putt on the edge of the circle that would have made for a perfect eight-for-eight run.
"That section, you have to do well off the tee," McBeth said. "It's performing well off the tee and then a precise upshot if you want to be in the circle, and I was doing that so I was making it really easy on my putt."
Indeed, McBeth hit 95 percent of his putts from 30 feet and in and did not appear to be showing any ill effects from his recent switch to a straddle putt as he aims to take strain off of his right knee, which has been ailing him as he works around a pinched nerve in his back.
"Inside the circle I feel like I should make every putt, but outside that kind of gets a little shaky," McBeth said. "So no outside-the-circle putts, and it really doesn't look like I'll be making many…. It's kind of hard to jump forward off that lead leg still, so I've got to figure out which way to go best. But as long as I keep making my putts in the circle it shouldn't be an issue at all."
Besting McBeth slightly inside the circle was Simon Lizotte, whose perfect putting was the key to his 7-under par 57 first round. Still, Lizotte said he missed his chances for any longer strikes for birdie and could improve on hitting more greens in regulation.
"I had three or four chances from 40 to 50 feet and missed all of them, so I was quite sad," Lizotte said. "Just the front nine I was still asleep, it was really weird."
He'll need to wake up a bit earlier tomorrow to keep pace with a lead card that, in addition to McBeth and Wysocki, will also feature K.J. Nybo, who is tied with Lizotte at 7-under.
"I'm looking forward to it," Lizotte said. "Paul and Ricky are obviously the top two players in the world and they're going to be battling. K.J. and I are going to try to hang in there, give us a shot for tomorrow so we can get a chance to win. That's the game plan, just stay close."
With spectator numbers expected to increase from today's estimated crowd of 500, McBeth said staying close physically might be tougher than it is on the scorecard.
"It's always fun to play with those guys," McBeth said. "We rarely really see each on other on the card because there are so many people following. There are so many people there, so you pay attention more to that than the players you're playing with."
It's a noticeable change from galleries in the United States, as McBeth and DGWT founder Jussi Meresmaa said fans skip school and work to come to the event.
"It's a lot more exciting because there are always at least half of them that are impressed, no matter what the disc does," McBeth said. "So you're always getting cheered."
Elsewhere on the leaderboard, Pasi Koivu is in sixth place after his 5-under par 59, while Teemu Nissinen (-4) and Seppo Paju (-3) represent Finland in the Top-10. Catrina Allen, who shared the featured card today with McBeth, is tied for 74th place after her 5-over par 69.
"I actually played one of my best rounds ever here, and I played fine in the practice round yesterday," Allen said. "My timing was a little off, and putting was off. Just everything, I was up and down, then I got a bad break, then I just could never get going I guess."
Allen said that being the only woman in the field did not make the event feel any different.
"I don't really think about it," Allen said. "I'm just playing disc golf."
Lead card action for round two begins at 2 p.m. local time Friday (7 a.m. EDT) and can be followed via the Disc Golf World Tour's various social media channels.