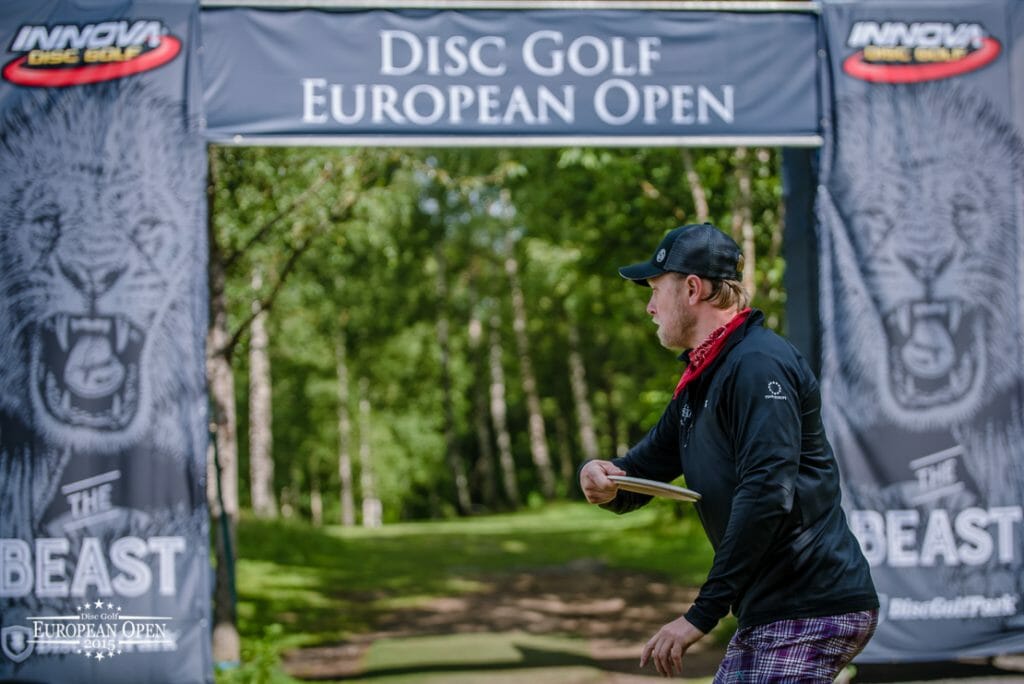 After a two week holiday following his dramatic playoff win at the Konopiště Open, Simon Lizotte is headed back to work.
But the office he returns to doesn't feature the quiet of a cubicle or the comfort of a leather chair. Rather, it is a course on which he has never finished better than 10th place and is widely known as one of the most daunting on the professional circuit.
"I think this is my fourth time now playing this course, and it's just ruining my life every time," Lizotte said.
He's talking about Finland's Nokia DiscGolfPark, better known as The Beast and home to this weekend's European Open, the third stop on the Disc Golf World Tour. Renowned as much for being picturesque as it is challenging, the 8,966-foot Par 64 behemoth has a reputation for testing every shot in a player's bag.
"It's bad," Lizotte said. "It's just, there's no gimme birdies on that course. Every birdie means you've played that hole really well, and it's really easy to get into trouble, especially with O.B.s. There are a couple wooded holes, too where it's all about hitting your lines. That course is a beast just because you need to show every aspect of the game and be on point."
But Lizotte isn't the only competitor with some demons to exorcise at the three-day tournament, which starts Thursday and runs through Saturday. The Beast was also the site of the back injury that has dogged Professional Disc Golf Association World Champion Paul McBeth for nearly a year.
"It was one of those freak accidents," McBeth said of the mishap that occurred at last July's European Open. "It was a downhill slope, rain, a slip in the mud. A lot of factors went into it. I just want it to be over with and stop hurting from it and [have] it [stop] leading to other injuries."
McBeth comes off four straight second place finishes and looks to make it three consecutive European Open titles against a field that – in addition to Lizotte, who has beat McBeth in two of their last three matchups – features K.J. Nybo, Seppo Paju, and Ricky Wysocki. The first two of those players have extensive experience in Europe, while the latter is on a four-tournament winning streak.
"I think the European Open, it just always draws that [competitive] crowd, no matter what size event they have," McBeth said. "I'm looking forward to it. I know the whole country of Finland is looking forward to it because they travel to events, so it'll be awesome to see."
Pasi Koivu, Finland's third-ranked professional and a veteran of both the EuroTour and numerous stateside swings, said that disc golf is viewed differently in his home country and, as a result, the spectators come out in droves.
"I think the sport started going a different way here in Europe, or here in Finland, like seven, eight years ago, or ten years ago," Koivu said. "We started going toward the professional stuff, and now people think we are athletes, like real players. When we go to [the United] States it's still going like hippie style. They think that we're just having fun and having beers playing."
The more professional focus draws crowds that Koivu estimated to be as large as 1,000 spectators on the European Open's final day. Even with all eyes on he and his countrymates, Koivu said he did not feel nervous entering the event. Instead, he appreciates a bit of a home field advantage.
"There's no extra pressure," Koivu said. "I like it because people are actually cheering for me more than other players, so if I'm playing against players from the States, I'm the guy. I'm the player who everybody's cheering for."
Forecast and Coverage
The weather in Nokia looks to be pleasant for this weekend, with highs around 75 degrees on Thursday and Friday giving way to temperatures in the 60s for Saturday's final. With winds looking to hover around 10 mph throughout the weekend, Koivu said 12-under par would be the score to aim for if the weather remains fair.
Due to the time difference between Europe and the United States, there will again be no live streaming coverage of the event. Stateside spectators can follow live scoring on the Disc Golf World Tour website when play kicks off at 8 a.m. local time (1 a.m. EDT), with a premier card featuring McBeth, Catrina Allen, Janne Hirsimäki, and Martin Rotmeister teeing off at 2 p.m. (7 a.m. EDT). Daily recap and play-by-play videos will also be released on The SpinTV's YouTube Channel.