A local pro gives his tips for surviving the monster that is DeLaveaga Park, home of this weekend's "Steady" Ed Masters Cup.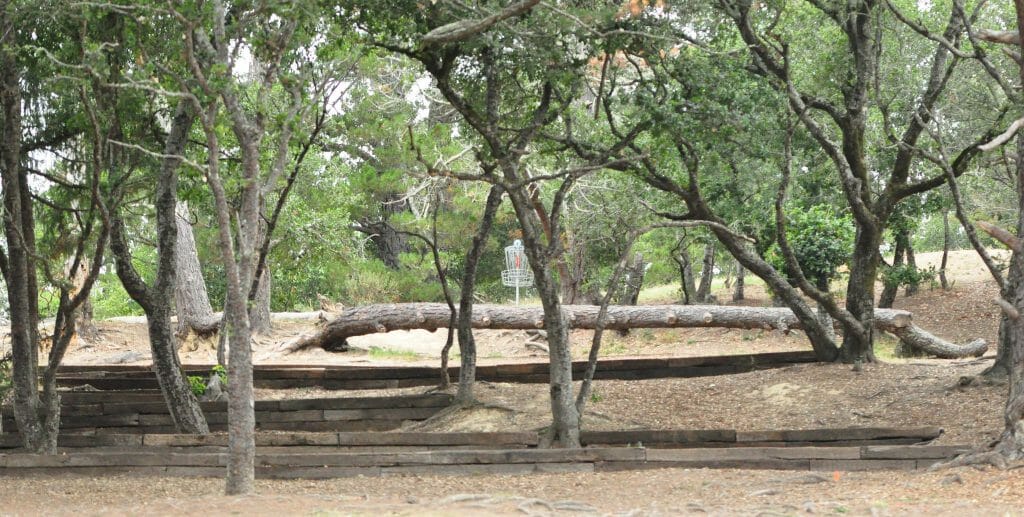 Certain to be overheard in players' post-round conversations at this weekend's "Steady" Ed Memorial Masters Cup: "I had a pretty good round going, and then I got DeLa'd."
The look in their eyes makes it clear this is not a good thing, but what exactly does it mean to be "DeLa'd" (pronounced DAY-lod)? And how can players avoid the fate?
DeLaveaga Park Disc Golf Course is built on a precipice. As a result, nearly all the holes include an opportunity for discs to get up and roll, adding the crucial strokes to a scorecard that defines one as having suffered the course's wrath. In some cases, like Hole 18, it's diabolical, with steep drop-offs on two sides behind the basket and roots in front that prevent sliding access to the tiny, hard dirt green. A player missing a 30-foot downhill putt on this hole almost certainly will be DeLa'd, and that's the most important thing to know here.
Players say "I got DeLa'd" like it's something that happened to them that couldn't be prevented. In some cases, that's true: A smart decision to lay up; a good, flat landing; a putt that is off by just enough; and then, somehow, the disc gets on edge and starts to roll. The idea that it could happen at any time – at the worst time – can be a little unnerving. Now in its 31st year, the Masters Cup stands out on the National Tour circuit year after year as a player favorite for the same reason that slasher flicks remain popular: We like to be scared.
The threat of being DeLa'd lurks from the shadows on most holes, siren songs echoing softly from the bottoms of overgrown ravines, calling out for your disc. This isn't as simple as a bad roll turning a potential birdie into a bogey, although that scenario is common enough. It often means the sudden transformation from disc golfer to wilderness explorer. Players can easily get out of shouting distance from others in their group.
The goods news is, just as with the poison oak, the danger of being DeLa'd can be minimized, and even turned into an advantage if you play it smarter than the average bear. Three of my School of Disc Golf clients did quite well at the 2016 Amateur Masters Cup, with one of them winning the juniors division and shooting better than 90 percent of the entire field. Another crushed in amateur masters, and the third tied for first place in regulation in advanced. He lost the playoff, but it was only his second Professional Disc Golf Association event and third tournament ever.
I'd like to think that a major coaching contribution of mine was the counsel I provided on managing the course's dangerously fast greens. Whether a professional at the Masters Cup or someone hitting the course on vacation, here are a few things for players to be mindful of as they navigate the course:
Know the danger spots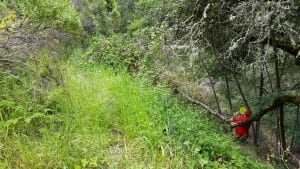 Because of the hard-pan terrain on almost every hole and the ever-present sloping fairways and greens, roll aways can happen at any time. That's true, if to a lesser degree, on all courses. At DeLa, one must also be aware of a number of particularly costly hazards. A few of them include:
The drop-off behind the basket on Hole 2.
The slope that runs the length of Hole 4 on the right side. It's particularly scary where it connects to the bald area around the basket.
The hard-packed, undulating fairway and green on Hole 7, on a slope that steepens just past the basket.
Hole 12 in its entirety.
The green on Hole 13 is deceiving. A roll away here doesn't have to plunge into a ravine to cost you; all it has to do is roll behind a low limb nearby.
Hole 17 is called The Gravity Hole for a good reason.
Holes 18 and 26 are two of the most demanding on the course.
Know the risk/reward equation
The players who get DeLa'd the most tend to be those who apply the same risk/reward assessment to every shot: If it's 40 feet and in, they're going for it every time, no matter what. Sometimes at DeLa, though, you need to understand that a miss might cost you not just one stroke, but possibly two, along with a great deal of stress and exertion.
If your chances of making a putt are 60 percent, but a miss could turn an easy par on a tough hole into a double bogey, what do you do? Regardless of how you answer that question, you should at least understand the equation.
Know the green, and know how to play it
It's not enough to just know where the trouble spots are on the course. You should also know the characteristics of each, and how exactly you're accounting for each. Hole 18, as noted above, has steep drop-offs behind the green on both sides, but the real difficulty involves the front of the green. Upshots are thrown downhill, toward the ravines, and they can't be skipped or slid up to the cage because rock edges and exposed roots block the way 25 feet in front. This requires a very specific shot with perfect touch.
All of this requires that golfers play slopes properly and adjust to different types of terrain. If you don't do anything else, become an acute observer of what your disc does from the time it hits the ground until it comes to rest. Does it move in the direction you want? Go too far or not far enough? And most important at DeLa, does it spend much time on edge? The more time a disc spends standing up, the more chance that gravity will take it down, down, down.
Just like life, disc golf sometimes isn't fair. Sometimes you play the shot right and still get DeLa'd. When that happens, it's good to have a premeditated "disaster recovery plan" in place. As the disc tears off down into darkness, your heart rate will head for the high numbers. Having a strategy in this case will help you avoid making stupid, emotion-fueled decisions that turn rough patches into round-killers. Here is one such list:
See the big picture Once you find your disc, imagine yourself floating up high enough to see where you are in relation to the green. Look at your situation realistically. Understand that it may take more than one good shot to complete this hole.
Double back to the risk/reward equation Once again, understand the odds and act accordingly. If you have to hit a tiny gap to reach a green, and missing means a ricochet further down a mountainside, go with the alternative, whatever it is. Sometimes you've have to throw laterally or even a little away from the basket to get back on the intended fairway. There's not much worse than taking two or three extra strokes when a better decision would have limited it to one.
Focus on each step out of trouble The shots required to extricate oneself from really rough rough require the right focus. You have to know exactly what you want to do, then focus on doing it. No thinking about whether you can save par or bogey, or what kind of putt you'll have next. One reasoned, focused step at a time.
In some ways, being DeLa'd is a rite of passage for Masters Cup players; it happens to everyone, sooner or later. Remember that nothing you can do will make you immune to the roll aways, but you can minimize the risk. And when it's your turn to be on the receiving end of DeLaveaga's still-sharp bite, you can play smart and minimize the damage.