The defending tournament champions take on DeLaveaga Park today and Saturday, with a new course added to the mix on Sunday for the PDGA National Tour's fourth stop.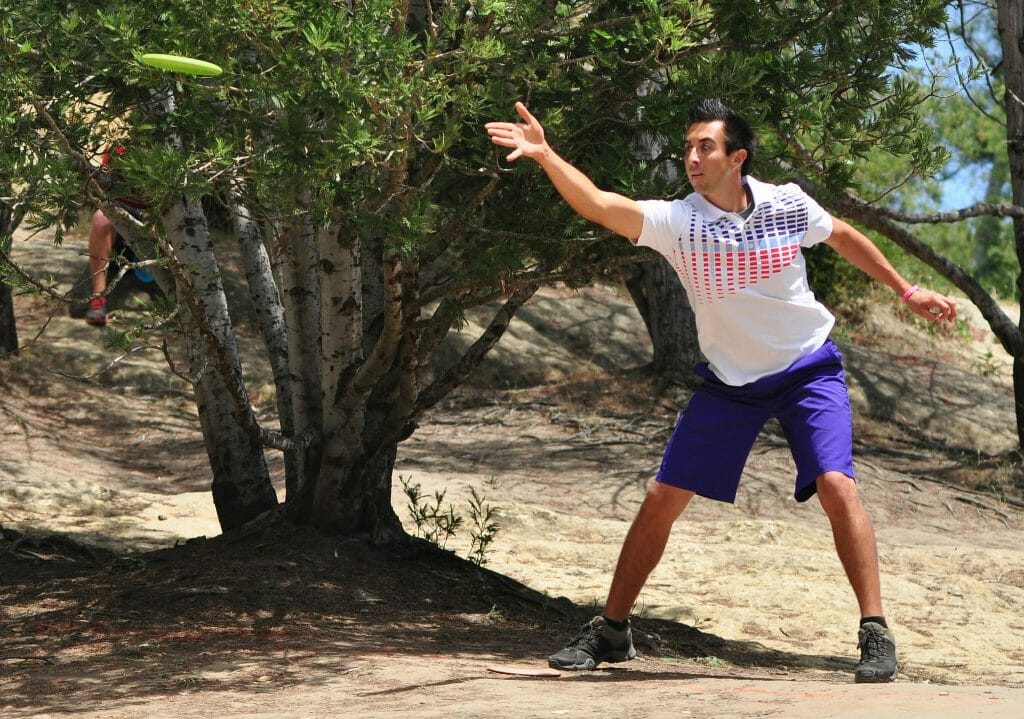 Paul McBeth has heard the chatter.
After a dominant 2015 that spilled over into the new season with three consecutive wins, the four-time Professional Disc Golf Association world champion followed up his torrid start with three straight second place finishes to seem – by his standards, at least – suddenly human.
With social media swirling that the champ was slipping – McBeth acknowledged he reads everything, sooner or later – he heads into this weekend's National Tour stop licking what he deems are self-inflicted wounds and looking to get back atop the leaderboard.
And what better place to do it than a tournament he has won four years in a row?
Taking place today through Sunday on two courses in Santa Cruz, California, the "Steady" Ed Memorial Masters Cup presents McBeth with an opportunity to get back to his winning ways. But first, he'll have to get out of his own way.
"I don't feel like I was beat at any of these tournaments," McBeth said. "I felt like they were my mistakes that cost me these tournaments, and people are seeing that as, 'Oh he's going backward, he's falling off, he's not as good as he was.' For me, it's all me that's causing these second places."
While some statistics point to the field closing in on McBeth, he chalked up his struggles to poor weather impacting practice time on the road.
"I think it's just a lot of mistakes," McBeth said. "I don't know if it's the slow starts, or just too many mistakes, but a lot of it I would say is putting issues, just not putting in the time to putting [practice]… All the rain, it took away from as much as I should practice."
He'll look to rein in those mistakes on Friday and Saturday at the DeLaveaga Park Disc Golf Course, a 24-hole, 8,514-foot par 72 venue that is notorious for punishing even the smallest of slip-ups.
"It's one of those courses where, even if you're on a roll, you still have to fear each hole," McBeth said. "And [I have to] know I can't try to bite off too much, no matter what. No matter how hot you're playing, or how great you feel like your round is going, you've always got to be fearful of [the idea that] one mistake can cost me this round."
Paige Pierce, who also enters play as the defending Masters Cup champion in the Women's Open division and is looking to rebound from a second place finish at the Kansas City Wide Open, echoed McBeth's sentiments about DeLaveaga's dangers.
"It's unlike any other course we play all year, in the sense that every single shot matters," Pierce said. "You're not done with your hole until you tap out of the basket…every shot matters so much. The upshots are so hard, the putts are so hard. Even laying up – if you have a bad drive and you're just trying to lay up – even laying up is hard. So it challenges your mental game, really, because you really have to stay alert every single shot."
It's a challenge she welcomes, and one that can separate the competition.
"I think it's a good tournament course because whoever wins, I think, deserves to win," Pierce said. "It's not one of those courses where someone got lucky, or someone was great off the tee or putted bad [but still won]. Every part of your game has to be good this weekend."
McBeth pointed to DeLaveaga's hard-packed earth and steep slopes as the venue's signature risks.
"The terrain is tough because you have to be cautious of how you land your disc every time," McBeth said. "Angle, speed – those are key factors."
Unlike previous iterations of the Masters Cup, though, the hallowed "DeLa" is not the tournament's only venue. Instead, Sunday's final round will be played on a temporary layout on the DeLaveaga Park Golf Course, shifting play from the shorter, technical setting for which the event is known to an 18-hole, 8,775-foot par 59 stage.
According to tournament director Braden Coolidge, the change was made to make the tournament more accessible, as the original DeLaveaga course has minimal modern facilities. Former tournament director T.J. Goodwin, who is in Santa Cruz for the weekend to assist in the transition to the new venue, said the change was necessary if the event was going to grow.
"With the proliferation of people playing and the registration, this course is something that we need in order to put more money into the payout," Goodwin said. "The golf course layout gives us much more visibility. DeLa isn't really spectator-friendly. There's a lot of walking up and down steep hills, holes on top of each other, and it creates a bit of chaos. Golf courses, on the other hand, are built for spectators. Here, we have amenities, we have WiFi, and we can get much more visibility for our sponsors and draw more people in. The pros want to get paid more money and the bottom line is…we can't grow the purse to where we want it to be at DeLa."
After practicing on the course Thursday evening, Nate Sexton said he was satisfied that the new venue was a positive addition that captured the spirit of the event.
"It's a beautiful property, it'd be hard to mess it up," Sexton said. "It's nearly opposite [of the original course], but still they kept kind of the same feel of trying to go for tricky greens. That's kind of a signature thing for DeLa, and I feel like they did a good job of that with the golf course as well."
Though Pierce had yet to spend much time on the new layout, she said she was a little disappointed in the change.
"I just think that it's a tournament that's been around for, I don't even know, probably 20-plus years and it's always been the same, and I am kind of a little bummed that it's breaking tradition," Pierce said. "I think a lot of people look forward to the final hole being [number 27 on the original course's] Top of the World."
She also expressed concern that it might affect the quality of play on the tournament's final day.
"Especially when you have two rounds in a row at DeLa, by that third round usually you're going to shoot your best round and you're going to see some of the most impressive golf because people have it dialed in by that point," Pierce said. "And now were just throwing a new course in the mix and people haven't played this for years and years, so you're going to see not as good of golf as I think you would have."
Sexton, though, said he thought the addition of the new venue would make the tournament more well-rounded.
"I don't know if it's going to throw anybody [off]," he said. "I think variety is awesome, and a tournament that tests more skills is a better tournament."
Forecast and Coverage
It'll be a typical spring weekend on California's central coast, with forecasts for Friday and Saturday calling for highs in the mid-60s with morning clouds giving way to afternoon sunshine. A 40 percent chance of rain on Saturday earlier this week has evaporated to 20 percent, so the only issue may be a breeze on Sunday, with 13 mph winds possibly affecting flights on the new golf course.
DeLaveaga is not only notorious for its difficult terrain, but also for its lack of a cell signal. As a result, there will be no live streaming coverage of the tournament, but edited footage will be turned around by The Disc Golf Guy and Central Coast Disc Golf in the days following the event. As always, followers can catch live scoring through PDGALive.com, and Ultiworld Disc Golf will be onsite Saturday and Sunday for round recaps.