Who's making moves in the Power Rankings?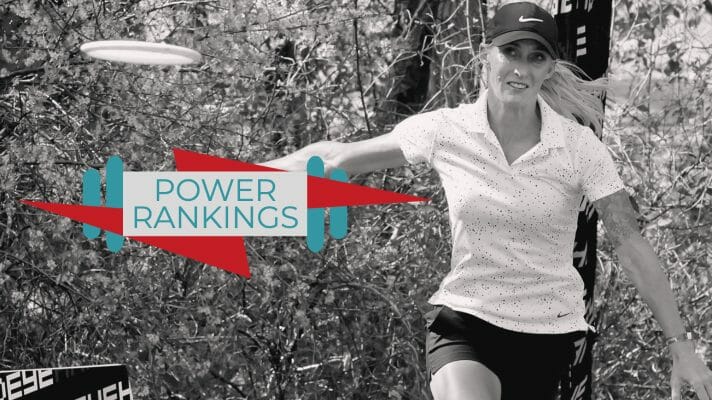 With two tournaments in the books, it's time to update our power rankings. Turns out we did alright in our preseason predictions, correctly naming 6 of the current top 10 women: Catrina Allen (1), Kristin Tattar (2), Paige Pierce (4), Eveliina Salonen (5), Hailey King (6), and Missy Gannon (8). And we pegged Valerie Mandujano (3), Ohn Scoggins (9), and Macie Velediaz (10)— three of our four newcomers—just outside of the top 10 at 13th, 12th, and 14th, respectively. The big surprise through two is Kat Mertsch (7), who entered the season unranked.
The addition of an early-season major means that the next month is particularly important for the touring pros as they try to find peak form, but the road to the PDGA Champions Cup is paved with Silver Series events. Three of the next four DGPT tour stops preceding the first major of the year are on the lower circuit. Some tour stalwarts are signed up to air it out at the first Silver Series tournament of the year this weekend for The Open at Belton, including reigning champion Catrina Allen, but the full field won't reconvene until next week in Tyler, TX, for the Texas State Disc Golf Championships. Hailey King won Texas States last year, her first of four Elite Series victories.
The Texas State DGC will be played on a new course this year called "The Thorn," which combines holes from the three courses on the property (Dogwood, Cedar, and Hickory). The result is a mixed park style and wooded course. Though the combined course does not resemble W.R. Jackson Course as closely as Dogwood Gold, it will still provide a stiff test for the touring professionals. I will be watching to see how well they hit their lines and control their angles. Will a good performance in Texas predict success in Georgia?
Methodology: We combine an algorithmic objective ranking with subjective ballots submitted by UWDG staff. The algorithm uses a standardized scoring model to compare elite events, awards competition, and cash bonuses, and features a decay function that gradually phases out past results.
Subscribers, read on for discussion of the top 10 and additional notes on the field.
Bonus Content for Ultiworld Disc Golf FPO Power Rankings: Post-WACO [March 18, 2022] is only available to Ultiworld Subscribers
Already have a subscription? Log in
Whether you visit Ultiworld for our reporting, our podcasts, or our video coverage, you can help us continue to provide high quality content with a subscription. By becoming a subscriber, not only do you receive benefits like bonus content and full article RSS feeds, you also help fund all of Ultiworld's coverage in general. We appreciate your support!