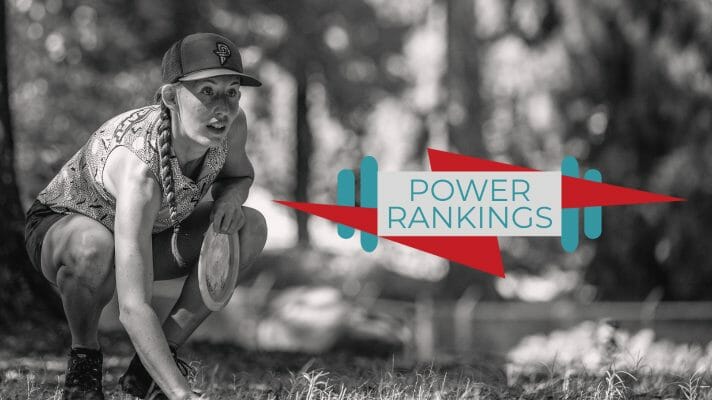 Welcome to the 2022 preseason edition of the Ultiworld Disc Golf Power Rankings. Around these parts we like to ask, "What have you done for me lately?" It's a tricky task without any meaningful tournaments in the books yet, so like a fortune-teller on the Las Vegas Strip, we cast our gaze into the crystal ball to bring you this edition of the rankings. Will fortune favor the bold? Or is this just an exercise in futility? (Hint: the Finns are probably ranked too low.)
This week, the field descends on the Mojave Desert. The Las Vegas Challenge feels in some ways like a preseason event despite awarding full DGPT points. It will be the first competitive action for most of our golfers and is the only tour stop to feature three courses. I expect to see our competitors shaking off the rust and winging it a bit out there at Wildhorse. The courses forgive a bit of rust when the wind is down. When it's up, well… Either way, the three courses primarily test your ability to throw varying degrees of hyzers, hit your marks, and account for the skippy fairways and greens.
Last year, Paige Pierce and Catrina Allen lapped the field, but the tournament wasn't decided until the 72nd hole. This year, I hope to see more contenders down the stretch. Adding the full cast of 970-rated players from Europe should help on that front. Plus, the wind is down in the most recent weather forecast, increasing scoring opportunities across the board.
Methodology: We combine an algorithmic objective ranking with subjective ballots submitted by UWDG staff. The algorithm uses a standardized scoring model to compare elite events, awards competition, and cash bonuses, and features a decay function that gradually phases out past results.
Notes on the Top 10
The 'recent unweighted' category below includes the last 15 rounds from Elite Series, cumulative stroke play tournaments in 2021: Throw Pink Championship, Music City Open, Green Mountain Championship, MVP Open.
Player
Average '22
Power Ranking
Player Rating:
Recent Unweighted vs.
Current Overall
'22 Best Finish
1. Paige Pierce
1
961 (U) | 978 (O)
TBD
Ultiworld Disc Golf's reigning Player of the Year faded toward the end of the 2021 season, finishing 13th at the Music City Open, 10th at the Throw Pink Championship, and failing to advance past the semifinals at the DGPT Championship. That said, she still had the most wins on tour by far and took home the USWDGC. The European women will increase the level of competition in FPO this year and should increase parity at the top of the division, but I actually think this bodes well for Pierce. With more contenders in the field, the external pressure on her lessens. Plus, having a deeper field must be energizing to someone as competitive as Pierce -- she said as much in yesterday's LVC press conference.
2. Catrina Allen
2
970 (U) | 967 (O)
TBD
The 2021 World Champion and PDGA Player of the Year only missed the top 7 once last year in 32 events at the Throw Pink Championship. She scored the best singles round at the All Stars event and generally looked pretty sharp in Arizona despite changing sponsors in the off season. Learning a new putter may hone her focus on the green. Will this be the year she approaches the 70% C1X putting mark? Putting inside of 10 meters is the only UDisc statistic where she ranks outside the top 10.
3. Kristin Tattar
3
N/A (U) | 976 (O)
TBD
What to expect from the Estonian in 2022? She was the most accurate player off the tee last year, hitting 78% of her fairways, and boasted the second-best (by ten-thousandths of a point) OB rate. In The Upshot interview series, she said she is in a better headspace this year and feeling more energized to compete. That should worry the field, seeing as she won two DGPT tournaments, a Silver Series, and an A-tier last year (two thirds of her stateside tournaments).
4. Hailey King
4
979 (U) | 970 (O)
TBD
From the looks of her social media, Hailey King put in many more reps this off season compared to previous years. Her new home, Charlotte, is certainly a better winter training ground than the frozen tundra. I really want to see Hailey rein in her tendency for cascading mistakes this season. She took way too many double bogeys or worse last year. We know she's got a high ceiling—remember that 1052 rated round at Fox Run?—so if she can minimize mistakes and raise her floor, I won't be surprised if she wins more than four Tour stops this year.
5. Missy Gannon
5
961 (U) | 955 (O)
TBD
Missy Gannon owned the second half of the season, notching more wins between July and October (three) than everyone but Paige Pierce (with whom she tied). She won the first DGPT event after Worlds, the Des Moines Challenge, and closed out the season with back-to-back wins at the Throw Pink Championship and DGPT Championship. Her player rating is the highest it's ever been, but it's been mostly flat since last June. I am really interested to see if she has added any distance to her driving game over the offseason, because if she can raise her C1 and C2 in regulation by a couple percentage points, we'll see that rating start to climb again in earnest.
6. Eveliina Salonen
6
N/A (U) | 972 (O)
TBD
I ranked Eveliina Salonen in third position on my ballot. She's a major champion (Konopiste Open, 2018), a past winner of the European Disc Golf Championship (2016), a 2X winner on the DGPT (Waco, 2020; The Memorial, 2019), and a perennial victor in Finland. Tons of power, accuracy, and touch, both backhand and forehand. The only cause for concern is that Salonen lost her putting stroke in the final round of the 2021 European Championships and her tournament C1X average didn't surpass 53% from there on out. Still, I'm bullish on the young Finn and don't think those problems will persist in 2022.
7. Henna Blomroos
7
N/A (U) | 973 (O)
TBD
After finishing runner up to her friend Salonen at five straight events to start her 2021 season, Henna Blomroos finally broke through at the European Disc Golf Championship. Over those four rounds, she averaged 988-rated golf, 17 points higher than her season average. (Her average by tournament up to that point was remarkably consistent: 970, 973, 971, 973, 968). Blomroos has killer form and seemingly effortless distance. She'll nab the win when the putts are dropping.
8. Sarah Hokom
8
976 (U) | 968 (O)
TBD
I am impressed with the work Hokom has put into her backhand over the past 2-3 years. At the All Stars event, it looked like she added distance and seemed ready to use it more often. Will the same be true now that we're out of exhibition season? Surprisingly, Hokom hasn't won an Elite Series even since 2019 when she took down the Green Mountain Championship and the Hall of Fame Classic. Note: the HOFC was at W.R. Jackson, which could bode well for chances at the Champions Cup this spring.
9. Kona Panis
9
960 (U) | 949 (O)
TBD
Kona Panis had an excellent 2021 season. She won her first DGPT event in Waco and was consistently in contention from start to finish. Panis is known for her off season work ethic, and she must have put in extra reps this year to learn her new bag. She's spoken publicly about her putting woes last season and feels good about her revamped stroke. It certainly looks more repeatable to me than the anhyzer toss putt she started with last year.
10. Heather Young
10
955 (U) | 953 (O)
TBD
Heather Young has the best short game on tour bar none. She led the league in C2 putting, was second by fractions of a percentage point in C1 putting (behind Ohn Scoggins), and was fourth in scramble percentage. She also boasts the fifth best OB rate, so we know she keeps it between the ropes. Will she add distance to her driving game? That's the big question. Though a solid two-way player, she simply doesn't give herself enough chances to capitalize on that killer putt. She ranked 33rd in both green-in-regulation categories last year.
Other Quick Hits

Will 2022 be Deann Carey's (#15) breakout season? She notched a Silver Series win at the Resistance Discs Open last year and also took down a big A-tier at the Carolina Clash. Her short game looked sharp at the All-Stars event.
I've also got my eye on Ella Hansen (#18) and Maria Oliva (#20) to ascend the ranks. It will be Oliva's first full season on tour, and Hansen looks to improve on a stellar rookie campaign in 2021.
Jessica Weese (#11) has been rated between 941-952 since 2015, and in the five years of UDisc statistics, her C1X putting has never broken 60%. Though a very proficient two-way player, I think she needs to hit between 65-70% this year to hold off the up-and-comers.