Let's get this thing started!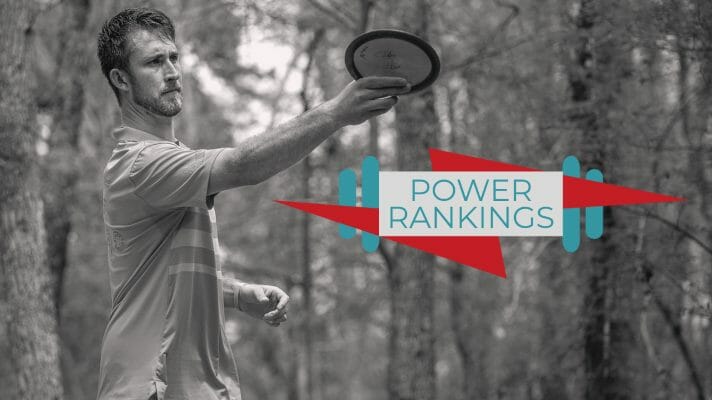 Welcome one, welcome all, to the premiere of the 2022 Ultiworld Disc Golf MPO Power Rankings!
Can you believe it? The 2022 professional disc golf season is upon us, along with the debut of the unified tour under the direction of the Disc Golf Pro Tour. We start things off in Las Vegas where, over four days and three courses, the competitors will show us what they've been working on all offseason.
The courses in the desert tend to play fast, skippy, and scorable. Over the past three years, the winner in MPO has averaged 45 strokes under par, so it is absolutely crucial for players to come out hot and keep it going with rounds at least double digits below even. Big distance is key–no surprise on golf courses–but what makes Vegas unique tends to be treacherous basket locations and the need to control where the disc goes after it lands. The fairways and landing zones tend to be a bit faster than some of the other golf courses the tour hits over the duration of the year, so big skips can turn a look at birdie into a layup for bogey pretty quick.
Without further ado, let's get to it.
Methodology: We combine an algorithmic objective ranking with subjective ballots submitted by UWDG staff. The algorithm uses a standardized scoring model to compare elite events, awards competition, and cash bonuses, and features a decay function that gradually phases out past results.
Notes on the Top 10
The 'recent unweighted' category, above, includes the last 15 rounds from elite series, cumulative-stroke play tournaments in 2021: USDGC, Music City Open, Green Mountain Championship, MVP Open.
Player
Average '22
Power Ranking
Player Rating:
Recent Unweighted vs.
Current Overall
'22 Best Finish
1. Ricky Wysocki
1
1056 (U) | 1054 (O)
TBD
The 2021 PDGA, DGPT, and Ultiworld Player of the Year had the most consistently excellent season of any player last year. Wysocki had 14 podium finishes in 2021, including six wins. After a short stint with Innova, Wysocki is back under contract with the Trilogy family of discs by way of Dynamic Discs. We'll be seeing the return of the Harp, and certainly Wysocki will continue to grab some wins at the Elite Series events. The real question in 2022, though: can he win at a Major? Wysocki hasn't taken one since 2017.
2. Paul McBeth
2
1046 (U) | 1050 (O)
TBD
By win total, McBeth didn't have a stellar 2021 season, but he closed out strong at the USDGC. Had it not been for a miraculous shot by James Conrad, he'd also very likely be out reigning World Champion, too. McBeth admitted on The Upshot that his putting hurt him all season, and perhaps he was a bit overextended with various off-the-course endeavors. He says that he is entering the 2022 season with a renewed focus. Good news for McBeth fans, bad news for everyone else.
3. Eagle McMahon
3
1045 (U) | 1053 (O)
TBD
McMahon is looking to defend his title in Vegas, and it's hard to imagine a better course for this particular horse. Or bird. Birdhorse. Anyways. McMahon is probably the favorite this weekend, and for good reason. He shot a 48 under par last year. Will his lack of a 500-foot forehand dampen his title defense?
4. Chris Dickerson
4
1052 (U) | 1045 (O)
TBD
The Limestone Lazer, which is an absurd nickname and I love it, has never played in Vegas, so we don't have much to go on for how he will perform in Sin City. First take: probably not well since he tends to prefer wooded courses, but then again, he is a USDGC and 2X DGPT Tour champion. Perhaps the real question is how well he knows his new bag? In a race for birdies, any lack of comfort could mean losing crucial strokes.
5. Kyle Klein
5
1033 (U) | 1039 (O)
TBD
Klein was my breakout player of 2021 and earned himself a promotion to Discmania's top level sponsorship alongside Eagle McMahon and Simon Lizotte. Klein did not play exceptionally well in Vegas last year and didn't really find his stride until around the midpoint of the season when he took down the win at Idlewild. Can Klein avoid the sophomore slump?
6. Calvin Heimburg
6
1035 (U) | 1047 (O)
TBD
Heimburg made sure his two Elite Series wins in 2021 were profitable, splitting the title and cash at Ledgestone with Ricky Wysocki, and taking home a cool 10k from the match play championship. Heimburg is in the final year of his contract with Innova and is probably on the shortlist to be the third million-dollar-man (that we know of) in the game. Recall, Heimburg won the 2019 Las Vegas Challenge and should be among the favorites to win this weekend.
7. Adam Hammes
7
1042 (U) | 1040
TBD
Hammes is coming off a 2021 season with two Elite Series titles and a dub on the Silver Series for good measure. His victory at Maple Hill was a statement win, coming from behind to snatch the top spot away from Eagle McMahon. Hammes used to be one of those "up and comer" type players, but that categorization probably doesn't fit anymore. Hammes has arrived and knows how to close out a win when he has the opportunity.
8. Kevin Jones
8
1029 (U) | 1037 (O)
TBD
This offseason, Prodigy let go of Matt Orum, Chris Dickerson, and Catrina Allen but kept Jones on board and announced that he will be getting his own bespoke line of discs. This is huge for Jones and a big gamble for Prodigy. While Jones is easily one of the most marketable players in the game and a world class player, he didn't win an Elite Series event last year, never finishing better than third. Jones was in striking distance of a win many times and seemed somewhat snakebit, so fingers crossed in 2022 he can limit the rollaways and bad breaks.
9. James Conrad
9
1028 (U) | 1035 (O)
TBD
Conrad won the 2021 World Championship in dramatic fashion with a shot that may forever reign as #1 in disc golf history. Otherwise, he had a pretty mediocre 2021. Really, he has yet to put together a full, start-to-finish season of excellent play on tour. But he's a two-time major winner and a two-time DGPT champion. He has more elite wins than most of the field. This will be his second full season with MVP discs, so he should be more comfortable with his plastic in 2022, which could lead to improved overall results. After all, Conrad is known for expertly manipulating well-seasoned discs.
10. Matt Orum
10
1039 (U) | 1044 (O)
TBD
Matty O leaving Prodigy for Westside was a shocker of a development this offseason. Losing the sixth highest rated player in the world is no small thing. Orum did tell The Upshot that his new sponsorship deal will allow him to tour more regularly, which rules. More Matty O is better for everyone. He'll be out of the field at LVC, unfortunately, after having his appendix removed.
Other Quick Hits

Drew Gibson (#12) had the strongest season of his career in 2021, finishing in the top ten in 12 of the 20 events. Critical to his success was improved putting. Gibson converted C1X putts at an 82% clip in 2021, up from 79% in 2020 and 78% in 2019. A couple percentage points doesn't seem like much, but with the field as deep and talented as it is now, every stroke saved can be the difference between top ten and missing the top 15. Look for Gibson to rise up the rankings this season.
Linus Carlsson (#14) is the only European player in our top 25. He won seven A-Tiers in 2021. He played in nine events. I don't think there's really a need to elaborate on why we're excited to have him stateside this year. The knock would surely be that he lost, barely, to Niklas Anttila at the 2021 European Championships. Anttila could well crack these rankings with a strong start to his US tour.
Other players in the top 25 who we've got our eye on but need to show a little more consistency in their 2022 campaigns in order to crack the top 10 include Ezra Aderhold (#16), Chris Clemons (#19), and Emerson Keith (#23).