The draft will be streamed live on DGN.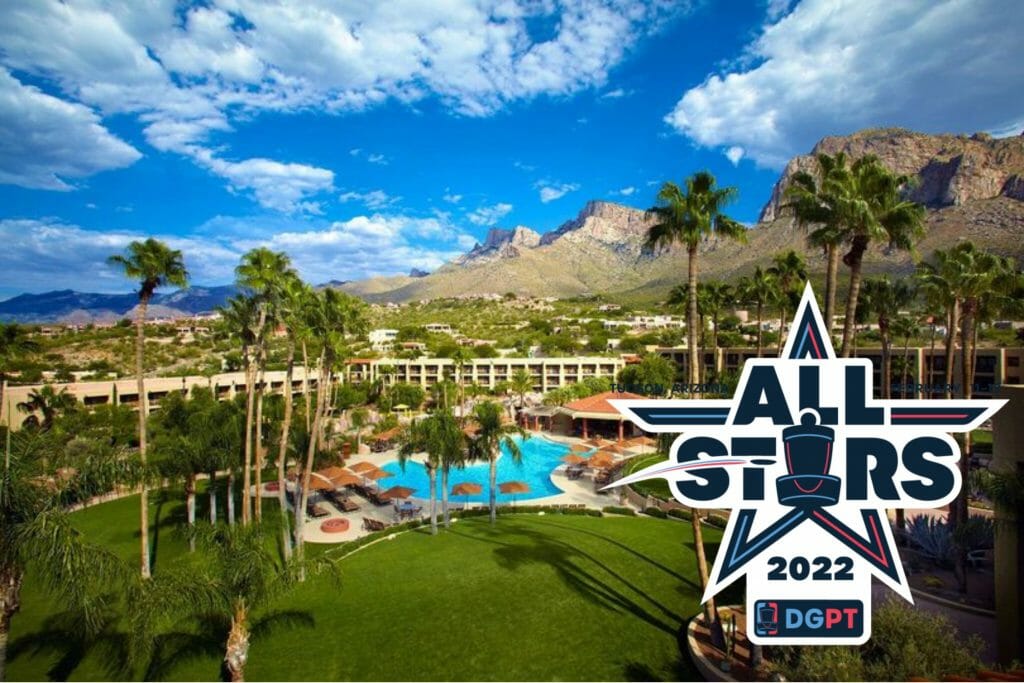 In its second year, the Disc Golf Pro Tour All-Star Weekend is switching to a team format that will feature a livestreamed draft.
The field has expanded to 12 MPO and 12 FPO players: the top eight finishers in the 2021 DGPT Standings get auto invites with the final four spots going to players based on a combination of DGPT standings, media vote, fan vote, and DGPT Championship performance. The top two players from each division will serve as team captains and select, via snake draft, six person teams. The two MPO and two FPO teams will compete separately.
"We're going to have a little mini Ryder Cup, where we're going to do stroke play but you win your match you get a point for your team," said DGPT CEO Jeff Spring in an interview with The Upshot.
The February 11-13 weekend at the El Conquistador Resort in Tucson, Arizona, will feature three main elements: a skills competition on Friday, stroke play doubles on Saturday, and stroke play singles on Sunday. There are twelve total points available. The teams with the most points at the end of the weekend will be declared winners; each player on the winning team will win a cash prize.
During the skills competition, each team will send two players to face off each of three different categories: putting, accuracy, and distance. The winning pair in each category will earn one point for their team.
"When you draft your players, you're going to have draft people with the thought of, 'hey, I'm going to put two people in putting, two people in accuracy and shot shaping, and two people in distance,'" said Spring.
For the doubles competition, each captain will select three player pairs and then seed them one to three. The corresponding seeded pairs will face off in best disc stroke play doubles. Each winning doubles pairing will earn a point for their team.
For the singles competition, DGPT standings determine the seeding for each player on the teams; the corresponding seeds will face off in stroke play competition. The winner of each matchup will earn a point for their team.
Spring said that 21 of 24 invited players have confirmed their spots at the All-Star Weekend; Paul McBeth, Ricky Wysocki, and Kristin Tattar will not be in attendance. McBeth isn't starting his touring season until the Memorial in early March. Wysocki said that he is focusing on learning his new Dynamic Discs plastic. Tattar is traveling from Europe to compete at the Las Vegas Challenge, which is two weeks after the All-Star Weekend. Ezra Aderhold, Gannon Buhr, and Rebecca Cox were invited and all accepted their offers.
The draft will be streamed live on the Disc Golf Network, aligning with the NBA's recently implemented all-star game draft, which gets aired live on TNT.
Here are the 24 players that will attend, in order of their seeding:
MPO
Eagle McMahon
Calvin Heimburg
Adam Hammes
Kyle Klein
Kevin Jones
James Conrad
Chris Dickerson
Drew Gibson
Matt Orum
Nikko Locastro
Ezra Aderhold
Gannon Buhr
With Wysocki and McBeth out, two additional spots were opened for Ezra Aderhold and Gannon Buhr.
FPO
Paige Pierce
Catrina Allen
Missy Gannon
Sarah Hokom
Hailey King
Kona Panis
Jessica Weese
Lisa Fajkus
Heather Young
Ohn Scoggins
Deann Carey
Rebecca Cox
With Tattar out, one additional spot was opened for Rebecca Cox.