There's no excuse not to play in every season!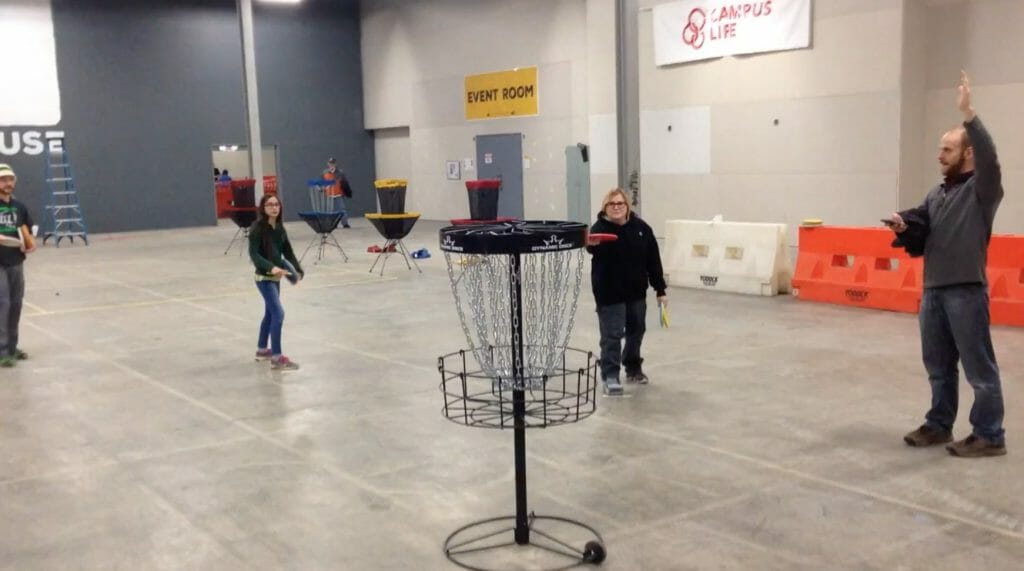 I hate winter. I was born and raised in central Florida and then lived in California into my 30s. When I moved to Indiana, I had never seen snow or dealt with real cold. Still not a fan. I watch winter storms on the radar creep towards me across the Midwest like characters in a Godzilla movie watch him approach the city limits: with hopeless feelings of dread.
So it's weird, then, that winter is usually the highlight of my disc golf season.
That is mainly because of the way that the Bloomington Disc Golf Club structures their winter and indoor putting league every year. I have seen lots of people asking about setting up these kinds of leagues, and I offer this case study in hopes that it will provide ideas you can use to create your own. And, if you have also set up these kinds of leagues, please let us know your best ideas in the comments!
The Basic Structure of Our Disc Golf Winter League
Every year, we have a season-long club league points race that runs from March to October. As the weather begins to change and the days begin to shorten, we start our winter season in November. The winter league is set up in two main parts – outdoor glow golf every Wednesday from November through mid-December before the weather usually gets really ugly and then indoor league in January and February. That usually gives us 6-7 outdoor and 8-9 indoor sessions.
We set up our winter leagues as a team competition, but you could just as easily keep individual results with a little bit of modification. We have every member of our club declare for the winter league draft on our Facebook page and indicate how many of the sessions they think they will be able to make. Then the club president appoints winter league captains. We usually have 3 or 4 teams depending on how many players we expect to have in the draft (and we always give the previous season's winning captain a chance to defend their title).
This year, for example, we have about 40 people in our winter league. While we used to have four teams, we have recently dropped down to three teams even though the number of participants has been growing. Players, especially in the age of COVID, will get sick, or injured, or have family or work obligations, so it is important to have big enough rosters that people can drop out without wrecking a team. If you have a pool of diehards who will never miss, then you can make more teams. If your pool of players is smaller, then two teams can work fine.
The captains privately meet to draft and then – at least in the world pre-COVID – teams were announced with great fanfare at the end of the season party that marks the shift to winter disc golf. There will be prizes for aces and CTPs throughout the season, but the real reward is the Championship Hoodie that every member of the victorious team gets at the end of Winter League.
Scoring Setup
The scoring is geared to reward teams who have lots of players show up regularly. Every player gets a point for everyone in the field they beat or tie in each competition. If 35 players show up, the top scorer will get 35 points, the second 34 points, etc. This means that the difference between finishing first and fourth might only be a handful of points. You need some high finishers, but the real key to a team doing well is getting the middle and lower-level players on your roster to show up. Players who play above their expected level, even by a little, can do as much for the team as great players who play great. The overall point total can be very close, so the players who are showing up and finishing near the bottom are crucial to the team's success. Someone coming in 29th out of 35 every week can easily be the difference between winning and losing.
The glow season is played on our more open courses with regular stroke scoring. Before we tee off, we usually play knockout – an adapted basketball game. All the players line up 35 feet from the basket. The first player throws and, if they make their putt, they run up, grab the disc, and get back in line. If they miss the putt, then they must run and retrieve their putter and make a shot from 12 feet. The person in line behind them gets a chance to make their 35-foot shot while they are trying to make their 12-footer. If a player who misses from 35 can make their 12-footer before the player behind them, then they run and get back in line. But if the person behind a player gets their putt in (from 35 or 12 feet) before the person ahead of them, the person who was ahead of them is out.
The winner of Knockout gets a prize (usually a disc) and the team gets points based on the top 5 finishers. First place gets 5 points down to 1 point for the 5th place finisher. Again, players who might otherwise not contribute many points from their full rounds can help their team if they are good (or lucky) at knockout. A helpful hint – there are various ways that teammates can "protect" each other in knockout if they are next to each other in line. If you are using team scoring, make sure that teammates are not together at the start.
As we go into the Christmas break, we have a supplementary draft for players who want to play the indoor league but took a pass on playing in the cold and dark. It is a snake draft with the team in last place getting the first choice. Our winter league attracts a lot of new players, so we also have a system for adding players onto teams throughout the season. If an undrafted player shows up three times to winter league, on that third night, the last place team has the right to draft them. The team that uses this option then goes to the back of the line for new players.
After the New Year, it is time to head inside.
How We Do Our Indoor Putting League
Indoor putting leagues can be set up in all kinds of places. Ours is set up in a huge warehouse – called, originally enough, "The Warehouse" – a community space that also includes a skate park, performance area, a kids' playpark, and several basketball courts. We are way in the back, in the unfinished concrete warehouse space. It is just a vast stretch of concrete and bare support pillars. It's heaven. It's even better than heaven because it is also the storage area for random overflow stuff like crates, drop nets to wall off pickleball courts, random interior sets from the Garden Show, and even old cars. This is Winter League Valhalla.
The Warehouse has been wonderful for us, but there are lots of places that might allow you to use their space. We have also discussed setting up in the warehouse area of a brewery or in the gym at a private school. Generally, any place with four walls and a little light is perfect for a winter putting league. And, to be honest, the walls can also be optional depending on the weather. Our area of the building is largely unheated, which means sometimes it's only a little warmer than outside. That's not a problem. Some leagues meet at a bar. That has all kinds of advantages, but you may lose some of the variety of games you can play in a more open industrial space.
There are lots of events that we use to add variety to league nights. Usually, we have warm-up events that generate team points and then a main activity. It is important to have access to multiple baskets, so we often have players bring their portable baskets every night or store them at the facility.
We use warmup games like Knockout or relay races. For the relay race, there are 12 stations spiraling out around a basket at 5-foot intervals from 5 feet to 60 feet. The goal is to get all the putts in as quickly as possible. A player cannot putt until the disc of the person before them is in the basket. If you have fewer than 12 players, then a player can putt twice but not from two stations in a row. When we have run it for three teams, the winning team gets 10 points, second place 5, and the third zero.
Here's a look at relay race:
We usually cycle through a few options for the main event of the night:
One Basket Putting Games – These are standard putting games like 1025 or PerfectPutt360. Generally, a single player putting on one basket making shots from various distances. In 1025, one of the games we usually use, it is putting from 6 stations (at 5 foot increments out to 35 feet) 6 times through. This is great for leagues with limited space and sometimes we use it when there are other events at the Warehouse and we lose access to our full area. The problem is that it can be a little boring and, if there are a limited number of baskets, people may have to wait. Because of space limitations, this may be your only option if you are in a restaurant or bar (but it's also probably more fun waiting in a warm bar than a freezing warehouse).
Putting Challenge Course – This is a course of nine baskets set up around the space. Players play three times through the course putting from three different distances (usually 10, 20, and 30 feet). The catch is that each station is different. Sometimes there is a required putting style such as straddle, forehand, turbo, or from a knee. There is a long putt station from 40, 50, and 60 feet. Sometimes the basket is elevated on risers or a stack of trash cans or – in one case – tucked on the other side of a beat-up rainbow-painted car. Putt over the car or through the open windows? After the first putt, the player can putt however they prefer to finish the hole. Keep a total stroke score. A version of this would also be easy to do in a more constrained space, like a bar. However, be careful with forcing people to do forehand and turbo putts because those things can go anywhere.
Mini Golf – This is one of the most fun nights. Make a course of short holes with lots of mandos, islands, and elevated baskets. Force players to throw forehands around pillars or make mandatory roller holes. None of our holes are much longer than 120 feet, but they can still challenge players to work the disc around obstacles and control the bounce off walls and gauge the slide of discs on concrete. Our league has evolved to have a lot of gonzo elements. If playing on an obstacle course seems too much like putt-putt for your club, it is easy to dial these elements back and focus on throws you would use in a regular round.
The club officer who oversees the league sends results after every league night, so the Facebook page is always full of chatter and good-natured trash talk. Even players who have moved away or are out with injuries will often join in. With just a little preparation, the weekly Excel sheet gives team points, individual points, individual averages, and other stats that are fun to track over the course of the season. These stats will help in determining league awards such as Most Valuable Player, Most Improved Player, and Rookie of the Year.
There are a lot of advantages to this kind of winter league. Members of the club, working together as a team, really get to know each other well. Because of the scoring, every member is important and even beginner players can contribute. Older and younger members who might have a hard time scoring on full courses can all putt and play mini-golf. The "race for the hoodie" keeps us all engaged with the club during months when playing outside is only for the die-hards (and, even then, is sometimes impossible.) The other advantage is that our players often come out of this league at the start of spring putting better than they will all year.
And some will have a brand-new hoodie.