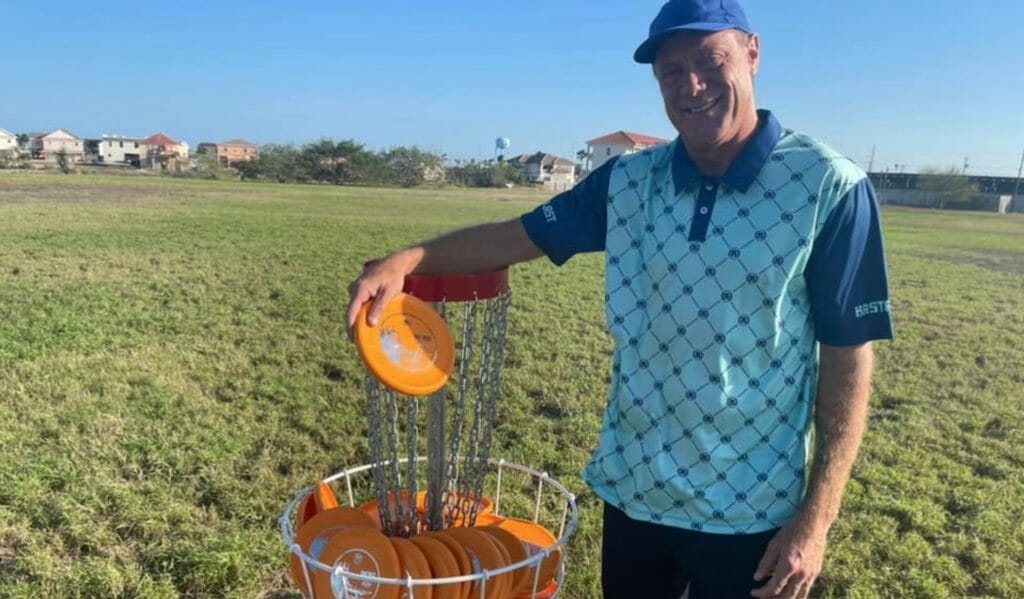 In the late 1990s and early 2000s, Scott Stokely was one of the world's best pro disc golfers. For a time, he held distance throwing records for both backhands and forehands, won numerous A-Tiers in MPO, and finished in the top five at the World Championships five times in his career. In '97 and '98, he came in second place at Worlds behind the all-time great Ken Climo.
Now, the 52 year old Stokely is getting set to go back on tour after not playing in MPO at an A-Tier or higher since 2016.
Since then, Stokely has established himself as one of the sport's most notable coaches, started a popular YouTube channel, and reemerged as a personality in the sport after years out of the spotlight. We caught up with him to ask him about his plans for 2022.
Our Q&A has been lightly edited for clarity.
Ultiworld Disc Golf: You've announced that you're going to be heading out on tour in 2022. After not playing competitive open for a number of years now. Obviously, you have a long legacy of success in the sport. What's getting you back on tour in 2022?
Stokely: So I was at the Dynamic Discs Open this year, happily traveling around the country, playing MP40 and MP50 tournaments, focusing on teaching. And at DDO, that was the first DGPT event I went to in years. And I went out to the final day out at the golf course and was just mind blown. What I saw was the thing that I had dreamed the sport would be for 40 years. And a really weird thing happened. At the end of the tournament, everybody got in their RVs and left. And I felt this feeling of being left behind. Like, I felt like I was supposed to be with them. And I felt really sad I wasn't going with them. And so then I asked myself if I was capable of doing this again and competing one more time.
So, basically, I decided right then that I wanted to go out and do the tour again. However, I am not going to go out to just participate. If I'm not out there to win, then my spot should go to somebody who does, who is there to win. I just had to figure out if I could be competitive. And my conclusion was that I ended last year 1010 rated. I had health problems earlier this year, so I dropped way down. But last year when I was not hurt, I was 1010 rated. But that was with zero practice. I just went to tournaments. And, also, I was basically playing tournaments blind. I was showing up the morning of the tournament, playing the course blind, not practicing all week. Still shooting 1010.
My conclusion was that if I trained and actually practiced the courses, that a 1025 rating was very realistic. And 1025 is good enough to win any tournament on a given weekend. Therefore, I'm capable of winning a DGPT tournament. And as soon as I realized I was capable of it, I made the decision to do it.
You've been documenting your training and your plan on your YouTube channel. Let's talk training first. How have you approached getting ready for this year?
I had a 52 year old body and that's not good enough. When I decided to go on tour, I started trying to get reps in: actually training throwing instead of just going to tournaments, meaning throwing a lot of repetitive shots. Basically, hitting the driving range. And I quickly realized that my body was not holding up. It was hurting to throw; I couldn't throw 100 drives. And that's when I realized that my body was not capable of doing the training necessary to get back in competitive shape.
I decided that I needed to fix my body first. So I stopped playing tournaments completely. I just dropped out of all the rest of the tournament for the season and focused on diet, focused on a lot of cross training, weight training. And with a lot of supplements, I have an amino acid sponsor that I'm about to announce. For example, 300 grams of protein a day, I started working with Disc Golf Strong, eight hours a week in the gym, several hours a week of cardio. All these things were not to throw better as much as they were to put my body in a position to train the throwing portion. I mean, I'll throw better because of it, but that's not the main goal. The main goal is to have the body that would allow me to train. Now, I'm going out and training and nothing hurts at all. I'm in the literal best shape of my life.
So you just came out with a tour series disc with Kastaplast: the Berg. Are you sponsored by Kastaplast for this year? Because I know that on your YouTube channel, you mentioned that you're going to have a lot of different discs and throw a mixed bag.
Yeah, I am throwing a mixed bag. I went out and chose what I felt were the best discs for every type of shot that I needed in the game, independent of manufacturer. Once I chose the discs that I wanted to throw, completely unbiased, I then went to those manufacturers and said, 'I would like to throw your disc, how can we work together?' And I have a whole lot of discs in production from a number of different manufacturers. And I'll be announcing those once a week. Kastaplast is the first: I absolutely love the Berg. It's going to be my putter this year.
What's your tournament schedule looking like right now?
I've committed to the full schedule. I don't have a Tour Card because I wasn't on tour, so I'm going to be playing the same game as everyone else, just to get in. I think I'm scheduled for a total of 30 events next year, some A-Tiers as well.
But you're planning to play, if possible, all of the Pro Tour events as well as the Majors?
Yes, if I can get in, I'm going to play them all.
What's the backup plan if you can't get in?
Well the backup plan is that I'll be there anyways, because if I'm on a waitlist, I'll be there standing by hole one hoping for an opening. But no matter what, I will be at the events. I still will be running a special needs class. So I'll be running a class for kids and adults with special needs. So I've already committed to all of those. I'm also running seminars after the events that I think are just about sold out for the year already. So I'll be there no matter what. By the way, in connection to the special needs, if I am able to play in the event, all my prize money will also be donated to that special needs organization. Technically, I'm an amateur. I'm not playing for prize money anymore.
What's your expectation about how competitive you can be? Obviously, you have tons of talent but you're also 52 years old. Do you think that you can go out there and finish inside the top 10?
My expectation is to win. I will never play a tournament if I don't feel I have a chance to win. Because if I do, I'm taking taking a spot from somebody else who wants to go out to win, which is wrong. So I 100% believe that I can win. I haven't played disc golf after training. Like practicing and training for 20 years. I've been playing recreational golf and shooting whatever my rating is. That's recreation: I'm actually training now. So my expectations are to win.
Some people have been asking on social media: who's going to do better this year? Scott Stokely or Brodie Smith? Where do you put your chips?
[Laughs] I'm not dodging the question because, first off, I like Brodie a lot. But also, I'm not playing against any individual player, I'm playing against the whole field. It's so funny. When someone says, 'Hey, maybe you could win Rookie of the Year!' My thinking is, I would like to win Player of the Year, not Rookie of the Year.
Now, okay, if I step back, and I'm Las Vegas, and I'm laying odds on all this, I would say the odds of me winning a DGPT tournament, it would be 10-1 against me winning one of them. These are long odds; I'm not stupid. But, competitively, I'm not out there to participate.
You have a successful teaching business, and you've got a YouTube channel, and you're successful already doing the things that you've been doing these last couple of years. So why put the mileage on your body and go back on tour, when you're already in a position to have a career in disc golf, even if it's not the traditional one.
The challenge.
I live my life and have lived my entire life around the idea of coming up with challenging things that I think will be fun, and then doing them. If you read my book, it's all filled with, basically, a whole bunch of ideas and then pulling the trigger and executing them. It's frustrating for me hearing people talk about things they want to do. And then seeing them sit on their couch and not do them. I would die if I if I lived like that. So to me, when I decided I wanted to do this, it was full steam ahead. Full commitment. And I couldn't live with myself if I didn't.
And it would be really fun to blow people's minds. And win. I would love that.
So what if you go out there to Las Vegas, and you get in. It's a tough track. It's a long bomber. Let's say you struggle. Are you going to stay committed to this? Even if you know you're not finishing up at the top?
I'll be more committed if I struggle. That's just means that I'm not working hard enough. It's sports. You win and you lose. When I go to the tournament, the number one thing that has to happen for me to be satisfied is that I have to play that tournament knowing that there was not a single other thing I could have done to prepare for that tournament. I can't play a tournament, not perform well, and look back and think, 'Oh, if I'd only just not eaten those cheeseburgers.' If I go out there and I've left nothing on the table, and I've done every single thing I could possibly do to prepare, and I go out there and I give it 100 percent effort, then there is no failure. There's just — I didn't win.
So a lot of it is just making sure that I personally have achieved everything that I've committed to doing, then I'm fine with the results. As much as I want to win, they're simultaneously not relevant because I can't control the score of every other player on the course. I have no control over someone's shooting the course in fewer strokes than me.
How has your game changed since your heyday around the turn of the millennium?
I'm a better putter. I have a better putter and a better short game. I still throw well over 500 feet backhand and sidearm. So distance isn't really too much of an issue. I throw far enough. But the biggest thing is I have far more control on shorter shots than I used to. The biggest difference relative to the field is that, 20 years ago, I threw 100 feet farther than everybody and nobody had a sidearm. So I had some advantages that are obviously no longer there since everybody throws far and everybody has a sidearm. So I don't have any advantages. But I've shored up the holes in my game with just better technique on short throws.
I think I played it the very best time ever, because there's no way I could have done what I did in the '80s to make a living. If I was out there today, at my peak, like I my honest evaluation, is that at my best I was 1035 player. In other words, I would have been a competitive player, but I wouldn't have stood out like I did in the '90s. So I feel very lucky to have played back then. And there's a lot of players out there, who were top players in the '90s, who are like, 'God I wish I was playing today.' And I'm like, no, you don't, you're 980. You're out of your mind. You threw 300 feet.
I can recognize that I would be a very good competitive player, but I've never in my life been as good as Paul [McBeth] and Ricky [Wysocki] are today. So I played it the right time.
What would you say your goal is for 2022?
Competitively, I want to win a DGPT tournament. That's my competitive goal. Well, let me take that back. My goal will always be the win Worlds. That's first and foremost. But my bigger picture goal is I want to come out and play a DGPT tournament and win. The last A-Tier that I played in the Open division was about five years ago. So I was 47 at the time. I won by 12 strokes. So it's not like I've been completely non competitive. It doesn't put me near the top — it's an A Tier not an NT — but the last time I did it, I did pretty well.
What advice would you give other older players about raising their competitive level in the later stage of life?
You've got to take care of your body first. Disc golf is a healthy activity. But it is hard on your body: your tendons and ligaments and joints get a lot of strain on them when you compete and when you train. Having a body to sustain that is kind of the foundation of all of it. At least at a high level. You can play recreationally and just walk in the park but, competitively, you're putting your body through a ton.
Before I started training really hard like seven or eight months ago, I felt it way more in my body. And right now I can go out and I can just throw like I was a kid. Almost. I wouldn't say totally. The joke I make is that I'm not going to have a 20 year old body but if I could have a 40 year old body at 52, that's good enough.
Would you say you're still focusing on coaching and the other things that you're doing? Or would you say you're focusing on the tour?
100%, I take the coaching as seriously as I take the competing. I have a very strong desire to be the best teacher in the sport. And even this year, the day after almost every single tournament I play, I'm running a seminar that day as well. And I'm still gonna put out a ton of tutorial content. Because I think that's the most important thing I can leave the sport. And so I love the teaching part of it. Absolutely. And the teaching part is what I get to do forever. This is a year or a couple at most.
How can people follow along with your tour experience?
ScottStokely.net has everything, but I'm documenting the whole tour with a web series that'll be on YouTube, Facebook, Instagram. Successes as well as all my failures. Everything will be on there. I've always been very much an open book about sharing just everything about me and not handpicking the good stuff. So regardless of how I do, like it's all gonna be out there, good or bad.
Good luck, Scott!
Thank you so much. I'm more excited to play disc golf than I've ever been. Or since I was first going out on tour, and I went, 'Oh my god, I can play frisbee for a living!' I've never been this excited since then.