Scrambles, metal hits, and chainouts -- oh my!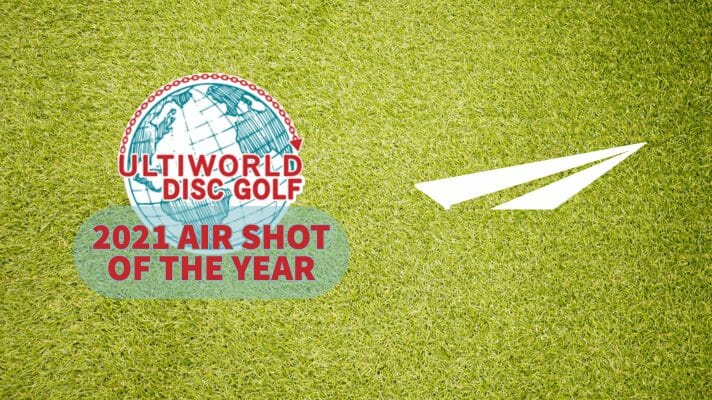 The 2021 professional season was filled with shots that caused us to pick our jaws up off the floor. And there were so many, we figured we'd enlist Ultiworld Disc Golf readers to help us decide on the season's best.
With that in mind, we are proud to present the third of four bracket challenges to close out the year. We've culled highlights from the sport's best media providers and broken them down into four categories: Air Shot of the Year, Ace of the Year, Roller of the Year, and Putt of the Year. After each bracket is decided, the winners will battle in a four-way face-off that will determine the 2021 Shot of the Year.
Pick up to two shots for Air Shot of Year to make it to the finals. And if you're having fun with this, feel free to share the love on social media.
A special thanks to Jomez Productions, Central Coast Disc Golf, Disc Golf Pro Tour, GK Pro, Gatekeeper, Ace Run Pro, Soblue, Disc Golf Brah, and others for capturing these clips. And we're off!
---
calvin heimburg hole 17 drive rnd 1 texas states
casey white hole 14 throw in rnd 3 jonesboro
hailey king hole 17 throw in approach waco rnd 2
calvin heimburg hole 18 drive waco rnd 3
Ezra Aderhold throw-in on hole 14 during round 3. OTB
catrina allen hole 18 approach pro worlds
James Conrad Pro Worlds Holy Shot
eagle mcmahon drive hole 11 preserve
paige pierce dglo hole 1 drive
missy gannon throw-in idlewild
paige pierce ledgestone throw in
drew gibson hole 2 throw in ledgestone northwood
justin rosak chain out stafford open
chris dickerson gmc throw-in hole 11 fox run
nathan queen hole 16 drive dgpt championship