The one true brand.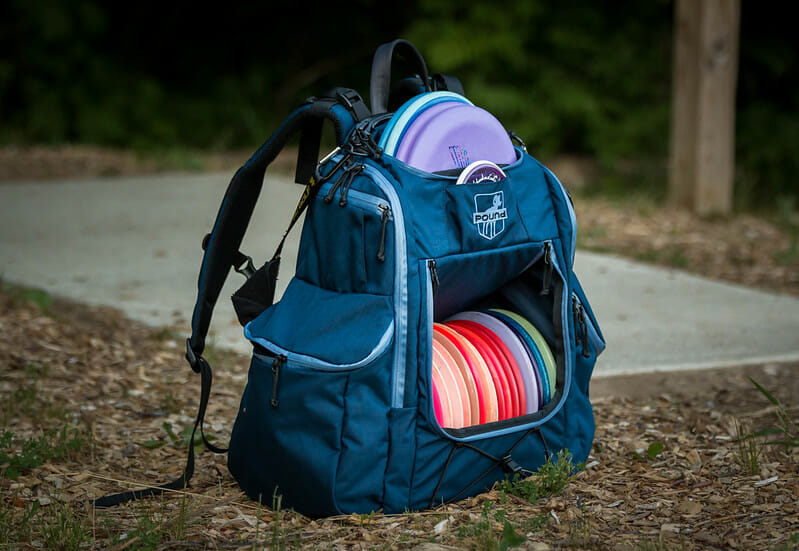 The disc golf community is usually very supportive. But if you want to see some frustration leak through, just go to a disc golf group on Facebook and type some version of this question: "I am trying to go all-MVP, which disc will replace my favorite Destroyer?" This question will inevitably generate someone – or, usually, many someones – who will answer "another Destroyer" or "this doesn't make any sense, if you aren't sponsored, then throw what you want!" The assumption from many commentators is that throwing one brand as an unsponsored player is a move that inevitably hurts your game.
This topic has new life because of the number of top pros who are moving from single manufacturer contracts to sponsorship deals from large retailers. Eric Oakley is joining Drew Gibson and Dave Feldberg at Infinite Discs, and their deals point towards a new sponsorship paradigm. Many golfers (including me) are excited to see what they will carry now that they will be able to throw any disc from any brand.
On one level, answering the question of "what disc from Innova will fly like a Buzzz?" with "don't be stupid, throw a Buzzz" is offering criticism rather than an answer. It also points to a real division among disc golfers over whether throwing one manufacturer is a sucker play. Is it always better to throw a mixed bag? Are there reasons to throw just one brand? If so, are there reasons to stop?
The Overwhelming Market
It seems logical that throwing a mixed bag would always be the best option. You have access to the massive variety of molds and plastics available and can tailor your bag to the exact discs you throw the best. Given the broad selection of discs in the industry, there is probably going to be one in a plastic, mold, and weight that will be just what you need. Given that, are there advantages to only throwing one manufacturer?
For full disclosure, I was a "Trilogy"-only thrower for years. That meant I only threw discs from Latitude 64, Westside, and Dynamic Discs. Partly, this was due to Chris Baker, who is sponsored by Westside and a leader in the disc golf scene in Bloomington, Indiana, where I learned to play. Baker has moved more plastic than Lego in our local area and, when I was a brand-new player and drafted on his winter league putting team in 2016, put a Swan in my hand the first night. From there, it was natural to gravitate towards Trilogy.
This is one of the great advantages of focusing on a single manufacturer (or, in the case of Trilogy, an interconnected set of brands), it reduces the amount of information a new disc golfer needs to understand to get some footing in the sport. When you start, the number of options available is mind-boggling. How does Lucid compare to Champion compare to Fluid compare to Big Z, Z FLX, Proton, or 400G? Should I throw a Roc3, a Verdict, a Buzzz OS, or an M4? Who knows? Certainly not someone who is just getting started in disc golf.
Flight numbers can make the problem worse. I think flight numbers are generally a great thing, because they put a disc into a broad category and let me know what the designer intended. But they also give a false sense of objectivity to new players who buy a Maiden and expect it to be the same stability as a P2 because the fade number is the same. New players who buy a disc that has "one more turn" expecting to see that precise difference in flight are almost always disappointed. Experienced players know that the best way to describe an Axiom Hex is not "5/5/-1/1" but as something like "it is flat-topped mid that flies similar to a Buzz with slightly more turn and fade, so it gets a really straight flight; it's like a EMac Truth with less finish or a faster Suspect with less fade." But understanding that description requires a broad knowledge of what is out there. Experienced players sometimes underestimate how much confusion about equipment can frustrate newer players.
Throwing only one brand allows you to learn a smaller subset of discs and get a sense of the differences between them without being overloaded by a thousand options. Starting with Westside, I could throw an understable Swan and an overstable Harp and see how differently they flew. I could compare 6 different midranges rather than 50. It made my choices easier and allowed me to build a framework when trying new discs – "okay, a Compass is more stable than a Warrant and less stable than a Verdict." Discs from the same company also often have a similar feel, which makes it more likely that you will like another disc from that line.
Having limited equipment choices also helps to prevent one of the most frustrating cycles in disc golf – trying to find an equipment solution to a technique problem. Yes, there are some discs that are extremely helpful in making particular shots (nothing flies quite like a Berg or a Tilt), but many players move from disc to disc hoping for a fix that can only come from practice. Bad archers don't improve by buying more arrows.
Most major brands offer well-made discs and more than enough options. Especially for beginners. But even learning a single brand can require mastering all kinds of esoteric details about the lineup. Players need to learn which runs of Destroyer or PD are massively overstable, whether Titanium plastic makes Undertakers more or less stable than Big Z versions, or what it means when a disc is SS, OS, L, X, or Metal Flake. Even if you only throw one brand, there is plenty to learn.
Yes, there is an amazing number of discs out there. And I think we all envy Gibson and Oakley for being able to try them all. But searching for a disc among the hundreds of options is not only confusing, it is prohibitively expensive. Could a Skylark, a Hex, or a Svea be the right disc for you? Maybe. But can you afford to pay 20 dollars a pop to find out?1 But even if you like the feel, a disc may not fly the way you want.
Brand Fandom
Throwing one manufacturer is not just about making things less confusing for new players; it is also about feeling more connected to the sport. When I decided to focus on the Trilogy brands, I was ushered into a rapidly expanding world of disc golf fandom. In the heady days of 2016, Dynamic Discs' online media presence, led by Bobby "Cool Daddy Slick Breeze" Brown, seemed to be reaching out to establish a relationship to the brand that went beyond just throwing discs. While the entire disc golf ecosystem has evolved since then, as a new player, Discraft seemed insular and inward-facing and Innova was a corporate behemoth. In comparison, Dynamic Discs felt like an upstart brand that was trying to reach me as a new player.
There is also an advantage to having a local critical mass of players throwing the same discs. Having many Trilogy throwers in Bloomington made everything easier. If I wanted to try a disc, there were always players who could loan me five of them. It created a common language when we were playing doubles as our bags were very similar and everyone knew how they flew. It was fun to talk about new releases and how well players like Wysocki and Pierce were doing with the same discs we had in our bags.
A big part of brand loyalty is identifying with a manufacturer and its culture. This has been enhanced by the proliferation of Facebook groups, fan-led organizations like Team Trilogy, and the efforts of manufacturers to create organizations like the Discraft Underground or the Dynamic Discs Squad. These things build community, both online and on the course. It was a thrill to go to the Glass Blown Open as a member of Team Trilogy, and DD rolled out the red carpet for us.
Following a single brand makes it easier to find online communities dedicated to that line or even single discs like the Sexton Firebird. As a beginner, I found the people in various Trilogy groups had endless tolerance to answer questions from a beginner (and often the same questions over and over as waves of new beginners joined every week). I was grateful, and that gratitude helped cement my appreciation for the community. It doesn't always work this way – I also joined several online communities that were much less receptive to beginners and their endless questions, especially when people with no knowledge of the brand flooded in following the signing of a big-name player.
Of course, some players have no interest in these kinds of fan communities. They feel this is sporting equipment and you use it to score, not to make friends. But, for many players, it is fun to be a fan. For those of us who are fans of teams and players in other sports, feeling attached to a team comes easily. It is fun to follow players you like and throw the same plastic as them. I'm a joiner. As young golfer, I loved Freddie Couples and spent the 1990s swinging Lynx Parallax irons in baggy Ashworth shirts. It came naturally in disc golf, too.
I admit fandom doesn't make sense. Loving Discraft and being excited when Drew Gibson throws a Buzzz 480 feet isn't necessarily logical. Paul Ulibarri threading a tight forehand line with a Raptor isn't going to make you play any better at league this week. But it can make disc golf more fun. Fandom is seldom reasonable. Why agonize with the lowly Lions when you can just choose to be a Patriots fan? We don't always get to choose what we love or what excites us. Feeling like you rise and fall with a team or a player can be important to you even though you will never cash a check from the front office.
The important question is whether you get something out of this identification with a player or a brand. If being part of the Discraft Underground or loving Paul McBeth gets you excited about disc golf and makes you want to play more and get better, then that is probably a much bigger benefit than you would get from throwing a Roc rather than a Buzzz. If you are excited about building the perfect Westside bag or feel thrilled with finally finding an A4 that can replace your Zone, then do it. A lot of success can come from finding motivation, wherever you find it.
If you are wired to be a fan, it can be motivating; it can make the game more fun. And if you are having more fun, you will play better.
Reasons to Switch
A few years ago, I drifted away from focusing on just one brand. I decided to try new discs every time I went home to Tampa to see family. I used these off-season Christmas vacations to try brands I had never thrown before. For example, I have always liked the feel of Discmania discs, but the brand felt like it wasn't aimed at me; I always thought I would try them once I could figure out how to get 30 years younger, 40 pounds lighter, and five inches taller. But when I threw them, it turned out some of them were great.
Usually, I would put these vacation discs back in my basement and get my regular bag back out for the tournament season. But, as I threw them more every Christmas, I started to have a harder time letting go of some of these discs. Gradually, I embraced a mixed bag and the excitement of trying everything. It has been fun to try the "must throw" discs from every brand and enjoy things like the feel of the buttery plastic from Kastaplast.
But the weird thing? My bag hasn't changed that much. The huge advantage of an open bag has never really materialized. I have added a few discs I have come to love, such as the Roadrunner and the Leopard3, but even when I could throw everything, it turns out lots of the Trilogy discs I threw were just as good as the possible replacements. The Zone is awesome. The Pig is a great disc. But the Harp is also awesome. I have been throwing it for years and I have 50 of them. After trying out lots of options, it often made more sense to stay with discs I already knew well (and had stacks of in my basement).
Seeing the options as between being a "fanboy" or playing better with a mixed bag is usually a false choice. Every major manufacturer makes solid discs, and you can play great whether you throw one brand or all of them. The guy who is asking for recommendations for the Trilogy version of a Destroyer might throw a Trespass better. Or, more likely, will probably throw it about the same.
So, if you want to throw a mixed bag, go ahead. Enjoy being able to try everything. If playing one brand feels confining, or you are tortured by a hole in your bag you just can't seem to fill, then feel free to try discs from everywhere. But if you are having fun being a fan then there are reasons to stay with one company. You should do whatever gets you excited about disc golf and makes you want to play and practice more, because that is the best way to improve your game.
---
This is one of the great things about a local disc shop, where you can hold a disc to see if it even has a chance to make the bag. ↩